Check out our round-up of the best holiday shows and concerts for families in Long Island: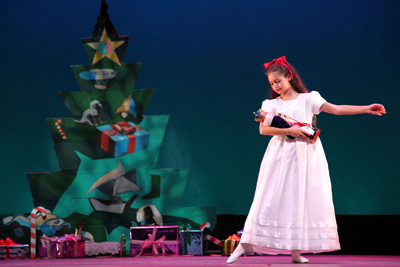 The Hampton Ballet Theatre School, with guest artists from Manhattan, will present their second annual production of Tchaikovsky's beloved ballet The Nutcracker. December 10 at 7pm, December 11 at 1pm and 7pm, and December 12 at 2pm. $20; $15 children under 12. Guild Hall, John Drew Theater, 158 Main Street, East Hampton. 631-237-4810.
The beloved characters of Oz face the mean Miss Gulch, who is about to foreclose on the farm, at Christmas In Oz. Seeking the help of the Wizard, they travel to Oz, only to find a sign that states "Closed for Christmas." See what happens as they try to make the Wicked Witch a better person. December 4, 11, 18 at 2pm. $8. Studio Theatre, 141 South Wellwood Avenue, Lindenhurst. 631-226-8400.
See Cherish the Ladies when they present A Celtic Christmas. Under the leadership of Joanie Madden on flutes and whistles, Cherish the Ladies is the most successful and sought after Irish-American group in Celtic music. December 16 at 8pm. All ages. $25. Guild Hall, 158 Main Street, John Drew Theater, East Hampton. 631-324-0806.
See the holiday classic A Christmas Carol, featuring elaborate sets, lighting, rich costumes, special effects, a live orchestra, and a NYC and local cast. Presented by Gateway Playhouse. December 17-23. Times vary. See website for schedule and prices. Patchogue Theatre, 71 East Main Street, Patchogue. 631-286-1133.
Celebrate the holiday season and follow along Frosty's adventures in TD Bank Youth Theater Series Presents Frosty. Saturdays at 11am; Sundays at 10am through January 16, 2011. $15. The John W. Engeman Theater at Northport, 250 Main Street, Northport. 631-261-2900.
Follow Rudolph from a baby reindeer, through the "reindeer games," and finally, as he saves Christmas with his "nose so bright," at Rudolph The Red-Nosed Reindeer. December 4, 11, 18 at 2pm; December 28 at 1pm. $10. BayWay Arts Center, 265 East Main Street, East Islip. 631-581-2700. www.broadhollow.org.