Jungle Bob's Reptile World will have a new family adventure this summer: The Outback. Jungle Bob, a nature conservationist, wants to educate people about the unusual animals he loves.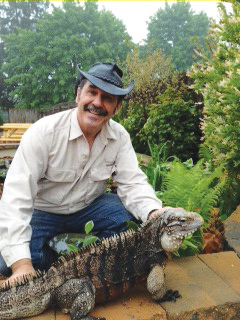 On June 2, families will have a new summer destination: The Outback at Jungle Bob's Reptile World. The store started as a full-service pet store specializing in reptiles, amphibians, and invertebrates, but it quickly evolved into an education and conservation nature center because of Jungle Bob's passion for unusual animals.
This backyard venture features reptiles, amphibians, and invertebrates in their natural habitats including turtle ponds, and tortoise and lizard pits, where the animals have plenty of room to roam and visitors can feed and interact with them, plus a carnivorous bog garden. The Outback also features a tent for events such as birthday parties and a lot of exciting events planned throughout the summer for all ages including experts speaking on butterflies and African mammals as well as paleontologists.
Jungle Bob says he hopes that his knowledge and experiences from 40 trips to tropical places and The Outback will teach people that "all things, even reptiles, amphibians, and invertebrates, are a part of nature and should be treated as such," and "leaving wild places wild is the only way to be a conservationist."
The grand opening of The Outback is June 2, 12-4pm, and is free for all.