Have you been looking for a way to show your kids what charity means, or how they can make a difference for others? Here's your chance. For the second year in a row, the Centereach/Selden Kiwanis Club and the Suffolk County moms' group The No Drama Mamas are running a Trike-A-Thon to benefit St. Jude Children's Research Hospital.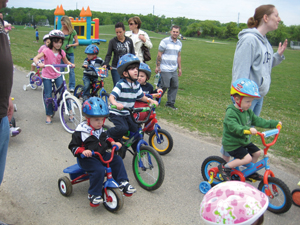 With parents' help, kids can ask for sponsors to donate in advance online or in person, or parents can give a donation at the event. The kids can ride trikes, bikes, or scooters around a track at Heritage Park - or for really young ones, parents can pull them along in wagons or strollers. All riders must wear helmets. They can ride the track as many times as they like, and afterwards they'll enjoy great outdoor activities: a DJ, bounce houses, face painting, tattoos, and more. Adults can also participate in a 50/50 raffle and a Chinese auction.
"Last year's event was a blast," says Centereach/Selden Kiwanis Club president Melanie Keister. "The parents did a great job helping their children understand that this was about kids helping kids."
St. Jude is the only pediatric cancer hospital where there are no out-of-pocket costs for families; they are never billed for anything not covered by insurance. The hospital endorses the Trike-A-Thon and offers bike safety tips for kids. Last year's event raised $5,000 for St. Jude and another $250 for a local family in need; organizers expect to far surpass those numbers this year.
If you're interested in donating items or gift certificates to the auction, or donating your creative services (juggling? magic? singing group?), get in touch with Keister at [email protected]. You can also write to her to register your children in advance, and to set up a web page where you can ask for donations on your child's behalf.
Details
Where: Heritage Park on County Road 83 and Route 25A in Mount Sinai, NY
When: June 5, 2-5pm
How much: $10 minimum donation requested for first child; $5 each for additional children
For more information: www.stjude.org/trike or [email protected]
Also see: Suffolk County, Long Island Family Activities: Top Picks for June
Our Online Calendar, for even more upcoming family events on Long Island and in the NYC area