When Lisa Basini was a young child she set up shop in front of her home and sold freshly baked cakes and cupcakes—straight out of her Easy Bake Oven and into the hands of the kids on the block.
Her innovative spirit and business know-how began to blossom at the mere age of eight, as Basini recalls "turning one dollar into four" with just one box of cake mix and a can of frosting. "I mass-produced cakes and cupcakes with several Easy Bake ovens and charged 25 cents a piece," but Basini adds, "if a kid only had a nickel or a dime, that was OK. I never turned anybody away."

As she grew, Basini's fascination with food preparation flourished as she cooked and baked family meals and desserts alongside her grandmother and father—two of her greatest foodie influences. "Growing up I had a passion for food. For me it was about comfort as well as hobby. During my teen years," she jokes, "if I had an argument with a boyfriend, my family would find six home-baked cakes in the kitchen. It was my way of venting!"

After high school graduation, Basini attended community college for a semester, but rather than pursue a degree, she fell into a lucrative career in sales and customer service, that she now believes, set the foundation to one day run a successful business.

That "ah hah" moment finally crystallized in 2005 while Basini was still earning a living working in sales and busily raising her children, Jacob and Anastasia, with husband Tom. "Although I was successful at what I was doing, I didn't feel fulfilled." So, Basini enrolled in the Culinary Academy of Long Island to pursue a career in pastry arts. "I just felt I was meant to do this."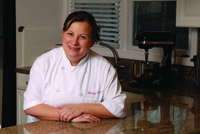 Today, the 43-year-old Smithtown resident has flipped her childhood passion into a profession, teaching her well-honed baking and cooking skills to children and adults through her business—aptly named— "The Baking Coach."


A Sweet Plan

Basini's business plan was simple enough: She believed there was a void in the marketplace for moms who just wanted to learn how to create a "presentable" birthday cake or cupcakes. The start-up costs would be minimal she reasoned—her knowledge, her labor and no inventory or machinery to purchase. "My business became successful, not because I opened a place—it was more about an idea," one that she worked feverishly at marketing. In 2005, armed with a mountain of business cards and flyers, Basini saturated Long Island card stores, nail salons, supermarkets, craft fairs —places she knew parents would frequent. "Being in sales and customer service, I knew I had to get myself out there and develop my name."

Calls started coming in for one-on-one baking instruction and children's "Build a Birthday Cake" parties. Then Basini went further, formulating ideas for culinary classes she could offer at local libraries. She taught her first "Baking Coach" class at the Bayshore-Brightwaters library. And today, preschoolers to seniors can get "coached" in everything from cake decorating to cooking fried rice with help from one of 18 other trained "Baking Coaches" who criss-cross Nassau and Suffolk counties.


Work/Family Balance

"I probably have the best husband on the planet. He's given me the support to do all the things that I do." Husband Tom runs his own business from home—a big plus when it comes to getting the kids on and off the bus each day. "My kids are growing up with a strong work ethic," Basini proudly notes.


Biz Tips

Thinking about starting your own business? Here is some advice from the Baking Coach.

• Make sure you've got a passion for your product. "It's what keeps you motivated."

• Be prepared to do all the things you expect your staff to do. In Basini's case that means shopping for products, cleaning up and offering good customer service.

• Give back to the community. Each holiday season, a portion of proceeds from some of the Baking Coach classes is donated to such organizations as the Make-A-Wish Foundation and Ronald McDonald House Charities.

To learn more, go to www.bakingcoach.com!
Want to bake like the pro herself? The Baking Coach shares her signature Birthday Cake recipe below!



The Baking Coach Birthday Cake
2 ½ cups sifted cake flour
1 ½ teaspoon baking powder
½ teaspoon baking soda
¼ teaspoon salt
1 ½ sticks of unsalted butter at room temperature
1 ½ cups granulated sugar
3 large eggs
2 1/2 teaspoons vanilla extract
8 oz buttermilk (regular milk with just a squeeze of lemon juice)

Directions

Pre-heat oven to 350 degrees.

Prepare baking pans – line with parchment paper and lightly grease.

In a bowl whisk together all dry ingredients except for the sugar and set aside.

In another bowl, using a mixer on medium speed beat the butter until smooth. Slowly add the sugar and continue beating until it is light and fluffy. Add the eggs one at a time, and then add the vanilla.

Add the flour mixture in 3 batches alternating with the buttermilk in 2 batches.

Bake until a toothpick inserted into the center of the cake comes out clean.


Frosting
8 oz. unsalted butter
16 oz. Crisco or butter
2 lbs of confectionary sugar
2 teaspoons of vanilla extract
2 tablespoons of water
Mix together butter and Crisco until well blended – slowly add confectionary sugar, until all is combined – add vanilla and water and then mix at high speed until fluffy.