Smithtown mom Donna Walther is the owner and founder of Puppy Personal, Inc., a company that produces personalized dog treats. We sat down with Walther to find out how she got the business off the ground, how she juggles work and family life, and what advice she has for other mom entrepreneurs.
Quick Facts: Donna Walther, owner of Puppy Personal, Inc., lives in Smithtown with her son Raymond, 12. She is engaged to her fiancé, Bobby.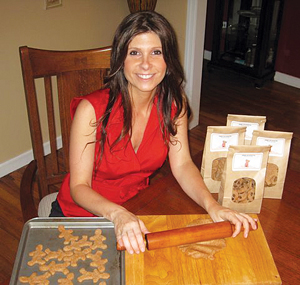 Last year, during the height of the economic downturn, Smithtown mom Donna Walther started thinking of a side business she could start from home to supplement her income. In the past, she had baked snacks for her dog, so she decided to create unique dog treats to sell.
"The gimmick with the dog treats is, how can I make them like a human bakery, with all different sugar treats on top?" she asked herself. "When I researched some bakeries, there were carrot cakes for dogs and tiramisu for dogs. I'm not a baker like that." One day, she was in Target looking at animal crackers and realized that they did not contain sugar or coloring - they were plain. She thought perhaps she could make simple dog treats in different shapes, but customize and personalize them.
Walther compared treats at other bakeries, experimented with different ingredients, and found cookie cutters in a variety of shapes. Knowing that dogs like peanut butter and beef, she decided on those flavors and then added an oat flavor. Some she dipped in yogurt. The treats are now available in shapes including hearts, bones, paw prints, baseball bats and balls, footballs and other customized designs.
First, Walther's recipes had to be registered with the N.Y. State Department of Agriculture. Once tested and approved, she was given legal labeling content about the ingredients, including fat, fiber and water content. Then, with the help of her sister, a graphic designer, the logo and packaging were created and she started her own website, www.puppypersonal.com.
Explain how every Puppy Personal order can be customized.
We go online and I ask the customer what they like. I do it by the personality of the owner [or dog]. For example, Bad to the Bone [skeleton shapes] is a big seller for people who like motorcycles, or men who love their dogs. [Motorcycle shapes are also available.] For little dogs, I do little butterflies or teddy bears. For someone who had a new puppy, I did a bag with baby bottles. I ask, what kind of dog do they have? If it's a celebration, I may do balloons.
How did you start marketing and getting orders?
I went to pet stores, vet locations. I go online and go to all the trainers, doggy daycares and groomers, and e-mail them. Right now it's mostly friends and family. It's still really new. I just started the website in December. I want to start doing fairs. This woman Babette [from Babette Haggerty's Dog Training, LCC] does a dog training facility. She brought me to the Westminster Dog Show where I handed out some cards. I met people who love dogs and people who made clothing lines for dogs.
What was a memorable or proud moment for the business?
There was this dog wedding [hosted by Babette Haggerty's Dog Training, LCC at Sephora in NYC]. They wanted someone to volunteer treats. I made a basket to be raffled off. I was proud to shake the owner's hand and say, "I'm Donna, I'm the owner of Puppy Personal!" When they announced a winner, it was a proud moment for me.
Do you involve your son with the baking? How does he react to the business?
He never helps, but one day he took the cutters and had fun. Honestly, what I get out of [having a business] is having him see me doing something. Seeing that means so much more to me; I am teaching him that you can start something and I did it the right way, legally! It is a better reaction than having him help me out!
What are your goals for the company?
My goal is to see my bag in a boutique store or Traders Joe's. When you go to Trader Joe's, you see something unique...I'd like people to recognize my logo. To have other people sell it. Getting the name out there and in a year from now, seeing it in a store.
What's the best part about having your own business?
It's fun - this is what I want to get paid for! It's all good to say that I have a small business on the side, but it's the confidence - you feel good about yourself in doing something for you! Watching your kids watch your footsteps...that's what makes me do it more!
Puppy Personal treats are available online at www.puppypersonal.com.