These businesses based in Suffolk County, Long Island, have new offerings for local children and families.

Late-Night Doc Visits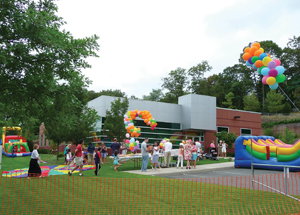 The grand opening of Pediatric Immediate Care in Smithtown.
Greater accessibility to healthcare could be Dr. Urszula Rakowska's mantra. The Pediatric Immediate Care founder and CEO's commitment to breaking down barriers to healthcare for children inspired her to create a practice - first in North Lindenhurst, then in Brooklyn - where doctors are available for wellness and urgent care visits until 11 pm.
"I realized very early that parents who have kids, they need us after 5pm," Dr. Rakowska says.
Now Smithtown residents can enjoy the same late-night services: A new Pediatric Immediate Care facility opened August 15 on Jericho Turnpike.
"This is our new baby, and it's the best," says Dr. Rakowska. The practice boasts 8,000 square feet of office space, soundproof rooms (a real bonus when you're working with wailing babies), and lots of natural light. The office also offers extras like games and storytelling for younger patients, which act as tools to distract a child whose visit may include a painful procedure.
"There's a lot of play involved, and making sure that the children don't feel pain and anxiety," Dr. Rakowska says. "Our patients are happy when they leave. They blow kisses."
Pediatric Immediate Care, 1077 W. Jericho Turnpike, Smithtown. 631-864-7337.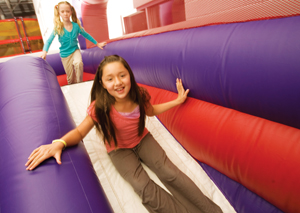 Bouncing Fun for Everyone
It wasn't long after BounceU opened in 2009 that owner Frank Discala started thinking about an addition to the facility - one that he thought would provide a real service to the Suffolk community. Discala had observed children with special needs participating in BounceU's Open Bounce - play time that's not structured around an event - and had detected a pattern. "We noticed that Open Bounce was a really good outlet for special needs kids," Discala says. "They expelled energy and settled down." So he set out to design a room with their needs in mind. In the process, Discala sought input from parents of children with special needs and consulted physical therapists.
The end result is a sensory gym filled with primary colors, classical music, and all the trappings of kid's play - inflatables, sensory balls, trampolines, tactiles, see-saws, tunnels, etc. The space gives parents the opportunity to work one-on-one with their children in a social setting, Discala says, but perhaps the best part is the opportunity for children to interact with other children.
"It's a nice benefit for the kids," Discala syas. "We really think we're onto something."
BounceU, 101 Carolyn Boulevard, Farmingdale. 631-777-JUMP (5867).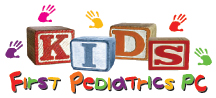 Putting Wellness First
Magdalena Oleszak, M.D., may not be able to change the world, but she's determined to make a difference in Suffolk County. The pediatrician, who is a partner at Kids First Pediatrics, launched the Kids First Wellness Program at the practice's Port Jefferson location in July. The goal is to promote wellness by improving eating habits and increasing physical activity.
"We are trying to respond to the epidemic of obesity," says Dr. Oleszak, who adds that, even for kids who are not obese, poor dietary habits and nutrition could lead to multiple health problems later in life.
The wellness program is organized by age group, with groups meeting in a workshop format for a total of four sessions over a period of about two months. Before a child starts the program, he must keep a food diary log and wear a pedometer for two weeks.
Dr. Oleszak says there are signs that the workshops are already catching on. "The children and the parents understand there's a need for it," Dr. Oleszak says. "We have a 7-year-old who has already lost five pounds. He's so excited about the program."
Kids First Pediatrics, 815 Hallock Avenue, Port Jefferson Station. For more information, call 631-331-7267.

A Gamer's Paradise
The Gamin' Ride franchise has hit Suffolk County. Inspired by her son's Gamin' Ride party, co-owner Erica Fruscione, along with her business partner Stacy Brown, brought this exciting new entertainment option for kids to the area in early October.
Gamin' Ride is a mobile video game unit that brings the party to your house, but not in your house. The equipment is compatible with Xbox, Playstation 3, and Wii gaming systems and has 16 vibrating seats inside and an additional eight outside. The unit has a total of eight screens for playing and also uses "smell-o-vision," which allows players to actually smell elements from the game such as burnt tires or pizza.
To celebrate the grand opening of Gamin' Ride on Long Island, parents can book a 24-player Gamin' Ride unit for two hours for $399 through the end of November. This rate also includes party invitations and a birthday hat.
Fruscione says she is happy to be able to bring Gamin' Ride to children near her home. "My business partner and I looked at each other [and said], 'Wow, Long Island doesn't have anything quite like this," she says. "We got very excited, and here we are now!"
For more information, call 516-680-1877 or e-mail [email protected].