These three Suffolk County-based businesses - Tumbling Tunes, The Emanuel Lutheran School, and Main Street Nursery - are offering new and noteworthy programs for kids and families.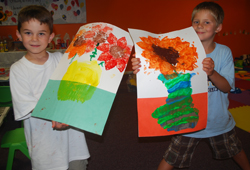 Little Artists
The music and gymnastics center Tumbling Tunes, have added Art Class to their full schedule of programs. For children ages 2 to 3 years old, the program explores a variety of mediums like paint, watercolor, pastels, and clay and gives students the opportunity to create a unique piece of work. The program for ages 4-7 - which introduces new artists every two weeks like Van Gogh, Seurat and Anne Geddes - gives children the opportunity to listen to stories, learn about the artists' lives, and their sources of inspiration. Students will then create their own pieces of work in the style of each artist and present it to their classmates. The drop-off classes - which run for 10 weeks starting September 15 - are held Wednesdays at 3pm for ages 2-3 and Thursdays at 4pm for ages 4-7. A 3-week supplemental class will also be offered through Christmas.
Founded in 2007 by owner Kerry Anastasi, Tumbling Tunes offers music and gymnastics classes for children ages 4 months through 7 years old to foster language, fine, gross motor and listening skills, as well as self-esteem in a fun atmosphere. Children ages 6 months through 8 years old also enjoy open play with books, toys, crafts, instruments, and more. All teachers are experienced and many hold education certifications. Birthday parties are also offered.
Tumbling Tunes is located at 240C Fort Salonga Road in Northport. 631-697-0140. [email protected]. www.tumblingtunes.com.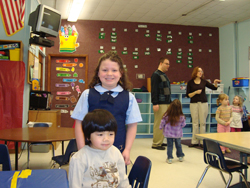 Learn and Grow
A mainstay in the community for 52 years, The Emanuel Lutheran School is expanding their program offerings. Their new, interactive Mommy and Me program will promote a bonding experience as well as increase learning and socialization skills, and confidence. Led by an award-winning teacher, the program includes music, dance, story time, play time with parachutes and bubbles as well as free play. For children ages 10-18 months old, the one-day program is available on either Mondays or Wednesdays, 10:45am-11:30am; for children 19-30 months old, the two-day program is on Mondays and Wednesdays,
1:30pm-2:30pm. The sessions for both age groups run from September 20 through January 28, 2011.
The school is also launching their new Lutheran Counseling Center, to help girls become confident and independent young women. Led by licensed psychologists and social workers, girls ages 8-13 will discuss topics like self-esteem, body image, and peer pressure. There are 8 group sessions from 3pm-4pm starting on September 30th; individual sessions are also available. The Lutheran Counseling Center is made possible by grants from the Lutheran Services for Children Endowment at the ELCA Foundation.
The Emanuel Lutheran School is located at 179 East Main Street, Patchogue. 631-758-2250. www.emanluthpatch.org.
Find more Kids Classes and Programs in Suffolk County, Long Island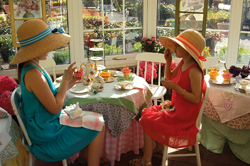 Tea Time in Huntington
Main Street Nursery, which encompasses nursery, greenhouse, full-service florist, and gift shop, opened a Tea Room in April that has since been available for private parties and high tea by reservation. Starting this month, the Tea Room will be open to the public Wednesday-Sunday from 11am-4pm, when it will offer items from its new Simplicity Menu, which includes more than 20 loose teas, fresh-baked scones, sweets, and other high tea items.
The Tea Room can still be reserved for private parties, including children's tea parties, which include a personalized cup and saucer for each guest. Party guests don vintage clothing for high tea, make a floral arrangement, parade through the nursery yard, and visit the backyard farm, which includes a variety of pettable critters.
Through Labor Day, guests can visit the nursery's Butterfly Zoo. In October, the area turns into a Boo Zoo complete with hay maze and fall activities, all of which is free and open to the public.
Main Street's nursery and greenhouse offer a wide variety of plants, trees, and garden décor; the gift shop offers home décor and novelty items; and the full-service florist offers everything from everyday flowers to wedding arrangements.
Located at 475 W. Main Street, Huntington. 631-549-4515. www.mainstreetnursery.com.