Creating Wellness

As New York's leading center for Enzyme Replacement Nutrition, The Creating Wellness Center of Commack focuses on digestive health and wellness. Dr. David Pollack and Dr. Matthew Lewis are dedicated to helping you find healthy solutions to achieve your health goals. The center offers Enzyme Replacement Nutrition that utilizes over 80 different enzyme formulas, physical examinations to identify nutritional deficiencies, lifestyle advice regarding activities to avoid or do differently, and wellness chiropractic with new correction methods and state of the art technology. In addition, it provides special "blueprint" exercises designed to strengthen and correct your own unique problem, nutritional counseling, spinal and postural screenings and soft tissue therapy. Experience Moxabustion, an ancient Chinese technique used to balance energy and relax the body, or enjoy an energizing detoxification for an immediate increase in energy, fewer aches and pains, and improved sleep. The office is open Monday through Thursday 10am-1pm and 3pm-6:30pm, and Saturdays by appointment.
66 Commack Road, Commack. 631-462-0801. www.creatingwellnessli.com.
Because A Girl's Gotta!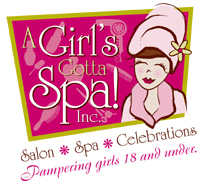 Developed by a pair of sisters, Patchogue's A Girl's Gotta Spa Inc. satisfies every girl's need to be pampered with a sweet touch. Designed for girls 18 and under, the spa's manicures and facials satisfy small cravings, while spa packages allow you to indulge and really treat yourself. The "Pampered Princess" features a manicure, hair styling and makeup application; and "Ultimate Day of Decadence" is comprised of an ice cream manicure and pedicure, hair styling, deluxe chocolate facial, and lunch. Party packages provide invitations, use of pink spa robes and a tiara for the
birthday girl. Pizza and drinks are enjoyed in the private lounge that has a karaoke machine and flat screen TV, and each girl is given a hair accessory to take home. A Girl's Gotta Spa, Inc. uses 100 percent pure organic skin care products and all of the products carried in the salon are "nut free." Open 10am-5pm on Wednesday and Thursday, 10am-7pm on Friday, 10am-6pm on Saturday, and 10am-2pm on Sundays. The Spa can be found at 240 East Main Street Patchogue. 631-569-2012. www.girlsgottaspa.com.
Homework Help Only a Click Away...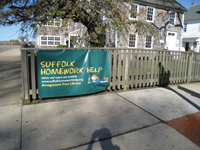 Open to all Suffolk County students in grades K-12, Suffolk Homework Help is a free, online tutoring service and academic resource. Students simply use a library card and a computer with Internet access to connect with certified tutors who work one-on-one in a secure online classroom. Students at every level, from elementary to advanced, receive help with studying, projects, essay writing, and test preparation in core subjects that
include algebra, statistics, chemistry, physics, social studies, and English. Tutors are accessible seven days a week from 2pm-11pm. Help preparing for GED, New York State Regents, College Entrance and Graduate School Entrance Exams is also available, and each service is also offered in Spanish. Over 93 percent of Suffolk County students who have utilized Suffolk Homework Help agree that it is helping them improve their grades. www.suffolkhomeworkhelp.org.