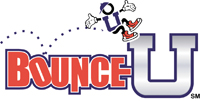 Just Bounce!
Offering a safe and clean environment filled with inflatables, slides, obstacle courses, and interactive equipment, BounceU in Farmingdale provides family fun and private birthday party entertainment. With a mission to "create a memory that will last forever," BounceU hosts birthday parties of all sizes, team parties, youth group functions, fundraisers for schools or clubs, field trips, and holiday parties. Children under age 7 can enjoy preschool playdates, while all ages are invited to open bounce sessions and family bounce nights, which include video games and music.
The newly added structured play programs allow for cognitive and creative growth with a fun twist. "Create and Bounce" provides physical activity with a balance of playtime and creative time, while "Bounce and Learn" develops motor skills and social abilities in children between ages 2-5. Kids' programs and camps can be enjoyed during spring and summer sessions.
BounceU's newest location is 101 Carolyn Boulevard, Farmingdale. 631-777-JUMP (5867). www.bounceu.com.
Designed to complement a primary care physician as an alternative to the emergency room for those up to age 21, PM Pediatrics has opened its doors in Selden. With one office already in Syosset, PM Pediatrics is staffed by pediatric emergency specialists with special training in treating children in critical situations. Providing remedies for a variety of illnesses and injuries, the on-site laboratory offers diagnostic testing and digital x-ray imaging allows for immediate results in high resolution. The specialists treat wounds that require stitches, broken bones, sprains, fevers, ear infections, asthma, dehydration and more.
PM Pediatrics accepts walk-ins; appointments are not necessary. The offices are open nights and weekends, 365 days a year, from 5pm to midnight Monday through Friday, and 12pm until midnight on Saturday and Sunday. PM Pediatrics can be found at 596 Jericho Turnpike in Syosset, 516-677-5437; and at 239 Middle Country Road in Seldon; 631-696-5437. www.pmpediatrics.com.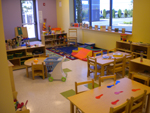 A Place to Learn
Kiddie Academy opened last month in Nesconset, providing a warm and nurturing childcare and educational space where children can learn and grow. Kiddie Academy provides services for children 6 weeks old through Pre-K, as well as before- and afterschool programs for older children through age 12; specific curriculum is tailored for each age group. The lead teachers - many who are parents themselves - hold degrees in education and are experienced professionals. Kiddie Academy also offers "Watch Me Grow," a Web cam setup enabling parents to monitor their child's progress during the day.
Kiddie Academy is located at 62 Lake Avenue South, Nesconset. 631-724-5437. www.kiddieacademy.com/nesconset.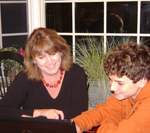 A Speech Therapy Resource
The speech-language pathology clinic, Long Island Stuttering and Speech, located in East Northport, offers specialized treatment programs for children and adults with developmental and medically based speech and language disorders, including fluency disorders, auditory processing disorders, language delays and disorders, articulation/phonological disorders, PDD-NOS/autism, neurological disorders, oral motor- and muscle-based speech disorders, and behavioral- and sensory-based feeding disorders. The clinic offers Telespeech for students, elementary-school aged through adult, who live too far from the center or who are unable to attend weekly sessions. Occupational therapy services, nutritional counseling, family support meetings, and parent training sessions are available as well. The clinicians at Long Island Stuttering and Speech use their diverse skills, areas of expertise, and years of experience to identify each client's strengths and needs, and work with the families, educators, and healthcare providers to ensure a comprehensive approach.
Long Island Stuttering and Speech is located at 246 Suite East Larkfield Road, East Northport. 631-261-7740. www.longislandstutteringandspeech.com.