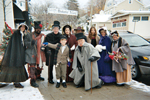 A Dickens Holiday
The first weekend in December, you will feel like you've just stepped into a holiday scene right out of a Charles Dickens novel, at the 14th Annual Charles Dickens Festival. The event features storybook characters from the Dickens era roaming about Port Jefferson Village. Enjoy horse-drawn carriage rides, a-cappella performances by choirs and harmony groups, magic shows by The Great Wizard of the North, ice skating at the village center, a live-action Christmas Carol Radio Show, and a Dick Wilkins' Dance Celebration that features dances that were popular in the mid-19th century, including the waltz and the polka. The Parade of Puppets will end the festival. East Main Street will feature decorated trees that represent drop-off sites for donations to area charities and food banks. New this year is The Toys for Tots Railroad, a 20-train exhibit that is housed on four different levels at Belle Terre Community Center. All ages. Event prices range based on the activity. December 4-6. See complete schedule online. The Greater Port Jefferson-Northern Brookhaven Arts Council and Port Jefferson Village Center, East Main Street, Port Jefferson. 631-473-5220. www.gpjac.org.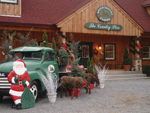 Bright Lights at Brightwaters
The holiday season is already underway at Brightwaters Farms & Nursery, which offers a variety of activities to get families into the Christmas spirit. Besides acres of Christmas trees to choose from, and a delightful country store that features wreaths, ornaments, candles, and other festive decorations for sale, families can explore the farm with a hayride, enjoy hot cocoa, and get an up-close look at the spectacular Winter Wonderland Holiday Light Show. Hayrides and Winter Wonderland daily 5:30-9:30pm; Fridays, Saturdays, Christmas Eve, and New Year's Eve 5:30-10:30pm (weather permitting). Holiday Light Show $5; through January 3. On Saturdays and Sundays, treat your child to brunch with Santa Claus and take a family portrait. All ages. Brunch seatings 9:30, 10:30, 11:30am, 12:30, and 1:30pm, December 5-20. $17.99; $12.99 kids 2-12; under 1 FREE. Don't miss the Christmas Tree lighting on December 5 at 6pm. Brightwaters Farms, 1624 Manatuck Boulevard, Bay Shore. Email [email protected] for more information. 631-665-5411. www.brightwatersfarms.com.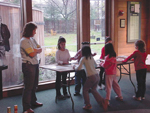 Yuletide Traditions Past and Present
This holiday season, families can tour the home where poet Walt Whitman was born and compare holiday celebrations back in 1819 with the traditions of today. During Yuletide Family Fun Day, kids will love playing with old wooden toys and joining interactive games including hopscotch or "The Graces." Families will also decorate holiday cookies, make an ornament to hang on the tree, and take holiday pictures with Santa Claus. Registration suggested. $6.75 per child, chaperones FREE. December 6. 1pm. Walt Whitman Birthplace, 246 Old Walt Whitman Road, Huntington. 631-427-5240. www.waltwhitman.org.

Santa Arrives in Stony Brook
On December 6, from 2-5pm, Santa Claus heads down Main Street in Stony Brook Village on a horse-drawn carriage to hear kids' wishes and to light the 70-foot tree from atop a 3,000-light float. 111 Main Street, Stony Brook. 631-751-2244. www.stonybrookvillage.com.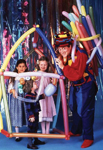 Hanukkah Celebration
Kids dress up in balloons to become unique Hanukkah characters during the Hanukkah Family Night party at the Suffolk Y JCC in Commack. Madcap balloon artist Allynn Gooen steals the show with his festive creations in a special performance. The night will also allow families to feast on Hanukkah latkes, enjoy special holiday crafts, and light the Menorah. Don't forget to bring an unwrapped toy to donate to needy families. Pre-registration required. All ages. $10 per family in advance; $15 at the door. December 13. 1:45pm. Suffolk Y JCC, 74 Hauppauge Road, Commack. 631-462-9800. www.suffolkycc.org.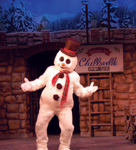 Frosty Comes to Town
Everyone's favorite snowman, Frosty, comes to the stage in Northport this holiday season in a kid-friendly theatrical production, through January 3 at the John W. Engeman Theater at Northport. 250 Main Street, Northport. 631-261-2900. www.johnwengemantheater.com.
Also see our list of "The Nutcracker" performances in Suffolk County, Long Island scheduled for this holiday season.
For more family-friendly, kid-friendly events in your area, see our full December Calendar of Events for Suffolk County, Long Island.