Sweet Strawberries on the North Fork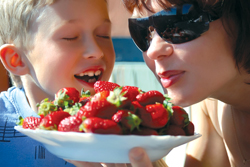 A trip to Long Island's North Fork is never complete without visiting the area's award-winning wineries and variety of farms, which offer Pick-Your-Own fruit and vegetables. And since June is Strawberry Month, there's no better time for strawberry lovers to visit than during the Mattituck Lions Club's 56th Annual Strawberry Festival.
Traditionally held every Father's Day weekend, the festival features amazing strawberry concoctions, including strawberry shortcake, strawberries dipped in chocolate, strawberry daiquiris and strawberry pie. There's even an International Food Court with funnel cakes and dinner items.
Kids can enjoy a carnival featuring rides throughout the weekend, and a variety of arts and crafts vendors. A live stage will be set up, where musical acts provide live entertainment.
Many families volunteer to hull the strawberries to kick off the festival on Thursday night. On Friday and Saturday nights, fireworks light up the sky. At 3pm on Saturday, families won't want to miss the annual naming of the "Strawberry Queen," where a local girl is chosen as a scholarship winner, presented by the Lions Club.
Info
Where: 1175 Route 48, Mattituck
When: June 17, 5-9pm; June 18, 5-11pm; June 19, 10am-11pm; June 20, 11am-5pm.
How much: FREE on Thursday; Friday $2, free ages 5 and under; Saturday-Sunday $5; $2 ages 5-11; free under 5. Additional fee for carnival rides.
For more information: 631-298-2222 or www.mattituckstrawberryfestival.org.
For a complete guide to the area, visit www.northfork.org.
If you want to explore the rest of the North Fork before or after the festival, head to Greenport to browse a variety of shops, stop for ice cream, and ride the antique carousel in Mitchell Park on Front Street. It's open 10am-9pm in the summer. You can also ride the Peconic County Miniature Train at the southern end of Middleton Road and the western end of Webb Street, open Sundays 1-4pm. Ships sail from Greenport to tour many of the East End lighthouses, or take the ferry to visit Shelter Island.
In Southold, The Custer Observatory offers "Saturday Evening Stargazing," where families can look at the nighttime sky with telescopes. Other outdoor options include parks and beaches like Orient Beach State Park, Southold Town Beach, New Suffolk Beach, and Norman Klipp Park. Families can rent canoes or kayaks at Peconic Paddler in Riverhead and sail the Peconic Bay through the Long Island Pine Barrens.