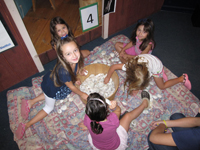 Feel the Love on Valentine's Day
It may be cold outside, but there are all kinds of Valentine's Day activities that are sure to warm your heart. Here are some nearby suggestions.
Valentine's Day Open Arts and Crafts: Using different art mediums, kids design fun, creative Valentine's Day crafts. Sessions run hourly February 5, 10am-6pm; $20. Then on February 7 at 10am, kids create love-filled crafts, enjoy a delicious Valentine's Day Brunch, listen to a heartwarming story, and more; $15. Pre-registration required. Bubble by jdella, 15 East Main Street, Babylon Village. 631-587-0050. www.bubblelearning.com.
Spa Science: Kids and parents learn to be cosmetic chemists and make lip balm, soap, and bath salt. Then they wrap and decorate them for Valentine's gifts. Registration and payment required. February 5. 7-9pm. $22 parent/child; $18 each additional child. Long Island Science Center, 11 West Main Street, Riverhead. 631-208-8000. www.lisciencecenter.org.
Victorian Valentine Workshop: Children ages 7 and up create a craft from Walt Whitman's time and then participate in poetry writing, so appropriate for Valentine's Day. They'll make a Victorian Reticule - a small purse that swings from the wrist and is used as an envelope for a poem written for someone special. February 6. 1pm. $9.75. Walt Whitman Birthplace State Historic Site, 246 Old Walt Whitman Road, Huntington Station. 631-427-5240. www.waltwhitman.org.
Hot Cocoa and Marshmallows: Toddlers and preschoolers can participate in this Valentine's story and craft activity, enjoying hot cocoa and marshmallows, listening to a story, participating in a Valentine's-themed story and craft. February 10. 10am. $3. Ward Melville Heritage Organization Educational and Cultural Center, 97P Main Street, Stony Brook. 631-689-5888. www.stonybrookvillage.com.
Sailors' Valentines For Valentine's Day: Kids ages 4-12 learn about shell shapes and design their own Valentine out of a beautiful seashell mosaic, just like the ones sailors brought from the West Indies in the 1800s. RSVP required. February 14. 1:30pm. $8 plus general admission of $6, $5 seniors and children ages 5-18. Cold Spring Harbor Whaling Museum, 279 Main Street, Cold Spring Harbor. 631-367-3418. www.cshwhalingmuseum.org.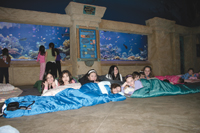 Aquarium Sleepover
Kids get to spend the night sleeping next to their favorite fishes. In celebration of Valentine's Day, visit some love bugs, including millipedes, stickbugs, and a tarantula; learn how animals use mating calls to find their perfect mate; and enjoy crafts and activities, including a movie and bedtime snack. In the morning, wake up with the fish and enjoy a continental breakfast. Reservations required. Call 631-208-9200, ext. 426. February 12. 6pm-7am. All ages. $60 plus tax; free children 2 and under. 431 East Main Street, Riverhead. 631-208-9200. www.atlantismarineworld.com.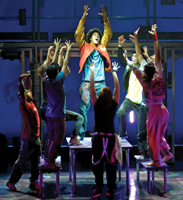 Get Into the Groove
If you love hip-hop dancing, you probably already know of Groovaloo, an award-winning dance group that just starred Off-Broadway, won the 2009 "International Superstars of Dance" on NBC, and appeared on Fox's "So You Think You Can Dance." Here's your chance to see them live on stage, as they perform freestyle moves based on their life experiences as told to the audience. February 13. 8pm. $38; $19 ages 12 and under. Staller Center for the Arts, Stony Brook University, off of Nichols Road, Stony Brook. 631-632-2787. www.stallercenter.com.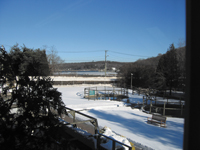 Winter at the Hatchery
Celebrate winter with a variety of activities for kids at the Cold Spring Harbor Fish Hatchery & Aquarium. Every Monday, preschoolers and their parents learn about fish and trout feeding and create nature-related crafts, at "Fish Friends for Mommy and Me." On Wednesdays and Sundays, families can get a "Highlights of the Hatchery Tour," and several February vacation programs offer similar activities for grades K-2 and 3-6, February 16-18. Call or visit the website for pricing and times. Cold Spring Harbor Fish Hatchery & Aquarium, 1660 Route 25A, Cold Spring Harbor. 516-692-6768. www.cshfha.org.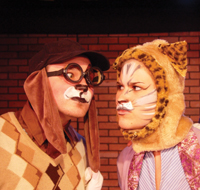 Cats' Curtain Call
It's not quite the musical Cats, but Three Little Kittens, a children's revival musical, is coming to the stage in Port Jefferson. The show stars three singing feline friends - Ricky, Lucy, and Ethel - who search for fame (as well as their mittens), all while fighting with their neighbor Barker Doggone, who dreams of being a stand-up comic. They learn to stop fighting like cats and dogs and ultimately find the true meaning of friendship and cooperation. Ages 3-10. February 17-20. 11am. $8. Theatre Three, 412 Main Street, Port Jefferson. 631-928-9100. www.theatrethree.com.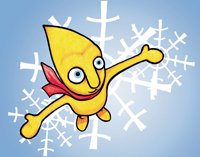 That Little Guy from the Sun
Catch the lovable creature from the sun, Gustafer Yellowgold, in a multi-media presentation full of original story songs and animated illustrations. At Goat On a Boat in Sag Harbor on February 20 at 11am, East Union Street, Sag Harbor; 631-725-4193. At Cinema Arts Centre in Huntington on February 21 at 12pm, 423 Park Avenue, Huntington; 631-423-7611. Ages: TOD, YE. Call for pricing. For more information, visit www.gustaferyellowgold.com.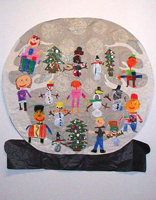 Kids' Art Exhibition
If you want to take the kids to admire art that they can easily relate to and appreciate, head to Guild Hall this month. Artwork created by students in kindergarten through eighth grade from public and private schools throughout the town of East Hampton is on display, part of the Annual Student Art Festival, Part I. All ages. FREE. Fridays and Saturdays 11am-5pm and Sundays 12-5pm, through February 28. Guild Hall, 158 Main Street, East Hampton. 631-324-0806. www.guildhall.org.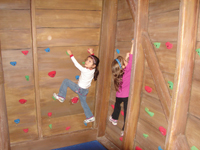 Active Play
While it's cold outside, kids can stay active inside throughout with Art, Music & Movement with Moonsoup. This early childhood enrichment program lets them enjoy sensory and active play, storytime, and a mix of art and music activities, while meeting other kids their age. $25 drop-in program plus $3 materials fee. For toddlers and up, in appropriate age categories. Mondays and Wednesdays through March 1. 10am and 11am. Children's Museum of the East End (CMEE), 376 Bridgehampton/Sag Harbor Turnpike, Bridgehampton. 631-537-8250. www.cmee.org.