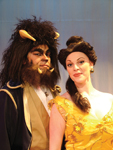 A Tale As Old As Time
If you missed the classic fairytale, Beauty and the Beast, on Broadway, here's your chance to see it on stage right here on Long Island. Enjoy all the musical numbers and classic songs like "Be Our Guest," with a full cast of characters including Mrs. Potts the teapot, Chip the teacup, Cogsworth the pendulum clock, and more. All ages. $22; $20 seniors; $16 students. Through November 29, Wednesdays, Fridays, Saturdays, and Sundays (except for Wednesday November 25). See times online. CM Performing Arts Center, 931 Montauk Highway, Oakdale. 631-218-2810. www.cmpac.com.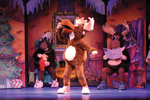 A Tale of 'Mooseltoe'
If your kids love the story of Rudolph the Red-Nosed Reindeer, they'll love Mooseltoe. This magical stage production tells the tale of a moose who lives with his family in the ice and snow and dreams of flying with Santa's reindeer. Join Mooseltoe on his journey to find the Moose King and learn to believe in himself. Featuring the voices of Al Roker, John Cullum, and Carole Shelly. All ages. $20. November 21 at noon; November 22 at noon and 3pm; November 27 at noon and 5pm; November 28 at noon and 3pm. Gateway Playhouse, 215 South Country Road, Bellport. 631-286-1133. www.gatewayplayhouse.com.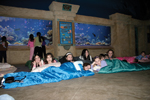 Camp Out with Fish and Birds
Kids can bring their sleeping bags for a night visit at the Aquarium Sleepover. The theme, in celebration of Thanksgiving, is birds. They'll listen to story time, participate in a Happy Feet dance contest, learn about birds, and encounter live ones courtesy of the Priceless Parrot Preserve. They can also watch a movie, make penguin crafts, enjoy a submarine simulator ride, and eat dinner and breakfast the next morning as well. All ages; parents are welcome to accompany the little ones. November 20-21, 6pm-7am. Reservations required. $60 per person plus tax; 2 and under FREE. Atlantis Marine World Aquarium, 431 East Main Street, Riverhead. 631-208-9200. www.atlantismarineworld.com.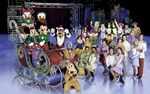 Disney Dazzles On Ice
Enjoy a winter wonderland when 50 characters from 16 Disney stories take to the ice with Disney on Ice's Let's Celebrate. Enjoy watching Mickey and Minnie, a Hawaiian luau with Lilo and Stich, a royal ball with the Disney princesses, and more. Don't forget to bring an unwrapped toy for Toys for Tots to donate in the designated boxes. All ages. $20, $27.50, $32.50, $55, $80. November 10 and 11 at 7pm, November 12 at 10:30am and 7pm, November 13 at 7pm, November 14 and 15 at 11am, 3 and 7pm. Nassau Coliseum, 1255 Hempstead Turnpike, Uniondale. 800-745-3000. www.nassaucoliseum.com.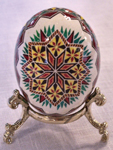 Ethnic Foods and Traditions
Celebrate the holidays with delicious ethnic delicacies, decorations, and customs during Fall Foodways at the Long Island Museum. Learn about the Ukrainian tradition of egg decorating for the holidays from Mattituck-born Olga Lomago, who comes from a traditional Ukrainian family. Watch as Margaret Stephens presents Armenian needlework and Sherry Blakely-Smith teaches all about American Indian beadwork. All ages. November 15, starting at 1pm. $9; $7 seniors; $4 ages 6-17; under 6 FREE. The Long Island Museum, 1200 Route 25A, Stony Brook. 631-751-0066. www.longislandmuseum.org.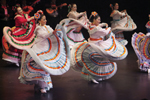 Fiesta at Guild Hall
Celebrate a Mexican Fiesta, with an afternoon of music, puppetry, and a performance by the Calpulli Dancers, at Guild Hall in East Hampton on November 8. 158 Main Street, East Hampton. 631-324-4050. www.guildhall.org.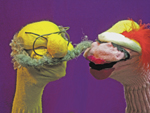 Huntington Arts Puppet Show
Kids create one-of-a-kind sock puppets and put on their own show at a Rockin' Socket Puppet-Making Workshop at the Huntington Arts Council on November 14. 213 Main Street, Huntington. 631-271-8423. www.huntingtonarts.org.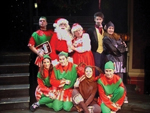 Two Shows at Theatre Three
Kick off the holiday season with Theatre Three's stage version of A Christmas Carol, now in its 26th year. Watch all the magic on stage as Ebenezer Scrooge is visited by three ghosts who teach him the meaning of Christmas past, present, and future. All ages. $14 in November and $21-$28 in December; students $14 all performances; senior rates available. November 13-December 27 (except Christmas Day). See schedule online.
The little ones will also love the holiday favorite, Barnaby Saves Christmas. Barnaby the elf and his reindeer friend, Franklynne, set off on a journey to help Santa and learn the true meaning of Christmas, Hanukkah, and the entire holiday season. $8. November 28; December 5, 12, 19, 24, and 26, at 11am.
Theatre Three, 412 Main Street, Port Jefferson. 631-928-9100. www.theatrethree.com.