Check out some great activities and events for kids and families scheduled during the month of April in Suffolk County, Long Island. Whether you're looking to celebrate Earth Day, catch a kid-friendly show, or enjoy the great outdoors, we've got the information a Suffolk County family needs.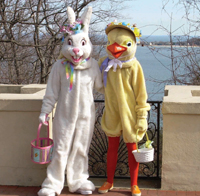 Easter Bunny Egg Hunt
On April 3, the Easter Bunny and Li'l Chick invite kids to join them for breakfast, followed by an Egg Hunt in the Rose Garden (weather permitting); games; Basket and Bonnet Parade; a breathtaking Planetarium show, "A Trip to the Planets"; and photo-video opportunities with the Easter Bunny and Li'l Chick. 9-11:15am. All ages. $30 adults; $18 children. 180 Little Neck Road in Centerport.
Pre-registration required by phone or online: 631-854-5579 or www.vanderbiltmuseum.org.
Celebrate Earth Day!
Calling All Young Artists: Saturday Workshops: On April 24, environmental artist Tonito Vaderrama presents "Talking with Trees: A Special Earth Day Workshop." Kids ages 5-10 create their own symbolic Native American talking sticks with natural materials and learn about Native American traditions and ceremonies. 1:30-3pm. $20. Huntington Arts Gallery, 213 Main Street, Huntington. 631-271-8423. www.huntingtonarts.org.
First Annual Arbor Day: The Suffolk County Farm & Education Center's first annual Arbor Day event will be part of the 4H Million Tree Project. Families will take part in the day's events, including tree planting, farm garbage clean-up, and a GPS geocaching scavenger hunt. April 24. 10am. $5. Suffolk County Farm & Education Center, 350 Yaphank Avenue, Yaphank. 631-852-4610. www.ccesuffolk.org.
Spring Fair: Families can enjoy environmental exhibitions, games, refreshments, and fishing for children under 12. All fishing gear provided. Call for details. April 24; rain date May 1. 10am. $6; $4 ages 3-12 and seniors 65+; under 3 FREE. Cold Spring Harbor Fish Hatchery and Aquarium, 1660 Route 25A, Cold Spring Harbor. 516-692-6768. www.CSHFHA.org.
National Park Week - Junior Ranger Day: This ranger-led program under the tent at the lighthouse lets kids complete the Jr. Ranger booklet and receive a special patch. Other special programs offered. Call for details. Ages 7 and up. April 24. 11am-4pm. FREE. Fire Island Lighthouse, Robert Moses State Park, parking field 5, Fire Island. 631-661-4876. www.fireislandlighthouse.com.
Fourth Annual Earth Day Celebration: The Suffolk County Department of Parks, Recreation and Conservation hosts this event for Earth Day, featuring interactive exhibits, nature walks, beach grass planting, live entertainment, trail clean-ups, marine life exhibits, activities for kids, face painting, wildlife demonstrations, kayak demonstrations, and more. April 24. 10am-4pm. FREE. Indian Island County Park, Cross River Drive (Route 105), Riverhead. 631-854-4949. www.co.suffolk.ny.us.
Nature Tales: Celebrate Earth Day With Stories and Song: Acclaimed storyteller Heather Forest interweaves story, song, poetry, and original folk music inspired by animals, trees, and ecology in this outdoor concert, in celebration of the opening of the Suffolk County Environmental Center. An eco-carnival takes place throughout the day, featuring games, music, art, food, and nature programs. April 24. Eco-carnival 10am-7pm; concert 3pm. FREE. Suffolk County Environmental Center, 550 South Bay Avenue, Islip. 631-581-6908. www.seatuck.org.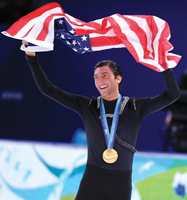 Figure Skating Family Entertainment
If you already miss watching the Winter Olympics, you can see many Olympic figure skaters live on the ice in Nassau County. Olympic athletes Evan Lysacek, Tanith Belbin, Benjamin Agosto, Sasha Cohen, Todd Eldredge, Michael Weiss and several others join the 24th season of Smucker's® Stars on Ice® Tour at Nassau Coliseum. Proceeds benefit the Boys & Girls Clubs of America. All ages. Tickets start at $25. April 17 at 7:30pm. Nassau Coliseum, 1255 Hempstead Turnpike, Uniondale. 1-800-745-3000 or www.starsonice.com.
Amusement Parks, Hockey, Boating, and Baseball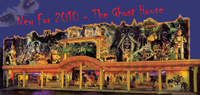 Adventureland: The 2010 season kicks off with a new haunted Ghost House, open daily through April 4 for spring recess and then weekends and holidays throughout the spring. 2245 Route 110, Farmingdale. 631-694-6868. www.adventureland.us.
New York Islanders: See the Islanders in their mission to reclaim the Stanley Cup. Visit the Islanders' website for schedule and tickets. Through April 11. Nassau Coliseum, 1255 Hempstead Turnpike, Uniondale. 516-501-6700. www.newyorkislanders.com.
Seal Cruises: Join the Riverhead Foundation for Marine Research & Preservation, which sails aboard the Captain Lou Fleet. View harbor seal populations throughout Hempstead Bay. Call or go online for more information or to adopt a seal, sea turtle, whale, or dolphin. Weekends through April 11. Boarding time 12:30pm, sailing departures 1pm. $24; seniors 65+ $21; children 3-12 $19; under 3 FREE. Captain Lou Fleet, 28A Woodcleft Avenue, Freeport. 631-369-9840. www.riverheadfoundation.org.
Long Island Ducks: See a minor league baseball game this season featuring the Long Island Ducks at Citibank Park. See website or call for season schedule. April 22-September 19. Citibank Park, 3 Court House Drive, Central Islip. 631-940-DUCK. www.liducks.com.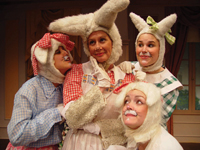 What's Showing in Suffolk
Mr. Easter Bunny: Kids celebrate Easter with a live theatrical play. Watch as Billy and Betty try to convince their dad, the Mayor of Easterville, to believe in a six-foot, magical, singing and dancing Easter Bunny. April 1. 1pm. $10. BroadHollow Theatre at BayWay Arts Center, 265 East Main Street, East Islip. 631-581-2700. www.broadhollow.org.
Peter Rabbit: Peter Rabbit returns in this theatrical production during spring break. Peter and his cousin, Benjamin Bunny, are back to their old tricks in the McGregor's' garden. It will take the help of Flopsy, Mopsy, and Cottontail to rescue them from this mirthful mess. April 1 and 3 at 11am, and visit the Bunny Trail at 3pm to meet the actors and enjoy face painting, games, stories, and refreshments. $8 show, $12 bunny trail. Theatre Three, 412 Main Street, Port Jefferson. 631-928-9100. www.theatrethree.com.
Sleeping Beauty: As part of the Nancy and Frederick DeMatteis Arts Education Program, the Spring School Vacation Musical Theatre Camp's original adaptation of the classic fairy tale, Sleeping Beauty, comes to the stage starring local children. April 2. 7pm. $15. Westhampton Beach Performing Arts Center, 76 Main Street, Westhampton Beach. 631-288-2350, ext 102. www.whbpac.org.
The Tale of Peter Rabbit: Beatrix Potter's best known character, Peter Rabbit, comes to life in a theatrical play live on stage. April 3 at11am and 2pm; April 10 at 2pm. $9. CM Performing Arts Center, 931 Montauk Highway, Oakdale. 631-218-2810. www.cmpac.com.
The Jungle Book: Kids can watch their favorite characters from the Jungle Book: Mowgli, Baloo, King Louie, and the gang live on stage as they swing their way through madcap adventures and thwart the ferocious tiger, Shere Khan, in a theatrical performance. April 3, 10, and 17 at 11am. $10. BroadHollow Theatre at BayWay Arts Center, 265 East Main Street, East Islip. 631-581-2700. www.broadhollow.org.
Cinderella: See the beloved Disney tale of Cinderella live in a theatrical version for families. April 3 at 12pm, April 10 at 12pm and 3pm. $15. John W. Engeman Theater at Northport, 250 Main Street, Northport. 631-261-2900. www.johnwengemantheater.com.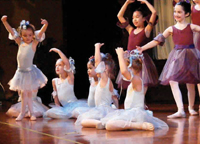 A Springtime Story
The Hampton Ballet Theatre School performs an original ballet, The Three Sisters and the Magic Doll Shop, at Guild Hall in East Hampton. The show, which features beautiful costumes and is set to the music of Leo Delibe's score, "Coppelia," is about a magic doll shop and three sisters who long for the beautiful dolls in the window.
April 23 and 24 at 7:30pm; April 25 at 2pm. All ages. $20; $15 children under 12. 158 Main Street, John Drew Theater, East Hampton. 631-237-4810. www.guildhall.org.
Kid-Friendly Exhibits
High Arts Showcase V: View artwork on display from students from six high schools on Long Island: Commack, Harborfields, Huntington, South Huntington, Northport/East Northport, and Plainview/Old Bethpage. Through April 5. 7am-7pm weekdays; 8am-1pm weekends. All ages. Call for pricing. Huntington Arts Council, Art-trium Gallery, 25 Melville Park Road, Melville. 631-271-8423. www.huntingtonarts.org.
Arcadia/Suburbia: Architecture on Long Island, 1930-2010: This exhibit brings to light the impressive architectural history of Long Island, especially on the North Shore. It underscores the role Long Island played in the development of the modernist and post-modernist movements in the United States, and charts the region's development from a largely agrarian society and a significant leisure destination to a "mature" suburban culture. Children can experiment with their own architectural design. Huey wall text engages children and assists in understanding art and architecture. Through April 11. Wednesday-Friday 10am-4pm; Saturday and Sunday 11am-5pm. All ages. $8, $6 seniors, $5 students, children under 10 FREE. The Heckscher Museum of Art, 2 Prime Avenue, Huntington. 631-351.3250. www.heckscher.org.
Aquatic Adventures: Sea Lion Kiss: Each weekend, kids can get an up-close encounter - a kiss and keepsake photo - with a sea lion named Java. Weekends through Memorial Day, then daily in the summer. For kids 8 and up; kids under 8 must be accompanied by an adult (with the adult receiving the kiss). Saturdays and Sundays, 1pm and 2:45pm. $21.50; $18.50 seniors 62+ and children 3-17; FREE 2 and under; $16 Sea Lion Kiss & Photo. Atlantis Marine World, 431 East Main Street, Riverhead. 631-208-9200. www.atlantismarineworld.com.
Saturday Drop-Off and Sunday Family Fun: Every Saturday at 1pm and 3pm at the Children's Maritime Museum, kids ages 3-10 enjoy hands-on science activities and complete a take-home science project while learning about Long Island's maritime history. On Sundays, family fun hours are 1-5pm. Reservations suggested; call Carole at 631-698-0767. $20 per person, per session. Children's Maritime Museum at Port Jefferson, East Broadway, Port Jefferson. 631-331-3277. www.childrensmaritimemuseum.org.
Something for Everyone at the Long Island Museum
America's Kitchens explores 200 years of evolution in the American kitchen, from open fires to microwave ovens. Through October 17 in the Art Museum.
View elaborately decorated carriages in the European Vehicles Gallery and a gentleman's coach house modeled after a 19th-century Gold Coast mansion carriage house.
In Under the Canopy of Heaven: Works by William Sidney Mount, families explore how Long Island's landscape provided the backgrounds for some of Mount's most well-known paintings. Through June 30.
Open Friday-Saturday 10am-5pm, Sunday 12-5pm. $9; $7 seniors 62+; $4 children 6-17 and college students with ID. The Long Island Museum, 1200 Route 25A, Stony Brook. 631-751-0066. www.longislandmuseum.org.
For more family events in Long Island and the NYC area, visit our Online Calendar
Get the best local events delivered to your inbox each week when you sign up for our newsletter