Check out these local activities and events for children and families scheduled during the month of June in Suffolk County, Long Island. Whether you're looking to celebrate Father's Day, catch a kid-friendly show, or just enjoy the great outdoors, we've got all the information a Suffolk County family needs.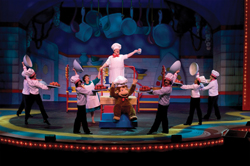 Catch Curious George!
The world premiere tour of Curious George Live! stops at the Nassau Coliseum June 4-6. Families can watch Curious George and the Man in the Yellow Hat live on stage in this musical journey, when they travel across the world to enter Chef Pisghetti's meatballs in the International Golden Meatball Competition. During this adventure, George learns more about friendship, travel, and meatballs than he'd ever imagined.
Suitable for all ages. Tickets are $15-$100. June 4 at 7pm; June 5 at 11am and 3pm; June 6 at 1pm and 5pm. Nassau Coliseum, 1255 Hempstead Turnpike, Uniondale. 800-745-3000. www.nassaucoliseum.com.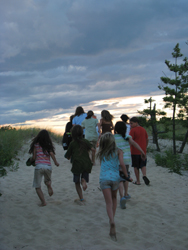 Past, Present, and Future
Peconic Dunes Camp is holding an Open House on June 6 at Dunes County Park in Southold. Visit the camp on Long Island's beautiful North Fork to see the site, meet the educators, and discover the exciting summer experiences planned for your children. Call 631-727-7850 or e-mail [email protected].
Or, if you were a camper, counselor, or parent of a camper at Peconic or Pinecrest in the last 78 years, enjoy a camp reunion on June 19. BBQ and activities will be led by Peconic Dunes 4-H Camp staff, and walking tours will be provided. Preregistration required; call 631-727-7850, ext. 328, or e-mail [email protected].
For more information, visit http://peconicdunes.blogspot.com or http://ccesuffolk.org/peconic-dunes-4-h-camp.
Maritime Fun!
Kick off the start of the sailing season at the Long Island Maritime Museum's Bay Day. A Dutch minister will bless the largest vessel in the museum's collection, the 1888 oyster sloop Priscilla. The festival will also feature pirates, crafts for kids, food and live entertainment. June 12. 10am-4pm. All ages. $5. Long Island Maritime Museum, 86 West Avenue, West Sayville. 631-854-4974. www.limaritime.org.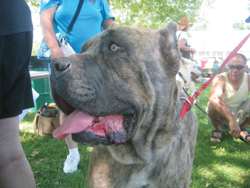 Help Homeless Pets
Families can help Long Island's homeless pets by signing up for the 11th annual Hounds on the Sound 3K Dog Walk. Besides the walk, this is an adoption event, hosted by Save-A-Pet Animal Rescue. Enjoy live music, food, vendors, contests and prizes, and meet dogs and puppies who are ready to be adopted from Save-A-Pet's no-kill shelter. Held rain or shine at Port Jefferson Village Center in Port Jefferson. June 13. 10am. $30. For more information and to register: 631-473-6333 or www.saveapetanimalrescue.org.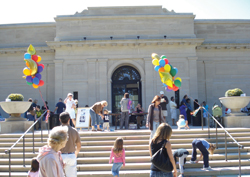 Celebrate Father's Day!
These local events, all of which take place on June 20, are fun ways to make Dad feel special.
Make a Craft
In celebration of Father's Day, kids create a garden stepping stone for Dad and learn about the origins of the land formations of Long Island. Afterwards, they can go on a tour of the rose garden. Registration required. Craft: 12pm walk: 2pm $10. Old Westbury Gardens, 71 Old Westbury Road, Old Westbury. 516-333-0048. www.oldwestburygardens.org.
Giddy-Up
Give Dad a 30-minute horseback riding lesson for Father's Day. All day long. $35. Greenlawn Equestrian Center, 29 Wood Avenue, Greenlawn. 631-456-1700. www.GreenlawnEquestrian.com.
Free Admission
Fathers and grandfathers are invited to visit the Heckscher Museum of Art admission-free on their special day. 11am-5pm. All ages. 2 Prime Avenue, Huntington. 631-351-3250. www.heckscher.org.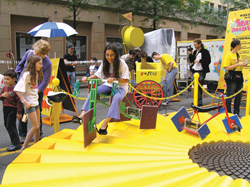 New Exhibits: From Math to Dreams
Check out two new exhibits opening up this month that are just for kids (and kids at heart)!
Math Midway Traveling Exhibit
This interactive, hands-on exhibit teaches mathematical concepts through fun activities. Kids ride a square-wheeled tricycle, spin the universal wheel of chance, and experience mind-bending mirrors. The exhibit is a production of the Museum of Mathematics, America's only museum dedicated to the wonders of math. For more information, see the momath.org website. Through July 6. All ages. Call for times and pricing. Ward Melville Heritage Organization, Stony Brook Village Center, Main Street on the Harbor, Stony Brook. 631-751-2244. www.stonybrookvillage.com.
Night Journeys: An Adventure in the World of Sleep and Dreams
Take a fascinating journey through the world of bedtime rituals and routines and into the nighttime experience of sleep and dreams at the Long Island Children's Museum's new exhibit. Visitors enter a whimsical bedroom setting where they are introduced to sleeping places from many parts of the world. Lie down on an ancient Egyptian bed, try out a headrest from Japan or Somalia, or carry dolls using a Mexican rebozo. All Ages. $10 admission. 10am-5pm. June 11-September 12. Long Island Children's Museum, 11 Davis Avenue, Garden City. 516-224-5800. www.licm.org.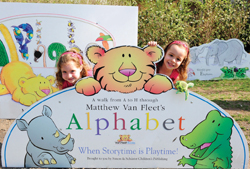 Wild Stories and Songs
Animal Tales Extravaganza is back with another month of live music from the top names in children's entertainment and readings from award-winning children's authors. Meet some of your favorite authors, like Holly Hobbie and Alex Beard, as they read their stories about animals. See top-rated children's entertainment like The Fuzzy Lemons and The Shushybyes perform their original music. Larger-than-life, interactive displays based on children's classics like The Very Hungry Caterpillar by Eric Carle allow children to walk through their favorite animal stories and experience them in a completely new way. Every weekend in June. $11-$15. The Bronx Zoo, 2300 Southern Boulevard, Bronx. 718-220-5100. www.bronxzoo.com.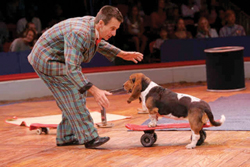 Summer Festivals and Shows
Huntington Summer Arts Festival
Enjoy this annual festival featuring a variety of music, theater and performing arts for all ages. See website for details and schedule. Through August 15. Huntington Arts Council, 213 Main Street, Huntington. 631-271-8423. www.huntingtonarts.org.
Muttville Comix Canine Comedy Show
This popular canine comedy show will feature 15 dogs doing a variety of tricks such as jumping rope, climbing a ladder, walking a tightrope, and skateboarding. Daily through September 6 at the 500-seat amphitheater at the Long Island Game Farm. Two shows on weekdays at 12pm and 3pm; three shows on weekends at 12pm, 2pm. and 4pm. See schedule online. All ages. Call for pricing. Long Island Game Farm Wildlife Park & Children's Zoo, Chapman Boulevard, Manorville. 631-878-6644. www.longislandgamefarm.com.
Big Apple Circus Presents Bello is Back!
Time Magazine calls him "America's Best Clown," and now, Bello from the Big Apple Circus is back in Eisenhower Park, under the Big Apple Big Top. He will perform breathtaking feats of humor in the ring, with no seat more than 50 feet away. A world of stellar circus stars will join him. June 11-July 4. Check schedule for times. All ages. $15-45. Eisenhower Park, 1899 Hempstead Turnpike, East Meadow. 516-572-0348. www.nassaucountyny.gov.
Nassau Coliseum Fair
Families can enjoy live entertainment from singers, dancers, and martial artists; a Great American Frontier Show; Vaudeville Dog and Pony Show; petting zoo; and other rides and attractions at this annual festival. Enjoy free fireworks on Saturday nights. See schedule online. Fridays-Sundays, June 18-July 11. All ages. $8 at the gate. Nassau Coliseum, 1255 Hempstead Turnpike, Uniondale. 800-745-3000. www.nassaucoliseum.com or www.nassaufair.com.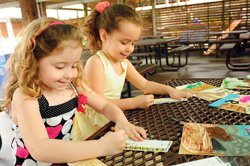 Scales and Stories
Go on an aquatic adventure as you explore the fascinating world of life under the sea and popular children's stories at Fish Tales Extravaganza. Throughout the month, children get to meet their favorite authors and listen as they read their new and classic works. In addition, an entire schedule of live family entertainment, including popular children's talent like Gigi and the Lend Me a Hand Band and John Tartaglia's ImaginOcean will be available. Plus, children can make their very own "fish tale" books. Every weekend in June. Times vary. $17; $13 children. Wildlife Conservation Society's New York Aquarium. Surf Avenue and West 8th Street, Brooklyn. 718-265-FISH. www.nyaquarium.com.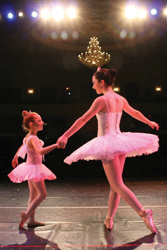 Audition for The Nutcracker
Ovations Dance Repertory Company in Bohemia is already holding auditions for its production of The Nutcracker Suite, which will be performed December 9-12 at the Patchogue Theater for the Performing Arts. For audition times and to register, call 631-218-0315 or email [email protected]. Ovations Dance Repertory Company is located at 52 Johnson Avenue, Bohemia. For more information, visit www.ovationsdance.com.
For even more family events in Suffolk County, Long Island, visit our Online Calendar.