Check out these great activities and events for children and families scheduled during the month of May in Suffolk County, Long Island. Whether you're looking to celebrate Mother's Day or Memorial Day, catch a kid-friendly show, or just enjoy the great outdoors, we've got the information a Suffolk family needs.
Must-See Shows in May

See what's on stage this month for kids and families.
Taylor Swift Live in Concert
Families can see pop/country star Taylor Swift live in concert. May 14-15. 7pm. Call for pricing. Nassau Coliseum, 1255 Hempstead Turnpike, Uniondale. 800-745-3000. www.nassaucoliseum.com.
The Music Man
See this classic musical live on stage and watch as fast-talking traveling salesman Harold Hill cons the people of River City, Iowa, into buying instruments and uniforms for a boys' band he vows to organize - this despite the fact that he doesn't know a trombone from a tambourine. May 14-June 6. See schedule online. All ages. $22, $20 seniors, $16 students. CM Performing Arts Center, 931 Montauk Highway, Oakdale. 631-218-2810. www.cmpac.com.
Little Red Riding Hood

The classic Grimm brothers fairytale comes to the stage with a fresh slant. Little Red Riding Hood sets off to bring her Granny her Girl Scout cookies. When she comes across a wolf, she learns a big lesson in safety in this decidedly modern play. May 22 and 29 at 11am; June 6 at 3pm. $8. Theatre Three, 412 Main Street, Port Jefferson. 631-928-9100. www.theatrethree.com.
Dan Zanes and Friends
Grammy Award winners Dan Zanes and Friends perform songs in English and Spanish in this children's concert. Kids can join the pre-show dance party and dance at Studio B, on Sunset Avenue. Call the box office to pre-register and for tickets. May 22. 2pm pre-show dance party; concert at 3pm. All ages. $20-$50 plus $5 pre-show dance party. Westhampton Beach Performing Arts Center, 76 Main Street, Westhampton Beach. 631-288-1500. www.whbpac.org.
Curious George Live! World Premier Tour
Families can watch Curious George and the man in the yellow hat live on stage in this musical journey. Watch as Curious George and Chef Pisghetti's famous meatballs go across the world for the International Golden Meatball Competition. George learns more about friendship, travel and meatballs than he'd ever imagined. June 4 at 7pm, June 5 at 11am and 3pm, June 6 at 1pm and 5pm. All ages. $15, $22, $27, $37, $52, $100 plus $3.50 county/facility fee. Nassau Coliseum, 1255 Hempstead Turnpike, Uniondale. 800-745-3000. www.nassaucoliseum.com.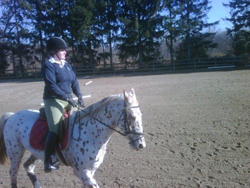 Celebrate Mother's Day
These events are all about making moms feel special.
Mother's Day Arts and Craft
Stroller Strides and Luna Mom's Club host a special fitness class for Mom and baby, after which participants make a special handprint keepsake for Mom. May 5. 10:30am. See prices on website, $8 vehicle entry fee. Email [email protected] to register or visit www.meetup.com/stroller-strides-suffolk-county-long-island. Belmont Lake State Park, Sylvan Road, North Babylon. 888-451-4948. www.strollerstrides.net/suffolkcountylongisland.
Riding Special
All mothers are invited to have a private 30-minute riding lesson for a special price of $35. Please call ahead to schedule a time. May 9. Greenlawn Equestrian Center, 29 Wood Avenue, Greenlawn. 631-456-1700. www.greenlawnequestrian.com.
Celebrate at Atlantis, Marine World
Take Mom to a beautiful brunch at the Aquarium. Enjoy food, entertainment, activities for kids and a craft for Mom. May 9. 11am, 1pm, 3pm. All ages. $32.95, children 3-12 and seniors $27.95, children 2 and under FREE. Atlantis Marine World, 431 East Main Street, Riverhead. 631-208-9200. www.atlantismarineworld.com.
A Toast to Mom
Spend Mother's Day at either Pindar Vineyards or Duck Walk Vineyards, where moms receive a complimentary treat. May 9. Call for time and price. All ages. Pindar Vineyards, Main Road, Peconic. 631-734-6200. www.pindar.net. Duck Walk Vineyards, 231 Montauk Highway, Watermill. 631-726-7555. www.duckwalk.com.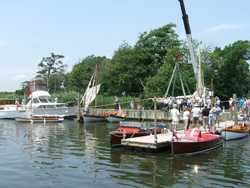 Museums: Maritime Fun and Art Exhibits
Nautical Festival
The Second Annual Nautical Festival at the Long Island Maritime Museum will feature a Fisherman's Flea Market, a fleet of boat dealers and their newest acquisitions. Families can sail on the 1888 oyster sloop Priscilla, and enjoy local craft vendors and entertainment by the Fishing Line Band. May 22-23. 10am-4pm. All ages. $5, ages 5 and under FREE. Long Island Maritime Museum, 86 West Avenue, West Sayville. 631-854-4974. www.limaritime.org.
The Heckscher Museum at 90
As part of the 90th anniversary celebration, the Then and Now exhibition features Old Master works including portraiture and sculpture, and a broad range of 19th-century American and European paintings that reflect the romantic sensibility of August Heckscher's collecting aesthetic. May 8-July 18. Wednesday-Friday 10am-4pm; Saturday-Sunday 11am-5pm. $8, $6 seniors, $5 students, FREE children under 10. The Heckscher Museum of Art, 2 Prime Avenue, Huntington. 631-351-3250. www.heckscher.org.
Climb the Lighthouse
Dedicated to presenting the rich maritime history of Long Island, the Montauk Lighthouse Museum invites visitors to climb the lighthouse tower to see the beautiful vistas of the east end. Open daily through June 13. 10:30-4:30. $9, $7 seniors, $4 children 41 inches in height to age 12. Montauk Lighthouse Museum, 2000 Montauk Highway, Montauk. 631-668-2544. www.montauklighthouse.org.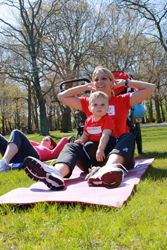 Celebrate Family Fitness
Stroller Strides is hosting its first Family Fun Fitness Festival on May 25 at Sunken Meadow State Park. Families can meet at the playground in the parking lot near the boardwalk at 9:30am, attend a free Stroller Strides fitness class at 10am, and enjoy a party featuring a performance by Darlene Graham, a baby yoga demo class by Itsy Bitsy Yoga, arts and crafts from Once Upon a Time, and guest appearances from favorite children's characters. $8 parking fee. RSVP at www.meetup.com/stroller-strides-suffolk-county-long-island or email [email protected]. To learn more about other Stroller Strides programs, call 888-451-4948.
An Animal-tastic Festival
Experience a full lineup of readings from award-winning children's authors and live music from the top names in entertainment at Animal Tales Extravaganza at the Bronx Zoo. Meet popular authors and illustrators like Anna Dewdney and David Ezra Stein, and listen as they read from their new and classic works during special story-time sessions. Larger-than-life interactive displays based on children's stories like The Very Hungry Caterpillar by Eric Carle allow children to walk through their favorite classic animal stories. At Bear Overlook, take a stroll through Moon Bear, a new children's book by Brenda Z. Guiberson. Children can also make their own "animal tale" book and "animal tail" bookmarks. Plus, John Farrell, Aaron Nigel Smith, Dog on Fleas, and Dave Grover and Grover's Gang are among the many original performers slated to bring their unique songs and family-friendly shows to the event. Saturdays and Sundays throughout May. Times vary. $11-$15. The Bronx Zoo, 2300 Southern Boulevard. 718-220-5100. www.bronxzoo.com.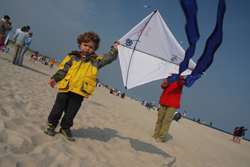 Kites for a Cure
On May 29, families can decorate and fly kites during Uniting Against Lung Cancer's Kites for a Cure Benefit at Coopers Beach in Southampton. This family kite fly benefit raises money for lung cancer research. Kites, snacks, and family fun will be available to all guests. Parking is free. Rain date is May 30. More than 500 families are expected. Decorate kites at the site - drawing pictures or memorial messages - and take advantage of the afternoon's off-shore breezes to lift kites into the sky.
Appropriate for all ages. $25 in advance; $30 day of. 4-6pm. Coopers Beach, 268 Meadow Lane, Southampton. 212-627-5500. www.UnitingAgainstLungCancer.org.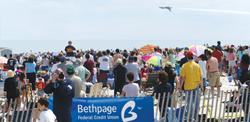 In the Sky and On the Water
Enjoy the great outdoors with these great activities.
Saturday Evening Stargazing
Families can go on a guided tour of the sky with laser pointers and powerful telescopes, every Saturday from dusk until midnight, through December 18. 7pm. $5; $3 under age 14. The Custer Institute, 1115 Main Bayview Road, Southold. 631-765-2626.
Bethpage Federal Credit Union 2010 Air Show
The United States Navy Blue Angels military jet team as well as the Canadian Air Force's CF-18 are featured in this air show to kick off the summer for the seventh year on Memorial Day weekend. May 29-31. 10am-3pm. All ages. FREE but $8 vehicle use fee. Jones Beach State Park, Wantagh. 631-427-1713. www.jonesbeachairshow.com.
Atlantis Explorer Tour Boat
Families take a tour down the Peconic River and into Flanders Bay on this boat ride, conducted by Aquarium Educators. Kids will learn about the Peconic Estuary. Sails seasonally in May, June, and Labor Day-October 31: weekdays at 9am (groups only) and 11:30am, 2pm; weekends at 12pm and 2pm. July-Labor Day, daily 10am (groups), 12pm, 2pm, 4pm. All ages. $19; seniors 62 plus and children 3-17 $17; ages 2 and under $5. Atlantis Marine World, 431 East Main Street, Riverhead. 631-208-9200. www.atlantismarineworld.com.
Discovery Wetlands Cruises
Board a 35-passenger pontoon boat for a one-hour cruise through Stony Brook Harbor to the surrounding 88-acre wetlands preserve at West Meadow Creek. A naturalist will guide families through this lesson in ecology, geology and history. Sunset cruises available. Through October 29. See schedule and prices on website. All ages. Ward Melville Heritage Organization, Stony Brook Village Center, Main Street on the Harbor, Stony Brook. 631-751-2244. www.stonybrookvillage.com.
For more family events and activities in Suffolk County, visit our Online Calendar.