Check out these great family events scheduled during the month of September in Suffolk County, Long Island. Whether you're looking to catch a hometown baseball game, participate in Camp Pa-Qua-Tuck's annual duck race, or celebrate the harvest season with local festivals, we've got all the information your family needs.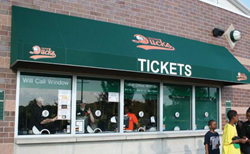 Missed a Ballgame?
If you couldn't make it out to the ballgame this season to root for the Long Island Ducks, and are still in possession of your unused tickets, you can exchange them for games on September 3, 4, or 5 against the Bridgeport Bluefish, subject to availability. Games on Friday and Saturday will begin at 7:05pm, with gates opening at 6:05pm; Sunday's game will begin at 1:35pm, with gates opening at 12:35pm. A $1 fee per ticket will be applied to account for the Suffolk County surcharge on all tickets. Bring your unused tickets to the Suffolk County Sports Park Box Office, 3 Court House Drive, Central Islip (cannot be done over the phone or online). For details, 631-940-TIXX or www.liducks.com.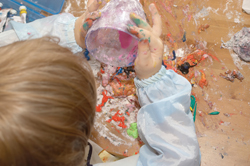 Paint Like Pollack
The whole family can discover how famous artists Jackson Pollock and Lee Krasner invented new ways of painting in the Paint It Out! workshop, led by Joyce Raimondo. Raimondo, author of the Museum of Modern Art's popular Art Safari series and the award-winning Art Explorers books, and founding director of Amagansett-based Imagine That! Art Education. After touring the Pollock-Krasner studio and viewing some of their artwork, you'll head outside to drip and pour paint onto huge canvases on the spectacular grounds of their home. September 4, 10am. $30 per person. Pre-registration suggested. The Pollock-Krasner House and Study Center, 830 Springs Fireplace Road, East Hampton. Go to www.joyceraimondo.com to register.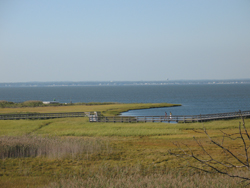 Exploring the Salt Marsh
Families with kids ages 7 and older can sign up to explore Fire Island's Watch Hill Salt Marsh on a guided canoe tour. Canoes, paddles and life jackets provided. Daily at 11am through September 6. Reservations start 10am the day of the program, in person at the Watch Hill Visitor Center; must be 16 and older to paddle and able to swim. Watch Hill Visitor Center, Fire Island, via the Davis Park Ferry from Patchogue. 631-597-6455. www.nps.gov/fiis.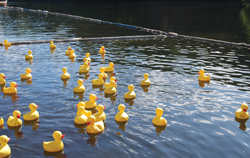 Have a Ducky Day
September 12 promises to be a fun-filled day at Camp Pa-Qua-Tuck as the camp hosts the Annual Family Style Duck Bar-B-Que and Duck Race, sponsored by the Rotary Club of the Moriches. The event will feature food, hayrides, bouncy rides, clowns, raffles and music, plus two duck races on the lake - one with 350 rubber ducks, the second with lots of plastic ducks. Tickets can be purchased from the camp or the Moriches Rotary: $10 adults, $5 children under 12 (includes hot dog and soda; $30 for a duck dinner, $25 for a chicken dinner (includes admission fee; tickets sold at the gate are $35); credit cards accepted. Gates open at noon; dinner served 2-5pm. For more information, call 631-878-1070 or visit www.camppaquatuck.com.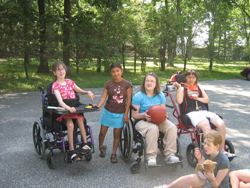 Autumn Respite Schedule
Camp Pa-Qua-Tuck is opening its doors again for its Autumn Weekend Respite Program, transforming the 60-plus-year-old camp into a destination for children with disabilities. Children up to age 21 participate in various activities including baking, arts and crafts, games, and watching movies. Camp Pa-Qua-Tuck's mission is to help children and adults with disabilities achieve equality and dignity in a structured, compassionate environment. The program is offered one weekend a month through December. This month's dates are September 17-19. The cost of each weekend (Friday-Sunday) is $350; $50 deposit required. For more information and to register your child, call 631-878-1070 or visit www.camppaquatuck.com.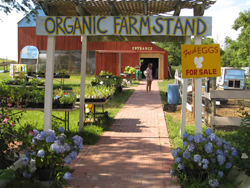 Celebrate the Harvest Season
As summer becomes fall, give thanks for nature's bounty by joining in the fun of these local harvest festivals. You'll find fresh local foods along with fun activities for the whole family.
Long Island's Only Garlic Festival
Garden of Eve Organic Farm will host a two-day celebration featuring the wonders of "Garliciana," organic foods and local agriculture. Festival vendors will provide a wide variety of garlic-inspired foods and crafts. Live music by the Midnight Blues and Buddy Merriam. September 24-25, 10am-6pm. $3, children under 6 FREE. 4558 Sound Avenue (intersection of Northville Turnpike and Sound Avenue), Riverhead. For more information, call 631-722-8777 or visit www.gardenofevefarm.com.
Fall Pumpkin Festivals
Every weekend, starting September 18, Harbes Family Farms will be celebrating the pumpkin harvest with a wide array of hands-on country fun for all ages. Three locations on the North Fork include Riverhead, Mattituck, and Jamesport. For more information: www.harbesfamilyfarm.com.
Annual Pickle Festival
John Gardiner Farm in Greenlawn will have more than 65 vats of pickles to sample, plus the kids might also enjoy the farm's seasonal activities like the corn maze and hayrides. September 25, 11am-4pm. $3, under 12 FREE. 900 Park Avenue, Greenlawn, NY. Call 631-754-1180 for more info.
For even more family activities in Suffolk County, Long Island, visit our Online Calendar.