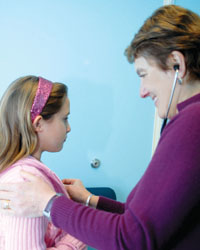 Our health and wellness guide to Suffolk County, Long Island, includes all you need to keep your family healthy, including pediatricians and family doctors, dentists and orthodontists, hospitals and medical centers, specialists, therapists, gyms and fitness centers, and more!
16 HANDLES
22 Jericho Turnpike, Jericho
516-833-6855
1005 Port Washington Blvd., Port Washington
516-439-4715
1060 Old Country Road, Plainview
516-433-8086
Email [email protected]

16 Handles is a frozen yogurt shop here on Long Island with locations in Jericho, Port Washington and Plainview. Our store always has 16 flavors on tap including two non-dairy selections and over 50 toppings. Our fruit toppings are cut daily and they include strawberries, blueberries, bananas, mango, and pineapple. All of our yogurt contains probiotics which provide many health benefits including boosting your immune system, lowering bad cholesterol, and regulating the digestive system.

ACTIVE KIDZ LONG ISLAND
200 Robbins Lane, Jericho
516- 621-6600

Active Kidz is the place for kids to get healthy while having fun. The 20,000-square-foot athletic facility will keep kids running, jumping, and climbing through its four-level indoor playground with web climbs, tunnels, and bridges. There is a 20-foot high rock wall with beginner to expert courses, a 30-foot long traverse rock wall to test strength and balance. New attractions such as IPlay, with interactive floor games, help improve gross motor skills while delighting kids for hours. Laser Tag, Glow in the Dark Dance Fun and Cannonball Air Blast help increase stamina and sharpen reflexes.

ADELBERG MONTALVAN
62 Lake Ave. S., Suite A, Nesconset
631-360-7337
1000 F Park Blvd.
Massapequa Park
11762
516-798-1111

We specialize in treating children with special needs. We know that you have enough to worry about so let us take the stress and worry out of taking your child to the dentist. We have an anesthesiologist on call to safely put your child to sleep right here in our offices. Please feel free to call for more information.

AMY EAPEN, PT, DPT
80 Crossways Park Drive, Suite 200, Woodbury
516-726-1758

Keep Moving Forward offers intensive physical therapy programs for children and adults with neurological and developmental delays. Individuals are trained to reach their maximal potential through utilization of the TheraSuit and Universal Exercise Unit. This approach combats the effects of deconditioning and immobilization while using the principles of intensive strength training. Our primary goal is to achieve functional independence. KMF also offers traditional physical therapy, early intervention, Fit Kids programs, and Baby Boot Camp.

BERKSHIRE FARM CENTER AND SERVICES FOR YOUTH
100 Broad Hollow Road, Suite 307, Farmingdale
631-420-4444 x210
631-316-2059

Berkshire Farm Center and Services for youth is currently seeking foster parents in Suffolk and Nassau counties, for children with specialized medical needs, teenagers, and teen mothers and their child. They offer interactive, in-depth training and support, and prepare parents to offer youth in need a safe, loving, and stable environment. If you're interested and feel that your family and home can be a support system for these youth please visit berkshirefarm.org . You can make a difference in a child's life by providing a temporary home.

EHRENMAN AND KHAN PEDIATRIC DENTISTRY
959 Brush Hollow Road, Suite 101, Westbury
516-333-3033

Tooth decay is the most common childhood disease, but can easily be prevented by making good food choices for healthy teeth and gums. Instead of packing a sugary fruit drink in your kid's lunchbox, choose water instead. For an afternoon snack, offer healthy options like vegetables or low-fat cheese. Limit the amount of sugars that can attack teeth and cause tooth decay, and be sure to eat a variety of foods from each food group.

ER-DOX & PEDIA-NYTE
Southgate Shopping Center, 4954 Merrick Road , Massapequa Park
516-308-7255
ER-DOX
148 Merrick Road (Corner of Route 110 and Merrick Road), Amityville
631-841-4102

ER-DOX provides immediate medical care for all people ages 0-99 without the long wait! Open seven days a week, no appointment needed, and X-rays on site. Our doctors are board-certified emergency medicine physicians and pediatricians who treat most injuries and illnesses including colds, coughs, stitches, strains, and abdominal pain. Open 9am-9pm for patients of all ages and extended hours for children (9am-11pm) for those unexpected late night illnesses/injuries. Your answer for immediate medical care!

FAIRY LICEMOTHERS
2463 S. Long Beach Road, Oceanside
866-561-0492
1775 Deer Park Ave., Deer Park
Deer Park, by appt. only
Email [email protected]

Unsure how to check for lice? Need help removing nits? Fairy LiceMothers has two Long Island Treatment Centers, located in Oceanside and Deer Park, NY, equipped with flat-screen TV's and a separate playroom. While you're there, learn how to stay lice-free all year! All products are non-toxic, safe for everyday use, and are clinically proven to work. Get all the true facts about lice - and make head lice, dead lice. Call to schedule your appointment. All major credit cards accepted. May be covered under insurance and FLEX Health Plans (FSA).

FIDELIS CARE
888-FIDELIS (343-3547)

Fidelis Care, the New York State Catholic Health Plan, serves more than 776,000 members in 59 counties statewide. Fidelis Care believes all New Yorkers should have access to affordable, quality health insurance. Through New York State's Child Health Plus, Family Health Plus, and Medicaid Managed Care programs, members are covered for checkups, preventive care, hospital and emergency care, eye exams, dental care, and more. Fidelis Care also offers a variety of benefit options for seniors through Fidelis Medicare Advantage, Dual Advantage, Medicaid Advantage Plus, and Fidelis Care at Home programs, available in certain counties.

GRAVITY CHEER
91-1B Colin Drive, Holbrook
631-676-2041

All Star Cheerleaders are fit and healthy. At Gravity Cheer, the top competitors practice nine hours per week, twelve months per year. Two hours are spent solely on tumbling while the other seven hours are spent jumping, stunting, and dancing. This variety of skill requires agility, stamina, endurance, coordination, and dedication! In order to practice this hard, and compete on such an elite level, additional jogging, flexibility, and conditioning classes are recommended, as is maintaining a healthy diet.

HAUPPAUGE PEDIATRICS
1 Rabro Drive, Suite 10, Hauppauge
631-921-2526

We are kid friendly office. Dr. Tsay trained in pediatrics and newborn medicine at Stony Brook University Hospital and Tufts Medical Center. She understands kids and listens to parents. At Hauppauge Pediatrics, we want to guide you and spend time to care for your children. The office offers primary care from birth through college. Our goal is to nurture every child to grow up healthy, strong, and prosperous. The office is open seven days a week. Come and see Dr. Tsay to discuss your children's health needs.

HEALTHY HOMES/WE HELP YOU MAKE GREEN
631-445-4678

At Healthy Homes we specialize in helping families stay healthy and save money on things they use everyday. According to the Consumer Product Safety Commission "of chemicals found in homes, 150 have been linked to allergies, birth defects, cancer, and psychological abnormalities." Household and personal care products are among the most toxic substances we encounter daily. We show people how to get safer products at wholesale prices that are guaranteed to work better and safer and cost less than the leading brands. Contact Rosemarie for a free consultation at 631-445-4678 or email [email protected]

MARION K. SALOMON & ASSOCIATES, INC.
125 E. Bethpage Road, Suite 5, Plainview
516-731-5588
Email [email protected]

Marion K. Salomon & Associates is a caring group of professionals with many years of experience in working with children of all ages. We provide prompt, accurate evaluations, treatment, and support for children and their families in Long Island, Queens, and Brooklyn. We believe early diagnosis and treatment are important in improving children's confidence and competence, and we make every effort to respond quickly and sensitively to your concerns as parents/caregivers. Visit mksalomon.com for more information.

MELVILLE KIDS DENTISTRY
612 Walt Whitman Road, Melville
631-629-4490

Having straight teeth and a good bite can help to keep your teeth and gums healthy, increase your self-confidence, and give you a winning smile! Crooked and overlapping teeth are difficult to keep clean and might lead to cavities and gum disease. A misaligned bite can make chewing difficult, wear your teeth excessively, and put undue strain on your jaw muscles. As an orthodontist I take great pleasure in explaining to my patients and their parents how straightening their teeth and correcting their bite can benefit them. - Dr Anthea Resnick, Orthodontist at Melville Kids Dentistry.

PEDIATRIC DENTISTRY OF SUFFOLK COUNTY
2171 Jericho Turnpike, Suite 145, Commack
631-486-6364
3237 Route 112, Building 6, Suite 7B, Medford
631-320-0880

Dr. Michael Ioannou is a native of Suffolk County. He completed his residency in Pediatric Dentistry at Albert Einstein College of Medicine/Montefiore Medical Center. Dr. Mike is a friendly, patient dentist that strives to mold children's behaviors and change their attitudes toward dental hygiene. His goal is to make visiting the dentist a fun experience while providing exceptional dental care and prevention. He does so with the use of excellent behavioral management approaches, a child friendly environment and staff, and singing to patients! The office is state-of-art, equipped with digital x-rays, themed treatment rooms, video games, and flat screen tv's in all dental operatories. Most insurance plans accepted, and convenient evening and weekend office hours are available.

PEDIATRIC IMMEDIATE CARE
698 Manhattan Ave.
718-389-PEDS (7337)
150 E. Sunrise Highway, Lindenhurst
631-956-PEDS (7337)
1077 W. Jericho Turnpike, Smithtown
631-864-PEDS (7337)

Pediatric Immediate Care is a team of hearts where kids come first. State-of-the-art medical office equipment allows us to deliver your test results during your visit. Kid-friendly, walk-ins welcome, most insurance plans accepted. Complete pediatric and adolescent care, babies, school, and sports physicals. Certified urgent care recommended by Urgent Care Association of America. Twenty-eight years of dedication to our patients. The offices are open every day, seven days a week, including holidays, 8am-11pm.

PM PEDIATRICS
PM Pediatrics of Bayside: 210-31 26th Ave., Bayside
718-747-KIDS (5437)
PM Pediatrics of Syosset
596 Jericho Turnpike, Syosset
516-677-KIDS (5437)
PM Pediatrics of Selden
Selden Plaza Shopping Center
239 Middle Country Road, Selden
631-696-KIDS (5437)
PM Pediatrics of Mamaroneck
620 East Boston Post Road,
Mamaroneck
914-777-KIDS (5437)
PM Pediatrics of North Babylon
New Location Now Open!
1130 Deer Park Ave., North Babylon
631-667-4PMP (4767)

PM Pediatrics is an after-hours urgent care practice staffed by pediatric emergency specialists trained in treating newborn through college-age patients, in urgent situations while minimizing pain and unnecessary tests. With NY-based locations in Syosset, Selden, Bayside, North Babylon and Mamaroneck, we provide care and treatment for a broad array of illnesses and injuries including asthma, fever, dehydration, fractures, and wounds requiring stitches. Each practice features on-site digital X-ray and a comprehensive laboratory for immediate test results. PM Pediatrics accepts most insurances and is open 365 days a year, 5pm-12am weekdays, and 12pm-12am on weekends and holidays.

PREMIER CARE
Locations in Bellmore, Commack, Great Neck, Levittown, Lindenhurst, Lynbrook, Maspeth, and Park Slope,
Premier Care of Bellmore
2459 Merrick Road, Bellmore
516-826-2273
Premier Care of Commack
6500 Jericho Turnpike, Commack
631-858-2273
Premier Care of Great Neck
415 Northern Blvd., Great Neck
516-829-2273
Premier Care of Levittown
3276 Hempstead Turnpike, Levittown
516-796-2273
Premier Care of Lindenhurst
656 North Wellwood Ave., Lindenhurst
631-225-4227
Premier Care of Lynbrook
585 Merrick Road, Lynbrook
516-764-2273
Premier Care of Maspeth
74-25 Grand Ave., Maspeth
718-803-2273
Premier Care of Park Slope
418 - 420 5th Ave., Park Slope
718-965-2273

At Premier Care, our highly trained and experienced emergency medicine doctors deliver expert care to you and your loved ones in a state-of-the-art, clean, and friendly environment. We work with your primary physician or pediatrician to help you or your child quickly get through any urgent medical need you may have. All our facilities have X-ray and laboratory services on site enabling us to diagnose and treat all urgent care medical conditions.

SEBASTIEN SAYLOR, PSY.D.
92 Broadway, Suite 203, Greenlawn
631-629-5701

Sebastien Saylor, Psy.D. is a licensed psychologist providing the highest quality assessment, consultation, and treatment in his Greenlawn office. He works with clients to identify reachable goals, and then takes a pragmatic approach to achieving those goals. He collaborates with schools, physicians, and family members to create the most supportive and productive environment possible. Areas treated by Dr. Saylor include depression, selective mutism, technology or gaming addictions, social anxiety, and rigid behaviors related to high functioning autism.

SPORTIME - SUFFOLK
631-267-3460
Amagansett Multi-Sport
631-267-3460
Kings Park
631-269-6300
Quogue
631-653-6767
Email [email protected]

SPORTIME offers adults and children a great variety of ways to stay in shape and have fun while doing it! We offer recreational play, instruction and leagues in tennis, volleyball, basketball and roller hockey. In addition, our three Long Island fitness centers offer our members cutting edge strength training and cardiovascular equipment, a diverse menu of group exercise classes, highly qualified personal trainers and beautiful locker room faculties. SPORTIME has something for everyone, so visit one of our amazing Long Island facilities today, or visit us online at SportimeNY.com.

ST. MARY'S HEALTHCARE SYSTEM FOR CHILDREN
29-01 216th St., Bayside
718-281-8800
5 Dakota Drive, Suite 200
New Hyde Park, NY 11042
718-281-8600

St. Mary's is a leader in intensive rehabilitation, specialized medical care, and education for children with special needs and medically complex conditions. We help improve the health and quality of life for children and their families throughout the New York metro area by providing family-centered care at our state-of-the-art inpatient facility, St. Mary's Hospital for Children, at home care, and in the community. At St. Mary's, we believe in possible.

ST. MARY'S KIDS AT ROSLYN
1 Expressway Plaza, Suite 106, Roslyn Heights
516-621-2681

St. Mary's Kids at Roslyn helps children with developmental needs reach their full potential. Our therapy center and sensory integration facility is staffed by occupational, physical, speech, and feeding therapists, social workers, and special educators and provides evaluations, individualized treatment, and consultation. As the only facility of its kind with the support of a major health care system for children with special needs, we offer themost comprehensive range of resources to help children reach every developmental milestone.

STATE OF THE ART COMFORT DENTISTRY
260 E. Main St., Suite 109, Smithtown
631-361-3577

Dr. Shvartsman is dedicated to painless dentistry and exceptional dental care. He takes a holistic approach to your care by avoiding toxic and harmful materials such as mercury. The entire staff is committed to your comfort and health. Dr. Shvartsman's dental office provides the most current technology that dentistry has to offer. His dental practice has become one of the most technologically advanced offices on Long Island. From 3D digital X-rays and one-visit crowns, to lasers and needle free injections, the practice stands out among other Long Island dental offices.

THE SUFFOLK CENTER FOR SPEECH & MYOFUNCTIONAL THERAPY
Nassau and Suffolk Locations, Stony Brook
631-689-6858
1500 William Floyd Parkway, Suite 303
East Yaphank, NY
631-775-8203
631 Commack Road, Suite 1B
Commack, NY
631-493-5859
2410 N. Ocean Ave, Suite 202, Farmingville
631-346-3334

Janine Stiene, speech-language pathologist, is owner and operator of Suffolk Center for Speech & Myofunctional Therapy. Along with her group of therapists, she supports families and children, specializing in PROMPT, feeding, myofunctional therapy, voice disorders, fluency, augmentative communication, articulation, auditory processing disorders and expressive/receptive language disorders (adults and children). Also offered are intensive feeding groups for individuals who suffer from texture and consistency aversions. There are three other affiliated offices across Long Island.

WHAT'S COOKING?
30 E. Main St., Oyster Bay
516-922-COOK 2665)

Featured on Martha Stewart, What's Cooking? is a culinary school, summer camp, and No. 1 choice birthday party place that allows children to explore their creativity in culinary arts. Spring classes and summer camp are booking now. All cooking is hands-on and only the freshest quality ingredients are used. Join now for our Early Bird camp special. Each week campers experience a new theme: Beach Party, Peace, Love and Rock n' Roll, Carnival, International Cooking, and more! Campers create a craft, healthy snack, lunch, and a take-home treat.

WORLD GYM
607 Middle Country Road, Coram
631-732-5500

World Gym is a family fitness center with something for everyone. In addition to our full cardio and weight rooms, we have children's fitness programs for kids ages 7-12, group fitness classes for adults 13 and older, an indoor heated pool for the whole family, daycare, and racquetball courts for everyone. We offer nutrition programs, an 8-week summer camp, and birthday parties. Our swim school provides many programs from private swim lessons, to special needs lessons, and swimmers boot camp. Fitness fun for the whole family!