Related: farm, park, zoo, wildlife, animals, rides, activities,




Find the top things to do this month with kids in the NYC area in our Calendar of Events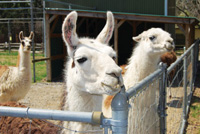 Three generations of the Novak family gathered with hundreds of other guests to celebrate opening day for the Long Island Game Farm, Wildlife Park and Children's Zoo's 40th season. Founded in 1970 by Stanley and Diane Novak, the farm is located on 25 acres of land in Manorville. Thousands visit each year to meet friendly llamas, the 18-foot giraffe, ring-tailed lemurs, kinkajous, alligators, goats, zebras and camels and hundreds more. With "Please Touch" as a motto, visitors are encouraged to pet and feed the animals and help welcome newborns to the farm.
Starting May 7, the Long Island Game Farm is open seven days a week (10am-5pm weekdays; 10am-6pm weekends). There are pony and amusement rides, daily shows and animal activities to enjoy. Admission is $17.45; $15.45 for seniors and children ages 3-11; free for children under 3 (all prices are plus tax). Rides, shows and attractions are included in the admission fee, but the antique carousel and pony rides are additional fees ($2.50 and $5 respectively, at press time). Chapman Boulevard, Manorville. 631-878-6670. www.longislandgamefarm.com.
Find the top things to do this month with kids in the NYC area in our Calendar of Events


More Zoos Articles
5 Ways to Indulge Kids' Dinosaur Obsession This Summer
Baby Boom at New York City Zoos
Into the Wild: The Many Reasons to Visit the Bronx Zoo
Zoos, Nature Centers, and Botanical Gardens in New York City, Long Island, NJ, and CT
Bronx Zoo Debuts New LEGO Exhibit for Summer

Be a good fellow parent and share this with a friend who would be interested
Local Zoos Sponsors



D&J Reptiles
134 Merrick Road
Amityville, NY
631-608-8686

At the Serpentarium we offer Birthday Parties Priv...
See Our Zoos Directory