Families can check out a floating exhibit at the Long Island Maritime Museum this season - Priscilla, the museum's largest vessel, has been fully restored for its 122nd birthday. The museum will celebrate the milestone this month with a festival full of live entertainment and hands-on activities for all ages.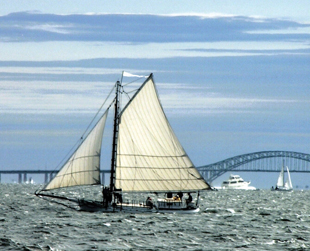 The Long Island Maritime Museum kicks off the sailing season with a nautical festival, Priscilla's Birthday, in celebration of a major milestone. The largest vessel in its collection, Priscilla, at 60 feet long and 40 feet on deck, turns 122 years old.
Families can learn more about the history of this cruising sailboat and oyster dredge, named after Priscilla Rhinehart of Lawrence, NY. The vessel was owned by several oystermen from New York and Connecticut before being donated to the museum in 1976. It then served as a floating ambassador for a variety of Long Island and New York City organizations and visited many ports of call along the Great South Bay. It also sailed in special regattas, and in 1986, participated in the Parade of Tall Ships at the "Salute to the Statue of Liberty" Fourth of July celebration. The ship has undergone continuous maintenance and repairs throughout her history, including a major restoration in 2002 and 2003. Families can get up close and take pictures of the complete restoration, featuring a new set of sails, lines, and hardware. The floating exhibit is docked next to the 1923 scallop dredger, Modesty.
Info
Where: 86 West Avenue, West Sayville
When: Sunday, April 11, 10am-4pm
How much: $5; FREE ages 5 and under
More info: 631-HISTORY; www.limaritime.org
The festival will feature interpretations of Priscilla's story, as well as live entertainment by folk guitarist John Corr. Kids will participate in a variety of activities and visit with pirates, while all ages can enjoy oyster shucking outside the museum's Rudolph Oyster House, a National Historic Landmark.
"We are so excited to bring Priscilla to the public," said museum director Natasha Alexenko. "She is such an integral part of Long Island's history, and we cannot wait to see her majestically sailing the waters of the Great South Bay."
The museum plans to feature Priscilla at many events throughout Long Island during the spring, summer, and fall season. Check the website for updated details.