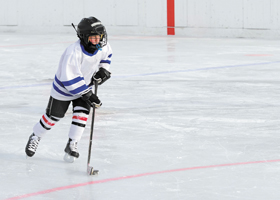 In the greater New York area, youth ice hockey has a rather cultlike following, and there is a growing number of local families that spend many a weekend waking before dawn, packing the car with bulky gear, and driving great distances in search of coveted ice time. The sport that was once limited to northern lakeside communities and wealthy prep schoolers is increasingly accessible to families living in the city and the suburbs.
In the past decade or so, local attitudes towards ice hockey have begun to shift as more rinks and arenas have begun to pop up, allowing for easier access to groomed ice. The addition of rinks to the tristate area has encouraged many high schools to adopt ice hockey as a formal part of their athletic program, which has given youth hockey players a way to continue playing into their teens without having to join a pricey club team or transfer to private school.
And it's not just the boys that are playing the sport-most area rinks have coed and/or all-girl leagues and travel teams. The reputation of hockey as a violent and innately dangerous sport has little merit, especially in the younger ranks. Youth leagues take many measures to reduce contact to a minimum. Dangerous play and fighting are strictly prohibited.
The Basics
Starting slowly and learning the basics is important in any sport, but is even more crucial in the hockey rink. Any youngster who hopes to suit up in stick and gloves should first become comfortable and confident gliding around the ice on skates. Children can begin skating at a very young age in safe areas provided there is close supervision and a helmet is worn. Being a proficient skater is essential to enjoying ice hockey safely. Having your child focus on ice-skating at local indoor or outdoor rinks also ensures his/her interest and enjoyment in the activity before you spend money to buy the rest of the equipment that will eventually be needed. Most rinks have inexpensive or free skating periods open for skaters of all ages.
The Gear
The cost of a quality pair of hockey skates has gone down considerably, with a good starter pair averaging under $100. To gauge your child's interest in a form of the sport before going for the real thing, buy a hockey stick and outdoor puck and let him or her try it out. If children enjoy playing street hockey (a much simpler and less expensive version of the sport), they will probably like the ice version once they feel comfortable on a pair of skates.
Today's hockey equipment now rivals that of modern football. Youth hockey participants are required to wear a dizzying number of pads, and a regulation, face-masked helmet. For example, the equipment list for Westchester Skating Academy's youth league includes everything from shoulder pads to neck and shin guards. You'll truly have a hard time finding an area of exposed skin once your child is fully outfitted.
Learn to Play
Once you're convinced that your child is willing and ready to give it a try, the ideal way to start is a learn-to-play program. Rinks that focus on ice hockey have group classes for beginners designed to teach young skaters basic techniques and sport fundamentals, with most local arenas suggesting kids begin formally learning to play hockey as early as age 7. The classes are generally reasonably priced and require a minimum amount of equipment. After completing a preparation program, it might finally be time to go out and spend a few bucks on equipment and sign up for an organized league or, as your child gets older, think seriously about the program at his or her high school.
Rinks to Look For
There are a few types of rinks that aspiring hockey players should be on the lookout for. Many temporary outdoor rinks pop up during the winter months that are reserved just for skating; there are indoor rinks that are generally reserved for figure and free skating; and there are an increasing number of multipurpose indoor arenas that cater to all types of ice skating, including formal hockey leagues. For a complete list of skating rinks, see our January calendar. Below are rinks with hockey programs.
Suffolk County, Long Island:
The Rinx, 660 Terry Road, Hauppauge. www.therinx.com. Indoor arena offering youth hockey leagues and clinics, learn-to-skate lessons, and public skating.
Superior Ice Rink, 270 Indian Head Road, Kings Park. www.superioricerink.com. Indoor ice rink offering public skating, youth hockey leagues and clinics, and summer camps.
Nassau County, Long Island:
Ice Land, 3345 Hillside Avenue, New Hyde Park. www.icelandli.com. Indoor arena offering youth hockey and skating school.
Ice Works, 175 Underhill Boulevard, Syosset. www.iceworksli.com. Indoor arena offering youth hockey, clinics, and skating school.