PLEASE NOTE: This article was published in 2009. Some information may be outdated. Please call to confirm donation and/or volunteer information for the current year.
---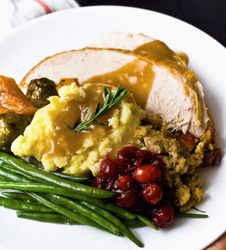 Want to do some good this Thanksgiving? The following places around Suffolk are accepting donations or need volunteers. Call ahead to confirm details.
Belle Terre Wellness Center, at 640 Belle Terre Road, Building A, Port Jefferson is holding a First Annual Food Drive from November 1-23 to benefit local families. Please donate canned meats or dried beans, peanut butter, pasta, rice, cereal, canned fruits and 100 percent fruit juice. 631-656-0556.
The churches of East Patchogue, Bellport and Brookhaven need volunteers to help cook, serve, set up and clean up a Thanksgiving dinner on Thanksgiving Day, November 26, between 10am and 2pm. Hagerman Fire Department, Bellport. Please call Kathleen Tinley, 631-286-0034.
Our Lady of the Miraculous Medal, The Gerald Ryan Outreach Center, Wyandanch, offers a food drive. 631-643-7591.
St. Francis de Sales, Patchogue offers a food drive. 631-475-5402.
Call your local Catholic parish and ask for the Parish Social Ministry Coordinator (PSM) for ways to help.
Families can also volunteer with Catholic Charities of Rockville Centre for both Nassau and Suffolk counties. 516-733-7044.Last year, Catholic Charities met the needs of 55,485 people.
The Brian M. Gill Thanksgiving Food Drive, Walt Whitman Road, Melville. Donate nonperishable foods and personal items to the Brian M. Gill State Farm Insurance Agency, through November 19.631-549-9444.
Long Island Cares, Inc. Harry Chapin Food Bank is accepting frozen turkeys, supermarket gift cards or cash donations (marked "Turkey Purchase"). Mail to 10 Davids Drive, Hauppauge, 631-582-FOOD or visit www.licares.org for more information or to host your own turkey drive. They also collect nonperishable food items at the following locations. Call ahead for donation times and to confirm details:
- Islip Public Library, 71 Monell Avenue, Islip. 631-581-5933.
- Theresa's Family Cleaning, Rocky Point. 631-744-4021.
- Dr. Nick's Transmissions, 1860 Route 112, Medford. 631-289-4747.
- Huntington Arts Council, 213 Main Street. 631-271-8423.
- Innovative Chimney Corp, 23A Hawkins Avenue, Ronkonkoma. 631-285-7887.
- Gino's Tuscany, 517 Main Street, Islip. 631-581-9510.
- Disc Graphics, 10 Gilpin Avenue, Hauppauge. 631-234-1400.
- Huntington Public Library, 338 Main Street. 631-427-5165.
- West Babylon Public Library, 211 Route 109. 631-669-5445.
- Action Public Library, 945 Walt Whitman Road, Melville. 631-425-2700.
- Medford Multi-Care, 3115 Horseblock Road, Medford. 631-730-3000.
- Wild Birds Unlimited, 911 Montauk Highway, Oakdale. 631-218-2473.
- The Firm Fitness, 295 Montauk Highway, Speonk. 631-325-9600.
- Gathering of Light, 655 Old Country Road, St. Lawrence of Canterbury, Dix Hills. 631-265-3822.
- Kids-Smile Dentistry of Smithtown's "2nd Annual Food Drive," on Route 111, through November 13. 631-265-3266.
Riverhead Lion's Club holds a Thanksgiving food drive. 631-902-0745.
Pronto Long Island offers a food pantry that serves the communities of Bay Shore, Central Islip, and Brentwood, Monday and Friday, 9am-1pm. They also accept volunteers. 631-231-8290 or visit www.prontoli.org for more information.
Any 7-11 store, Citibank branch, Panera Bread location, or any of The Bristal Assisted Living facilities are accepting donations of frozen turkeys and nonperishable food items. For a list of other locations and specific food drives, or to donate or to start your own neighborhood drive, visit www.islandharvest.org.