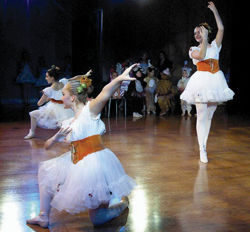 A Tradition of Sweet Dance
As the stockings are hung and lights are aglow, there's no doubt that images of sugarplums, the Snowflake Waltz, and the delicious Land of the Sweets will dance in your head. The Nutcracker, accompanied by Tchaikovsky's famous score, will be featured live on stage in several Suffolk locations this holiday season. The timeless ballet story unfolds the tale of Clara and her doll in a magical dream world where a battle between the Nutcracker army and the Mouse King's army takes place, a Christmas tree grows to gigantic proportions, and the Nutcracker whisks Clara away on a delightful journey to faraway lands where snowflakes dazzle and dew drops dance. Relive the excitement or introduce the holiday classic to someone new at several theaters throughout Suffolk.
Info:
In Port Jefferson: Harbor Ballet Theatre presents the annual holiday production of this traditional musical, featuring costumes, great sets and professional dancing. The ballet is part of the Charles Dickens Festival held throughout the village in celebration of the season, December 4 at 8pm; December 5 at 3pm; December 6 at 3pm. Call or email for pricing and to confirm schedule: [email protected] Port Jefferson High School, 350 Old Post Road, Port Jefferson. 631-331-3149. www.gpjac.org.
In Patchogue: The American Dance Theatre of Long Island performs a theatrical version of the family holiday favorite, Clara's Dream: The Nutcracker. December 5 at 2 and 7pm; December 6 at 1 and 6pm. $23-$28.
The Ovations Dance Repertory Company presents its 10th anniversary production of The Nutcracker Suite. Children dance alongside professional dancers in this beautiful production. December 10 at 2pm; December 12 at 1 and 7pm; December 13 at 1pm. $10 and up. The Patchogue Theatre for the Performing Arts, 71 East Main Street, Patchogue. 631-207-1300 or 631-218-0315 for tickets. www.patchoguetheatre.com.
In Lindenhurst: The classic holiday musical features lyrics and Tchaikovsky's legendary score, but it is not a ballet version of the story. After the show, kids can snack on milk and cookies with Mrs. Claus. Pre-registration required. December 5, 12, and 19 at 2pm. Call for pricing. Broadhollow's Studio Theatre, 141 South Wellwood Avenue, Lindenhurst. 631-581-2700. www.broadhollow.org.
In Northport: Families can enjoy Nutcracker Sweets ballet excerpts by The Children's Dance Company and Posey Dance Repertory. The excerpts will be especially appealing for children under age 10. Holiday treats will be served to make it even sweeter! December 6 at 2pm. Call for pricing and tickets. Posey School, 57 Main Street, Northport. 631-757-2700. www.poseyschool.org.
In East Hampton: Hampton Ballet Theater School presents this holiday classic, which will feature guest artists from NYC. Families will be transported to a land where angels, snowflakes and flowers dance and Clara saves the Nutcracker Prince from the evil Mouse King. December 11 at 7pm; December 12 at 1 and 7pm; December 13 at 2pm. $20, $15 kids under 12. Guild Hall, 158 Main Street, John Drew Theater, East Hampton. 631-324-0806. www.guildhall.org.
In Stony Brook: Seiskaya Ballet's production, which was called Long Island's most lavish Nutcracker performance back in 1995, returns to the Staller Center for its 30th season. The ballet is choreographed by the world-renowned, Russian-born Valia Seiskaya. Kids will love the 14-foot-tall mechanical replica of the Nutcracker and a toy soldier in the lobby. December 12 and 19 at 2 and 7pm; December 13 and 20 at 1 and 6pm. $34, $29 seniors and children 12 and under. Staller Center for the Arts, Stony Brook University, off of Nichols Road, Stony Brook. 631-632-2787. www.stallercenter.com.
At the Tilles Center in Brookville: The Eglevsky Ballet performs a full-length, professional production of The Nutcracker on stage, dancing to Tchaikovsky's traditional score. December 19 at 2 and 7pm; December 20 at 2pm; December 21 at 6pm. $35, $50, $60. Tilles Center for the Performing Arts, C.W. Post Campus, 720 Northern Boulevard, Brookville. 516-299-3100. www.tillescenter.org.
Check out more kid-friendly holiday activities and events happening this December in Suffolk County, Long Island.