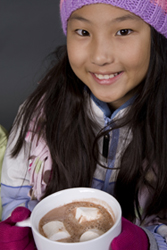 With festive lights and decorations adorning storefronts and downtown streets, snowflakes swirling against scarves and overcoats, and a feeling of goodwill in the air, there's no denying the magic of the holiday season. But this time of year also brings the gift giving season, and with it the stresses of holiday shopping. Take a break from the hustle and bustle to sit down with a cup of hot chocolate or tea. There's just something about wrapping your hands around a steaming mug of cocoa that helps you regain perspective, recharge your spirit, and reconnect with the people that matter to you.
Whether you're looking for a cozy spot for afternoon tea or a quick and creamy treat for your little one, our guide will point you in the right direction.
Check out our other area guides: Fairfield County, CT; Manhattan and Brooklyn; Nassau County, Long Island; Queens; Rockland County; Suffolk County, Long Island; Westchester County
SUFFOLK COUNTY, LONG ISLAND

Boulangerie La Vie, a full-service bakery in Bayshore, is a great place to grab a hot drink and a light bite. Its café area offers self-service coffee, tea, and hot chocolate ($1.35-$1.60), and they offer a variety of soups in the fall and winter seasons. 184 West Main Street, Bayshore. 631-666-0800.
Caffé Portofino serves breakfast, lunch, and a full espresso bar in a kid- and stroller-friendly environment. Their rich hot chocolate is made with Guittard chocolate sauces ($2.50-$3) and comes in a variety of flavors. Their specialty hot chocolate, called Campfire Cocoa, is made with milk chocolate and toasted marshmallow syrup and topped with marshmallow cream and graham cracker crumbs. They carry full-bodied Mighty Leaf teas in 10 varieties ($1.90-$2.40) and offer an organic chai tea latte ($4-$5). Their specialty is the Dirty Hippie, a chai latte with espresso ($4-$5). 249 Main Street, Northport. 631-262-7656. www.caffeportofino11768.com.
Georgio's Coffee Roasters in Huntington sells coffee and teas from all over the world. They offer about 15 varieties of exclusive and exotic teas, including white, black, and green teas ($2.25-$2.50). Their rich and creamy hot chocolate is a blend of dark chocolate, sweetened cocoa, and steamed milk ($2.25-2.50). Georgio's products are eco-friendly and fair trade certified. 146 West Jericho Turnpike, Huntington. 516-238-2999. www.georgioscoffee.com.
Tea Time Cottage in Jamesport has a casual environment where country music plays in the background and kids can go outside to feed the goats. They feature 42 different types of tea, from white to green to black ($3.95 for one, $7.50 tea for two, $12.50 tea for four), along with a daily flavor of iced tea and hot chocolate ($2.95). The lunch menu offers soups and sandwiches along with scones and a small variety of baked goods. 5913 Sound Avenue, Jamesport. 631-722-5329.
The Greenport Tea Company's High Tea for two includes assorted tea sandwiches, scones with jam and cream, mini pastries, fruit tart, and hot or iced tea for two ($25.75; $53 Double High Tea serves three to five). A pot of tea ranges from $2.25-$4.50 per person. They also have a full lunch menu with daily specials. 119A Main Street, Greenport. 631-477-8744. www.greenportteacompany.com.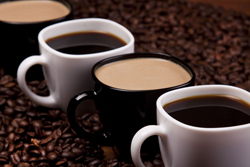 Urban Coffee is a family-owned shop in Greenlawn serving a wide selection of hot beverages. Their hot chocolate can be made with white, dark, or milk chocolate syrup and regular or soy milk ($2.49 and up). All are made from scratch and steamed in their espresso machine. Add a flavor shot, like raspberry, mocha, peppermint, or peanut butter (a popular choice), to make it special. If you prefer vanilla to chocolate, try their Vanilla Crème, served hot in the colder seasons. They carry about 25 varieties of tea ($2 and up), the most popular of which is their homebrewed chai, made with all natural ingredients. If you're looking for a pick-me-up, try the Teaspresso - a strong black tea brewed through their espresso machine ($3.29 and up). They also carry a variety of baked goods, including gluten-free and sugar-free selections. Free wireless internet, board games, and occasional live music create a sit down and stay awhile atmosphere. 101 Broadway, Greenlawn. 631-261-7979. www.urbancoffeegreenlawnny.com.