Adelberg Montalvan Pediatric Dental, a Long Island-based pediatric dental and orthodontic practice, recently opened its third location in West Islip. The practice offers general oral health care for children, dental care for patients with special needs and fearful patients, and orthodontic services for children and teens. The practice also features an under the sea décor to create fun atmosphere for children.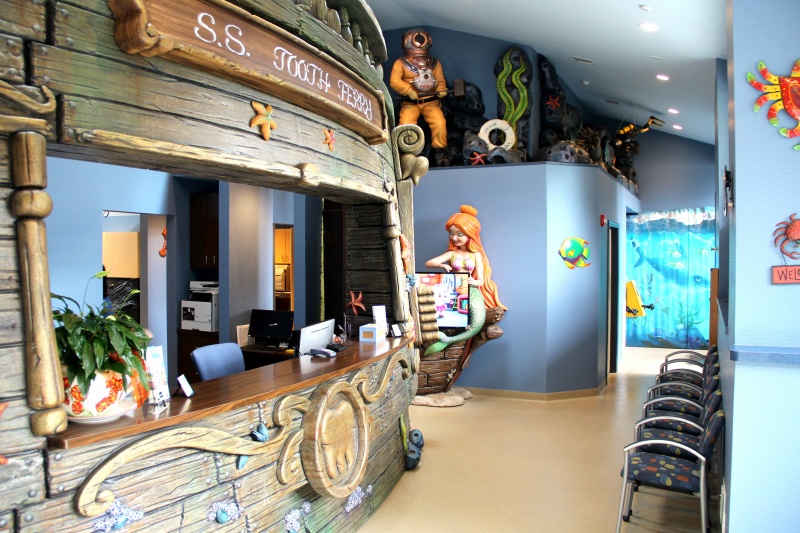 The waiting area of the West Islip location features an S.S. Tooth Ferry reception desk.
With offices located in Massapequa Park and Nesconset, Adelberg Montalvan Pediatric Dental recently opened its West Islip location. The pediatric dental practice makes visiting the dentist a fun experience for kids, offering the highest quality dental care in a fun and enjoyable environment. All three offices are decorated in a under the sea theme to create a positive experience for children.
Adelberg Montalvan Pediatric Dental offers early dental care to help children develop good oral health habits, general dental treatment to keep your child's teeth clean and healthy, sedation dentistry for fearful or anxious patients, laser dentistry, and dental care for children with special needs. The practice also offers orthodontic care, such as Invisalign Teen, braces, and retainers.
"We are trying to provide pediatric dentistry service to impact the child's life forever," says Marc Bennet, D.M.D., pediatric dentist.
The dentists at Adelberg Montalvan Pediatric Dental pride themselves on the value of customer service they give their patients and parents. The offices are even equipped with a coffee station for a comfortable atmosphere.
Office hours vary for each location.