Boomers!, a family adventure center in Medford, recently purchased new, faster go-karts that are easier to control. The family amusement park also offers miniature golf, an arcade, batting cages, and birthday parties, with three party packages for parents to choose from.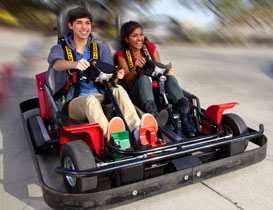 The new open-body go-karts at Boomers! Medford
Boomers! family adventure park in Medford is now home to new high performance go-karts. Visitors to Boomers! have been able to drive go-karts at the park since it opened, but with the recent purchase of new go-karts, the overall go-karting experience has changed.
"Our new go-karts are more driver friendly," says general manager Brian Becker. "They are your typical go-karts, but faster and with much better control."
With an open cart, the new model loses the old racecar body and allows the drivers to feel the wind whipping around them. The go-kart track has drivers racing around banked curves and hairpin turns and speeding through straight-aways. Along with go-karts, Boomers! offers an indoor arcade, bumper boats, mini golf, batting cages, and kiddie rides.
Boomers! regularly hosts fundraisers for schools and organizations, as well as birthday parties. All Boomers! party packages include balloons, a personalized sign, games, paper products, invitations, and pizza, drink, 10 tokens, and 25 redemption tickets for each guest. The birthday child receives 200 redemption tickets and a chance to spin the prize wheel. Parents have the option of choosing from several packages including unlimited ride time on kiddie rides, bumper boats, and go-karts, as well as miniature golf.