Related: preschoolers learn by doing, exploring and learning outside, multi-sensory exploration while developing environmental awareness,



Building Blocks Developmental Preschool in Commack has added an outdoor classroom for hands-on explorational learning. The outdoor classroom combines multi-sensory exploration with developing environmental awareness all in a safe, child-friendly, natural environment.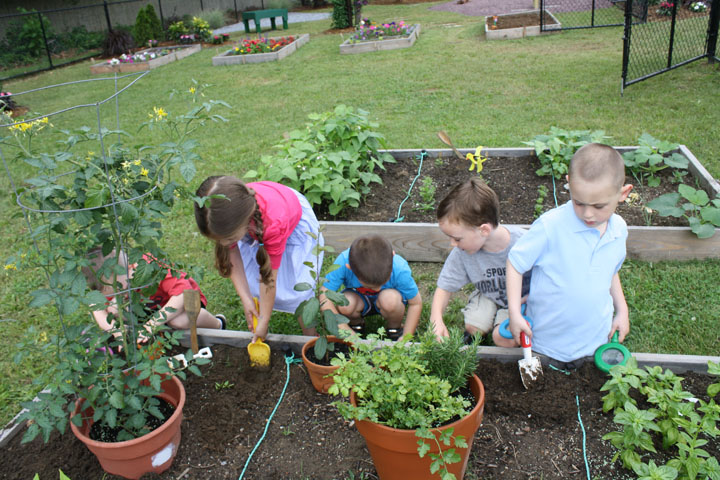 Anyone who has been around a toddler or a preschooler for more than five minutes knows that small children learn through hands-on inquiry. In order to tap into their students' learning styles, Building Blocks Developmental Preschool thought outside the box and moved some of their science curriculum, well, outside. The preschool now includes an outdoor classroom where children ages 2-5 can explore and learn.

"It's been our experience that, when piqued, children's natural curiosity can lead to some of the best learning opportunities. It's for this reason that we wanted to create a natural environment that would be safe and child-friendly while promoting problem-solving skills," explains director Donna Charbonneau.

The outdoor classroom incorporates multi-sensory exploration with developing environmental awareness. This spring, Building Blocks students learned about plant structure by planting seeds and watching them grow in the outdoor classroom. The children later used these veggies in a subsequent cooking lesson! The space also includes a birdhouse and a dirt excavation box where kids can learn about birds and bugs respectively.
---
Get Your FREE Indoor Activity eGuide!
---
More Local News - Suffolk County, Long Island Articles
Camps 'R' Us Offers Holiday Break Camp in West Islip
South Shore Ballet Academy Opens in Amityville
Marion K. Salomon and Associates Joins HASC
Holtsville Center Focuses on Holistic Healing for the Whole Family
South Setauket Center Helps All Children Feel 'Loved to Pieces'

Be a good fellow parent and share this with a friend who would be interested
Local Local News - Suffolk County, Long Island Sponsors
See Our Local News - Suffolk County, Long Island Directory