Glitz & Glamour spa and salon for kids and tweens recently came under new ownership. The spa offers birthday entertainment at it's Islip location for spa parties, as well as Girl Scout parties.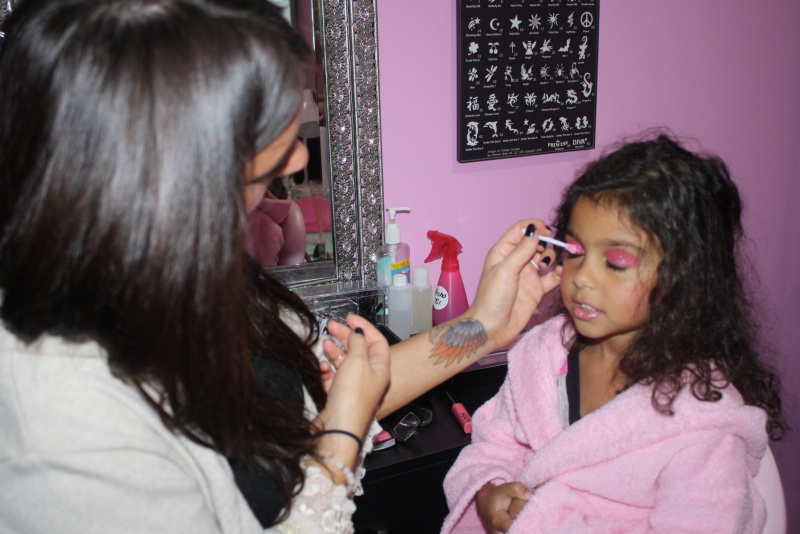 A Glitz & Glamour guest gets a make over at a birthday party.
Glitz & Glamour, a full-service spa and salon for kids and tweens, is under new ownership as of February. The new owner, Madeline Scaretta, has begun developing the party services in particular. The salon now offers Girl Scout parties and will be adding Disney's Frozen as a birthday theme. Walk-ins will also be welcome beginning April 15.
While the salon will keep its traditional menu of services, the new birthday party theme will include a Frozen manicure and pedicure and braided hairstyling to match the movies main character. Scaretta said the salon will also be offering a "parent's night out" in the future, where parents will be able to drop their daughters off for a pampered evening.
The salon and spa caters to kids and tweens offering "glitzy" services for ages 5-7, and "glamorous" services for ages 6 and older. Services include, haircuts and styling, manicures and pedicures, chocolate facials and light or "stage makeup" for individuals, groups, birthday parties and "Dynamic Duos." It also offers a variety of dessert-themed products and services.
The celebration packages for birthdays and organization outings currently include the choice of several of its normal services, in addition to a VIP lounge provided with pizza and a karaoke stage.