Looking for a delicious gift, a super fun birthday party, or just a sweet treat? Look no further than Chocolateworks in Syosset, NY! We create the most deliciously fun kids parties ages 4 and up! Included in your party is exclusive use of our party rooms, invitations, trained staff, all papergoods, pizza, juice, chocolate craft, Pucker Powder Candy Art, your choice of games, prizes, and temporary tattoos! For an hour and a half, your birthday girl or boy will have the time of their life eating as much chocolate as they can, and playing fun games with their best friends!
Pick from our extensive selection of molded chocolate designs, freshly made and just waiting for you to add your artistic, creative touch!! Create your masterpiece by using edible chocolate glue and tons of colorful candies!! Fun and delicious- what could be better?!
Our game options include... Musical chairs, star search, plasma car relay race, huggy bear, candy bingo, line dancing, bubble wrap freeze dance, limbo, gumball relay race, trivia, scavenger hunts, karaoke, and many more! In addition, we love making spinart flying disks!! Always a crowd pleaser, these colorful creations are one of a kind and great to either play with, or hang on your wall!
If you want the fun to continue for longer than just an hour and a half, we have super fun add-ons which your children and their friends will absolutely LOVE! We've got candy carts, freshly made cotton candy, pretzel dipping, s'mores making, pinatas, freshly popped popcorn, spinart flying disks, and spinart framed artwork. Something for everybody to enjoy!!
We're all about chocolate, chocolate, and MORE chocolate, so come celebrate your birthday with us!!
Want more information, or planning on booking a really fun birthday party with us? Check us out at basketworksli.com, or email us at chocolateworks@optonline.net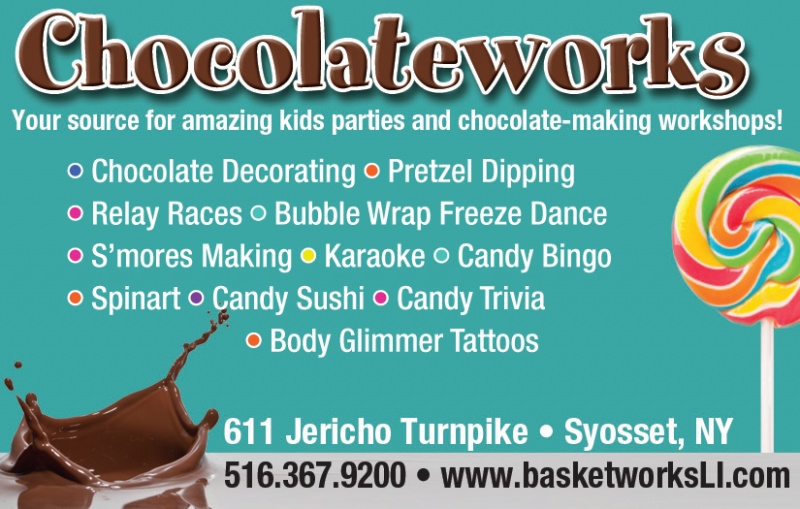 Want to learn more about this business? Send them a direct inquiry.
SUMMER FUN – ACTIVITIES & EXCURSIONS – PRINT GUIDE
There's no better place than Basketworks for all your camper's favorite things. We make the most creative and unique Visiting Day Baskets and carry the coolest and most trendy bunk gifts and goodies. We make our chocolate pretzel pies and fresh chocolate covered popcorn ball cones, and carry the largest selection of fun candy around.