The 5th-Middle School students at Emanuel Lutheran School in Patchogue recently returned from a fun-filled three day education trip to the Frost Valley YMCA camp in Claryville, New York, where they spent time learning about science in a unique, hands-on way. The children hiked to waterfalls, climbed cable bridges and rock walls, canoed, and pressed their own apple cider. The much-anticipated annual trip helps the students round out their science curriculum by allowing the students to explore a host of environmental issues in real world settings. Once they return home from camp, the team building games, historical stories and activities, group discussions, and cooperative learning opportunities from the YMCA help to make the trip applicable to many different facets of the student's lessons throughout the year.
Emanuel Lutheran School is located at 179 East Main Street in Patchogue. They serve students in Preschool through eighth grade. For more information, call (631) 758-2250.
Pictured here are the students from Emanuel's 2011 Frost Valley Outdoor Education trip.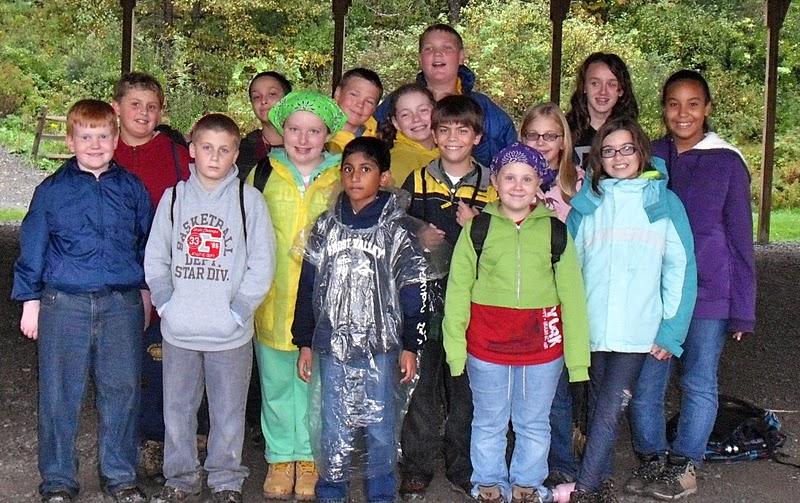 Emanuel Students "Stuff A Bus!"
Shoppers at the King Kullen Supermarket on Sunrise Highway in Patchogue recently helped students from Emanuel Lutheran School "stuff a bus" with canned goods for Thanksgiving food baskets for needy community residents. The students gathered the donated goods in grocery carts as shoppers exited the store, and loaded the food into the school's bus to bring back to fill this year's baskets. More than twice the number of families have requested help this year from Emanuel Lutheran Church and School's social ministry committee, and the students would like to extend their thanks to Patchogue shoppers for helping them provide food for local families in need. Additional donations can be dropped off at the school through the end of November.
Emanuel Lutheran is located at 179 East Main Street in Patchogue. They serve students in preschool through eighth grade. For more information, call (631) 758-2250.
Pictured here are some of the students from Emanuel Lutheran School's 5th-7th grades, who helped collect canned goods for the food drive.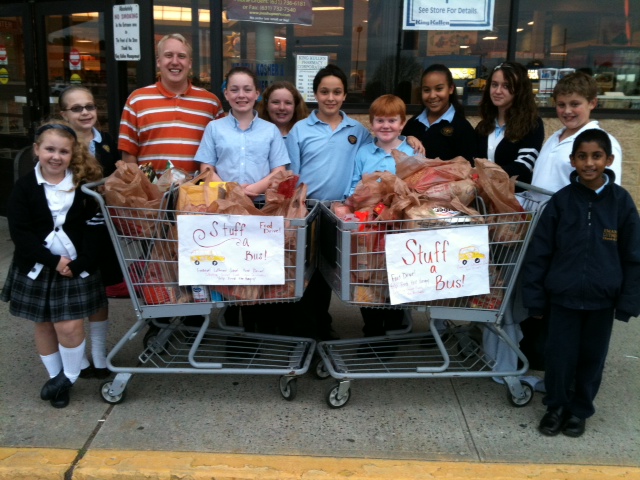 The students at Emanuel Lutheran School in Patchogue recognized "International Day of Peace" this year with a unique "Pinwheels for Peace" program that brought the entire preschool through middle school population together to pray for the United States. Joining other schools across the country in making handmade pinwheels for this day of remembrance, the students crafted pinwheels of varying materials, writing messages of peace and hope on the points of the pinwheels before planting the colorful creations in the front gardens of the school. The students also offered prayers for our troops and for our country throughout the day. In preparation for the Pinwheel project, the students also had a special chapel assembly led by Pat Manganaro, an Honor Flight veteran who spoke to the students about his trip to the World War II memorial in Washington, D.C. Following the presentation, the students joined together to create lunch bags to be used for veterans on future Honor Flight trips to our nation's capitol.

Emanuel Lutheran, a preschool - Middle School grade school, is located at 179 East Main Street in Patchogue. For more information, contact the school at (631) 758-2250.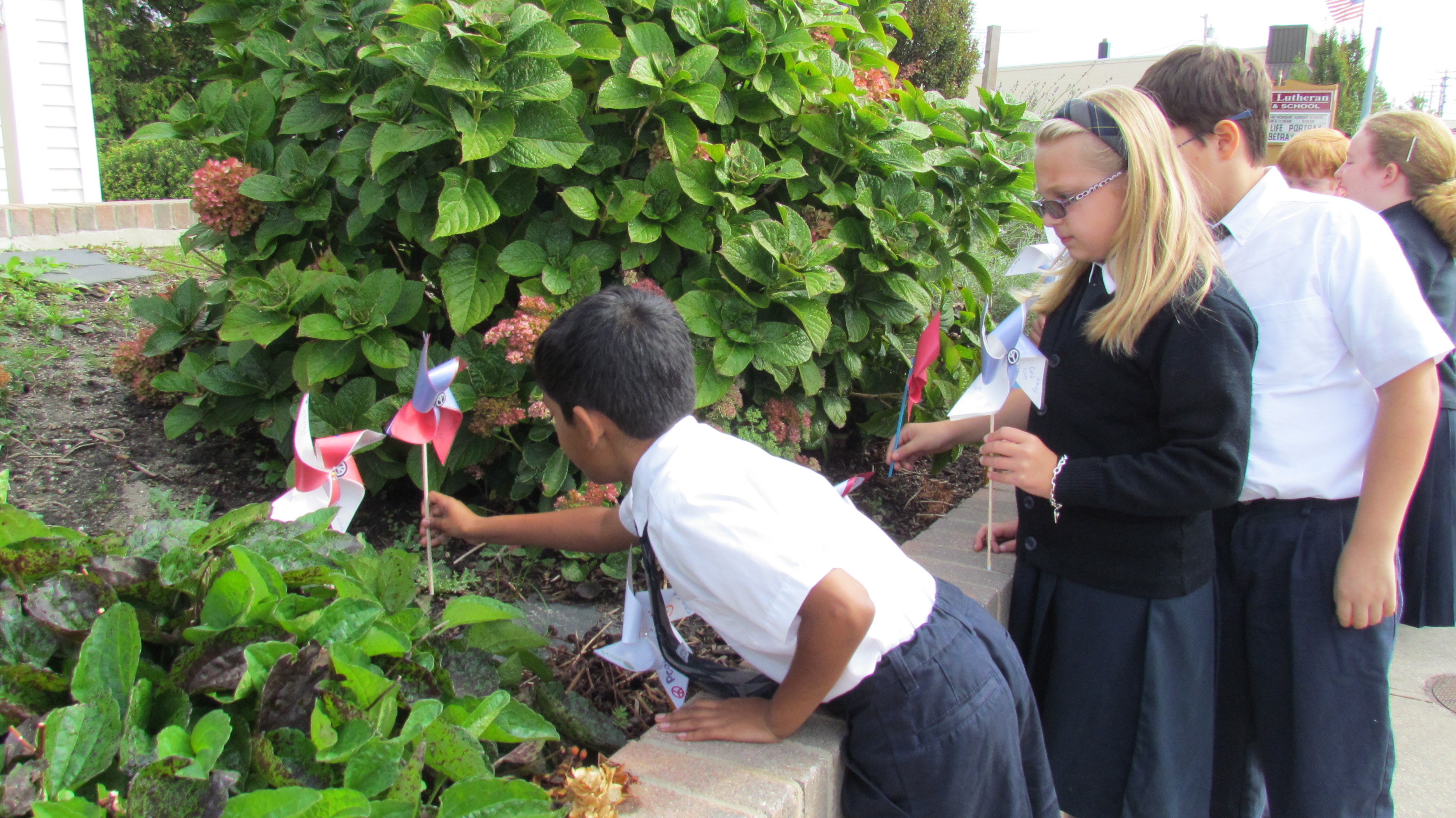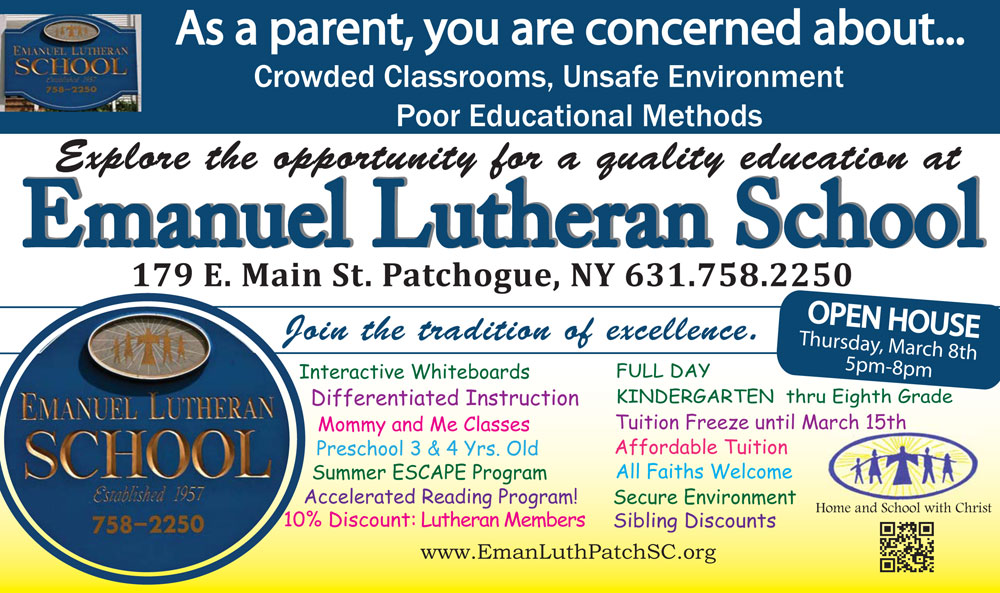 Want to learn more about this business? Send them a direct inquiry.
AFTER-SCHOOL
Since 1957, Emanuel Lutheran School has provided a unique mix of solid academics with strong, Christ-centered values. We offer preschool through eighth grade, including full-day kindergarten. We've been a Suffolk Reading Council Honor School for 21 years. Small class sizes allow teachers to tailor lessons to individual needs. Accelerated Reader program, Spanish beginning in preschool, band, handbells, sports, and special interest clubs are available. Before and after-school care. Emanuel is located at 179 E. Main St. in Patchogue. Call 631-758-2250 for information.
Read More About Emanuel Lutheran School
Emanuel Lutheran School Offers Scholarships for Transfer Students
Emanuel Lutheran School in Patchogue is now offering scholarships for students who transfer from public schools, as well as matching funds for students who transfer from other private schools. The school also has a brand-new playground for preschoolers.
New Places and Programs for Kids in Suffolk County, Long Island - September 2010
These three Suffolk County-based businesses - Tumbling Tunes, The Emanuel Lutheran School, and Main Street Nursery - are offering new and noteworthy programs for kids and families.
UPDATE YOUR MICROSITE