Though not exactly a Real University, Gingerbread Universitytm is the "Brainchild"of a Real College Professor and Inventor/Entrepreneur Frederick H. Terry Sr. A.A.S., B.A., M.A., M.B.A (Lobster Roll Restaurants, LobRollExpress, BigVault.com, Cowlick Kids, Closet Pals, etc.) The idea for a Gingerbread services company actually arose some thirty years ago in 1975... born out of a need for a final exam in one of Terry's advanced culinary classes at Nassau Community College in New York. Professor Terry began sponsoring student run gingerbread decorating workshops for the community. The New York media went wild and Gingerbread University began to take shape. No stranger to occupying kids, (Terry has seven children and twelve grandchildren), and after attending numerous children's parties & gatherings (which he characterizes as "Pinball Palaces which assault the human sensory system"), he created a family center to bring out the "kid" in everyone... a place where the sweet, spicy, aroma of Gingerbread and other "Sweets" fill the air... A "One-of-a-kind Experience" and the ultimate sensory treat! Dropping his professional moniker, Professor Terry became known as "Gingerbread Fred."
At the "University" the "coursework" is focused on "hands on" participation that builds confidence through food decoration & artistry, emphasizing good old fashioned family fun, with lots of creative twists that leave everyone with a smile and a magnificent edible creation to share with their family and friends! The concept has been embraced by young and old alike and is constantly being expanded to include other funstuff including candy figure making.
Each location also operates a fully stocked "Sweetshop" offering a vast inventory of candy and sweets... a virtual candyland. Recent additions to the ever changing product line include a GingerGiant line of 10-12 inch specialty baked themed cookies to decorate. GingerDogs, GingerWhales, GingerSharks, GingerDolphins, Gingerbears, and numerous other Gingercreatures have been known to inhabit the land ot Gingerbread!
Presently operating out of headquarters in Riverhead, New York, plans are underway for other locations in the near future. "It must have been a good idea," muses Terry, "because a number of other companies have entered the market. It's such a fulfilling, upbeat, family-oriented endeavor, that I'm happy to see others getting involved so I can keep inventing," as he enthusiastically shows off his new Gingerwichtm Ice Cream Sandwich boasting cinnamon ice cream between two gingerbread men coated with dark chocolate.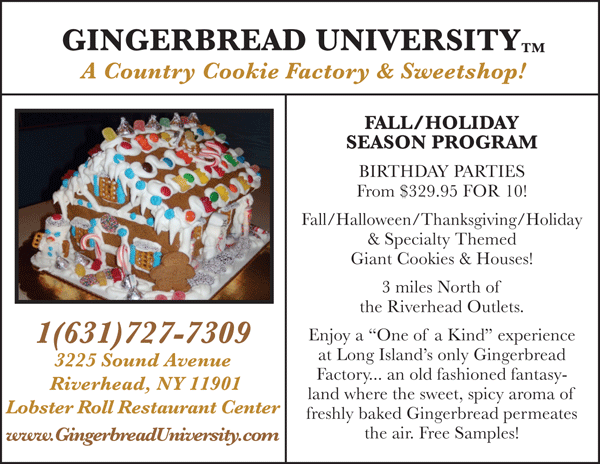 Want to learn more about this business? Send them a direct inquiry.
BACK TO SCHOOL
Gingerbread University operates numerous camp and school programs designed to provide participants with the joint culinary/artistic endeavor of decorating their own themed giant cookie or gingerbread house. In this guided activity, a brief history of gingerbread is provided and sample gingerbread cookies are made available for tasting. Everyone leaves with a certificate in Gingerbreadology to mark their experience.
Read More About Gingerbread University
Featured After School Activities Listings for 8/17/2010
Are you in search of an after school children's program? Look for gymnastics classes, dance programs, (including ballet, tap, modern and jazz), art classes, martial arts programs - including karate, judo, tae kwon do and more, sports programs, swimming classes, horseback riding and more kids activities. These children activity providers serve New York City including Manhattan, Brooklyn and Queens. These after school classes are found in Westchester, Rockland, Fairfield Counties, and Long Island, both Nassau and Suffolk Counties. You can find many children's programs listed below and hundreds on nymetroparents.com.
UPDATE YOUR MICROSITE