Love Horses? Spend quality time this summer with one of ours! Campers aged 8 + learn and practice all aspects of horsemanship and significantly improves riding skills with daily lessons. His camp further develops confidence on and around horses and teaches responsibility. Campers enjoy bonding with a special horse, receive daily exercise, and spend the day outside. Additional activities include arts & crafts, games and water fun. Full and half day programs are available weekly, July - August. Prospective campers and parents can visit our facility, meet our horses and speak to our staff.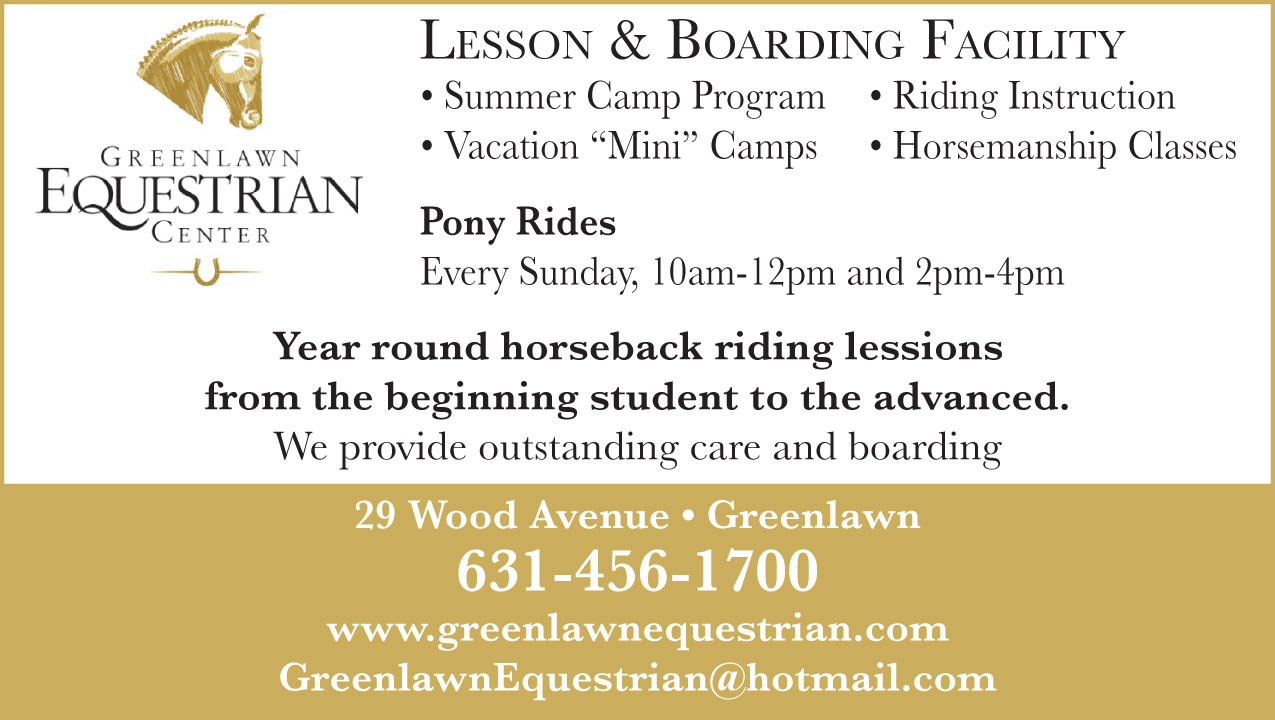 Want to learn more about this business? Send them a direct inquiry.
BACK TO SCHOOL
Horsemanship Class is a 4-week class that teaches students how to handle and care for a horse. Each week a new topic is covered including handling, safety, grooming, first aid, tacking, and nutrition. We offer three levels of classes including beginner, intermediate and advanced which are a great introduction to horses or a perfect supplement to our riding program. Beginner classes are offered Thur 4:30 or Sun 2:00, Intermediate is Thur 3:30 and Advanced Wed at 3:30pm. Get your kids started in a back-to-school activity by visiting our website for monthly schedule, cost, and more information.

The summer day camp program at Greenlawn Equestrian Center introduces children aged 8+ to horses. It further develops their horsemanship and riding skills and improves their confidence around horses in a wholesome and nurturing environment. Campers will learn and practice all aspects of horsemanship and have daily riding instruction, while developing their independence and sense of responsibility. To learn more about our camp program visit us online. Prospective campers and parents are welcome to visit our facility at any time, meet our horses and speak to our staff.
UPDATE YOUR MICROSITE