Voted Best of LI 2010 Summer Camp ! Kenwal Day Camp is located in Melville on 20 acres of greenery, accented by the finest summer camp facilities and equipment to ensure that every camper (ages 3-15 ) enjoys hours of fun and interesting events. With Preschool and Kindergarten summer programs, and Senior and Teen camp programs, we have camp activities for every child. Activities include an inflatable water park, mini golf, arts & crafts, sports, go karts,
Rope rappelling, and karate. Come join us at our Long Island Day Camp!
Pre-School and Kindergarten Program:
Our pre-school and kindergarten campers are offered the same general program and use of facilities as older campers, taking into consideration the size and needs of younger campers and modifying their program accordingly. Our counselor to camper ratio is 1:4.
All pre-school and kindergarten campers are given Red Cross Instructional swim and free swim daily, with the opportunity for one-on-one instruction. As a result, many of our pre-schoolers and the majority of our kindergarten campers are going off the diving board at summer's end.
Our pre-school and kindergarten program maintains separate air-conditioned camp houses and playgrounds, which also affords a rainy day facility where campers participate in arts & crafts, music, dance, and group games. It is our policy to keep our younger campers on camp grounds at all times.
Pre-Schoolers (not yet attending kindergarten) participate in arts & crafts, tumbling, mini-golf, circle games, go karts, parachute play, Jr. Zip Line course and karate, along with many sports activities tailored to meet their ability. Activities are rotated and periods are shortened to meet the requirements of our younger campers.
Our Kindergarten campers (entering Kindergarten following camp season) participate in daily field activities, tennis, t-ball, kickball, soccer, karate, arts & crafts and dance, along with most activities afforded our older campers.
All pre-school and kindergarten campers participate in special activities at camp, including Banner Day, Carnival, Little Kids Day, performances by the Reptile Museum and other live variety shows.
Campers entering kindergarten, as well as pre-schoolers, are enrolled in a full day program 3, 4, 5 days a week.
Separate age appropriate facilities for our younger campers Include: Mini Tennis Courts, Mini Basketball Courts, Mini Street Hockey, Mini Tee Ball/Kickball Field, Mini Rock Climbing Wall, playground and Jr Zip line Course.
1st Thru 4th Graders
First graders (Frosh) will advance to our main Arts & Crafts and Nature programs at a level encouraging creativity and discovery. Dance and cheerleading will be introduced and sports activities will be offered with instruction on a more challenging and interactive level at our age appropriate Jr. Sports complex (tennis, basketball, hockey) and fields. Swings, slides and other apparatus will now be offered at our main playgrounds.
2nd graders -(Soph) will be offered elective choices and will be introduced to our Circus Arts Project (juggling, unicycling...) our Big Rockwall, the amazing 100 foot zip line and the introductory portion of our Ropes Challenge courses.
First and second grade boys groups have both a male and a female counselor...both of whom will be nurturing and aware of your child's needs.
3rd graders - (Juniors) For campers entering 3rd grade, all activities are offered on a more challenging level, along with the addition of Archery, a camp favorite. Our Jrs. will also experience the first "surprise off campus local adventure"...
4th graders - (Inters) Our mountain biking trails offer fun and excitement under the supervision of safety-conscious counselors and specialists. Inters will also participate in a minimum of 5 local off camp trips ie. the beach, Adventureland, local theatre shows...
Seniors and Teens

Teen Program
Realizing that teenagers have special needs and a different way of expressing their individuality, our Teen program has the flexibility of offering many choices during each activity so as not to force campers of this age group to participate in activities which they may not enjoy. Certain activities will be offered to Teens at their own option.
All campers entering 7th or 8th grade will be enrolled in our Teen Program. In addition to our regularly scheduled activities, "Teens" will be offered an average of 3 off camp activities weekly:
Beach Trips

Dave & Busters

Attendance at two first run Broadway shows (Evening performances)

Shark Boat tour around Manhattan

Double Delight Night

Racquetball

Attendance at Major




League baseball games (evenings)

Adventureland




Banana Boating in the Hamptons

Inter-Camp softball, swimming, volleyball & archery meets

Great Adventure

Splish Splash

Country Fair

Chartered Fishing Trips

Indoor Go Carting

Laser Tag

Ice Skating

Coldstone Creamery Trips

Bowling
Super Seniors
All campers entering 5th & 6th grade will be enrolled in our exciting Super Senior program. In addition to our scheduled on camp program, we offer our Super Seniors a minimum of two weekly off camp excursions highlighted by:
| | |
| --- | --- |
| Splish Splash Water Park | Local Live Theatre Performances |
| Roller Skating | Citi Field (NY Mets Game) |
| Shark Boat Tours around Manhattan | Banana Boating in the Hamptons |
| Adventureland | Chartered Fishing Trips |
| Beach Trips (Sunken Meadow State Park) | Ice Skating |
| Dave & Busters | Bowling |
CITs
This program includes training sessions for eventual counselor positions for those CIT's who show leadership ability. The program also offers an average of 4 off camp activities weekly highlighted by trips to beaches, ball games, amusement parks, Broadway shows, Shark Boat Tours.
Our CIT's are directed by highly skilled leaders who are aware of the social needs of this age group as well as their desire to have "above camper" status. (Due to the overwhelming response to our CIT program, we can register only a limited number of 9th and 10th graders.)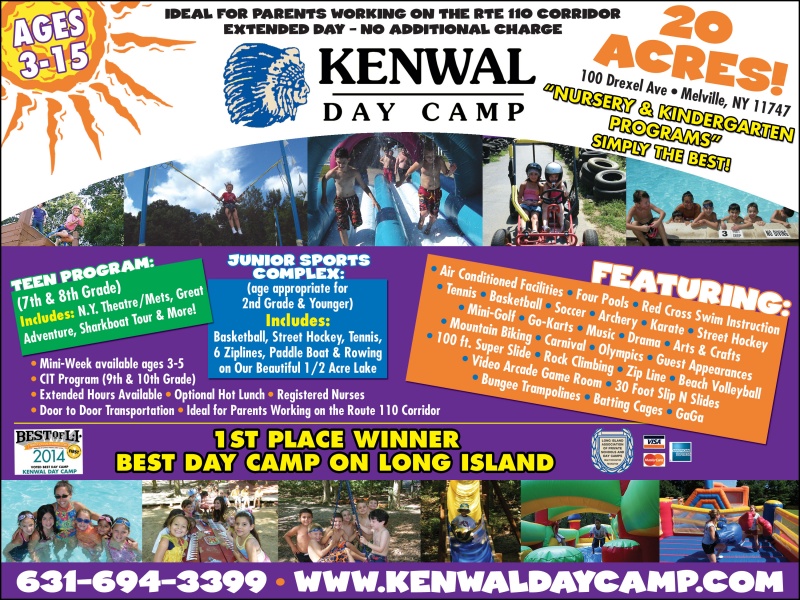 Want to learn more about this business? Send them a direct inquiry.
2015 OPEN HOUSES
April through June, on Saturdays and Sundays, 12-4 pm, come visit Kenwal and meet with our directors. They will be happy to sit down, talk with you, answer your questions and take you and your campers around our beautiful 20-acre camp grounds. Call us to set up your personal tour.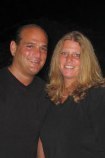 Dena and "Uncle Howie" Feinstein (brother and sister) are still the two biggest "kids" in the camping industry. "As adults, safety is always our first concern. Once the children are safe, we just want them to have the time of their lives," they say. "We are in the summer camp business because we love the children! Watching the campers grow, building their self-esteem, and helping them make new friends is just a small part of what we achieve each summer!"
Read More About Kenwal Day Camp
2015 Open House Dates
Looking for more information on a local camp or school? See below for our list of current, upcoming open houses in Rockland, Westchester, Brooklyn, Queens, Fairfield, Manhattan, and Long Island.
What's New in 2015 for NYMetroParents Clients
Many of your favorite NYMetroParents clients, from birthday party venues, to after-school classes, and dance schools have exciting things planned for the new year. Check out what's coming up in 2015 from top local businesses now.
Summer Activities in Suffolk County, Long Island
Look up great summer activities for kids in Suffolk County, Long Island. NYMetroParents' guide helps you find kids classes, Nassau County summer camps, summer programs, activities near Nassau County, and family excursions close by. Find all of your summer activities for kids in Northport, Dix Hills, Commack, Sayville, Cold Spring Harbor, and more in Suffolk County, Long Island.
How to Raise Self-Confident Kids: Advice from the Experts on Long Island
We asked child experts on Long Island for their best advice on how to instill and cultivate self confidence in children.