The Lanyard Ladies are having a free open house event Sat, Sept 20th from 12:00 - 2:00 p.m. At 464 Jericho Turnpike, Mineola, NY 516-578-2248 http://www.thelanyardladies.com/ Bring your children and friends to check out their new Birthday Party Place. Make tons of bracelets and enjoy refreshments. Come pick from many different colors of string and lanyard and they will show you to make your favorite bracelets. Fun craft day for everyone. You'll have a stringtastic good time!
Fall registration for classes being held every Mon and wed from 4:15-6:15 It's a 6 week class and can choose either day to come. The 6 week class is $160.00.
Grand Opening
Friendship Bracelet and Lanyard Birthday Parties
The Lanyard Ladies are a new and unique craft idea for birthday parties and events. We provide string and lanyard to make hundreds of different designs. We work one-on-one with your guests and give them step-by-step instruction.
The lanyard Ladies have many partner locations where we can come and to you for a fabulous party. We travel to any location you choose.
The Lanyard Ladies have just opened a new party room located at 464 Jericho Turnpike in Mineola. They are a new and unique craft idea for parties and events. They provide string and lanyard to make hundreds of different designs of bracelets. They work one-on-one with your guests and give them step-by-step instruction. Fabulous add-ons, Candy bar, face painting, popcorn, cotton candy, hair deathers, balloons, glitter tattoos, chocolate fountain, make your own flip-flops, rainbow loom.
The Lanyard Ladies teach various friendship bracelet and lanyard patterns that are fun and easy to make and age appropriate. You can make a wide variety of crafts including lanyard bookmarks, beaded bracelets, necklaces, rings and anklets. You can also make zipper pulls that are very popular. Kids love to hang them on their sweatshirts and backpacks.
The Lanyard Ladies have dozens of bright colors to choose from. Making friendship and lanyard bracelets brings out the creativity in everyone. You'll be amazed at what your children can make!
Friendship bracelet and lanyard birthday parties are so much fun! The Lanyard Ladies have all the materials needed to make hundreds of different bracelets. They can bring the party to you as they supply a table, benches and dozens of colors of string and lanyard or you can come to their new party room. Your guests can make as many bracelets as they want. They also supply fun and exciting goodie bags for all of your guests. This is a unique party idea, there's nothing else like it. Parents love it because they're always looking for something different for their kids. They don't want to keep doing the same old parties.
Bar/Bat Mitzvah Vendor
The Lanyard Ladies offer a unique and different form of entertainment for your guests. We have experienced event hosts to make your event spectacular. We provide the extra fun and excitement with our friendship bracelet party favors with your child's name on it and date of your event. We arrive with a 6 foot table beautifully decorated and hundreds of choices of bracelets and lanyards to make. We have 26 colors of string and lanyard for your guests to choose from. They can make friendship bracelets, lanyards, lanyard pens, lanyard bookmarks, beaded necklaces and bracelet. There are many choices of styles and patterns to choose from. We have many fabulous add-ons to choose form such as glitter tattoos, hair feathers, face painting, cotton candy, chocolate fountain, rainbow loom and fun photo opt. They can expect us to be professional and completely involved in their event from start to finish. We will live up to all of the clients' expectations and more. Our event hosts are all trained on all of our items. We will arrive at your event early leaving more than enough time to set up for your event. Our client's experiences with The lanyard Ladies are always memorable. When you want something completely different and unique that your guests will enjoy, call The Lanyard Ladies for a stringtastic good time.
Do you want to learn to make friendship bracelets and lanyards but don't want to wait for a party? The Lanyard Ladies created a Friendship Bracelet and Lanyard Making Craft Kit and an Instructional DVD for those of you wanting to create the fun experience at home. You can purchase them online by clicking HERE.
For more information, to purchase the Friendship Bracelet and Lanyard Making Craft Kit and Instructional DVD or to book your party, please call 516-578-2248 or go to the website www.thelanyardladies.com.
Many party packages to choose from. Classes available and summer camp.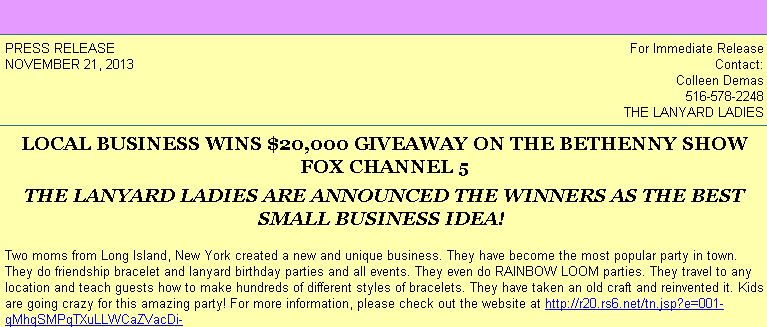 Want to learn more about this business? Send them a direct inquiry.
BIRTHDAY PARTIES
The Lanyard Ladies Arts and Crafts Birthday Parties. Bracelet Making, Princess Theme, Tea-Time Party, Making Flip-Flop Party, American Girl Doll Party, Pajama Party, Sand Candy Party, Bling-T-Shirt Party. Many fabulous add-ons and party favors to choose from! Learn to make your favorite bracelet patterns. Come to our birthday Party location or we can come to you! Call today for a "Stringtastic" birthday.
Read More About Lanyard Ladies (The)
10 Things Camp Counselors Wish Parents Didn't Do
Local camp owners and directors share advice and tips for camp parents—10 things they wish parents didn't do when sending children to camp. Plus, counselors share five things they want parents to know.
Lanyard Ladies Win $20,000 on 'Bethenny'
The Lanyard Ladies, a mom-owned business based in East Rockaway on Long Island, was named the winner of the Bethenny in Your Business $20K Giveaway. The business received a check for $20,000 on an episode of "Bethenny."