"Adventures in Ballet" 2012 Summer Performance, Hofstra University
Now in its 34th year, the Ohman School of Ballet was founded by Frank Ohman, former soloist of New York City Ballet and is one of the few remaining direct links to the legendary
George Balanchine. The school opens its doors to all students who wish to study classical ballet and also serves as a training ground for promising young dancers. It is a not-for-profit, non-recital, state-of-the-art facility with 3 spacious studios with convenient location and ample parking. The school, together with its company New York Dance Theatre, presents the largest Nutcracker production on Long Island annually at Hofstra University, as well as spring/summer performance opportunities. For the very young student (beginning age 3) classes are taught by our early childhood dance education specialist. Formal ballet classes are offered at 5 levels from beginner to advanced in a nurturing atmosphere with an expert teaching staff headed up by Frank Ohman. While instilling joy and appreciation for this art form, it also builds confidence and focus in children that stays with them into adulthood. The primary goal of the Ohman School of Ballet teachers is to make each child the best dancer that he/she can be.
Summer Programs:
Offering Summer evening classes from July 8 - August 16 (all levels) and a
Summer Intensive Camp July 29 - August 9 Mon-Fri 9:00 a.m. - 3:30 p.m.
Camp includes ballet technique class daily, turns and jumps, pointe or pre-pointe, Pilates, Yoga, Jazz/Musical Theater, Tap, and more. Ages 8 and up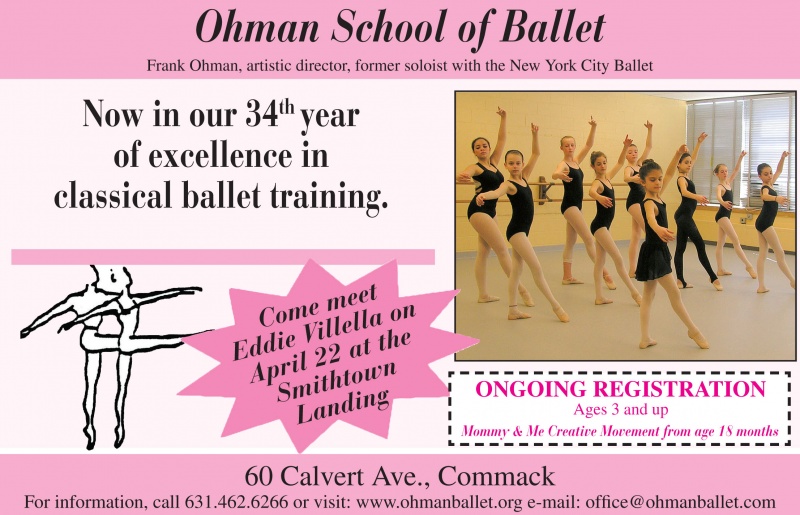 Want to learn more about this business? Send them a direct inquiry.
HEALTH
Frank Ohman, former soloist of New York City Ballet opened his school 35 years ago on Long Island to teach proper classical ballet technique. Ballet is not just a graceful form of dance, it is also good for your health and well-being. It is low impact while strengthening your muscles and improving posture at the same time. It is good for all ages. It is never too late to take up ballet.