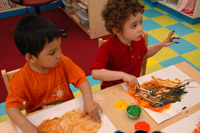 To keep your kids active and entertained when the school bell sounds, consult our guide to after-school activities. You'll find everything from dance, gymnastics, and martial arts classes to tutoring and academic enrichment programs—all in Westchester County!
And for more activities and events after school as well as on the weekends, check out our online calendar.
A MAZE IN POTTERY
76 N. State Rd, Briarcliff Manor
(914) 502-0088
Have your child participate in our after-school enrichment program, either at your school or in our store! During the first 4 week program, students, K-8, will make a theme-based dinner set. The set is food, dishwasher and oven safe. Second and third sessions are available to create much more. Students can create holiday gifts for family members, seasonal pottery pieces like a Christmas cookie plate, Seder platter, menorah, or Thanksgiving serving dish. Projects can also incorporate subjects being discussed at school, for example Earth Day.

ACADEMY OF DANCE ARTS
17 Marble Ave, Pleasantville
(914) 741-5678
Academy of Dance Arts, recent recipient of the Best of Westchester 2011 Award for Best Ballet School, provides a quality dance education rich in technique, while preserving creativity, excitement, and fun. Classes for pre-schoolers through adults include ballet, pointe, tap, jazz, acrobatics, lyrical, theatre dance, and hip-hop. Enjoy our beautiful 5,000-sq.-ft. facility equipped with sprung floors, viewing windows, and toddler-friendly waiting room. Advanced students seeking performance opportunities may audition for our Competition Company, Performance Troupe, and/or FUSION. Call for more information. Conveniently located across the street from the Pleasantville train station.

ALOHA MIND MATH
N. White Plains, NY, Darien & Milford, CT
(914) 373-4960 The abacus created a whole new dimension in the field of teaching Math to young children. Do you want your child to say "I Love Math?" Here is the place where Math and numbers are brought to life with magical beads and your child's visualization skills! ALOHA's whole-brain development program has been accredited as "a perfect and solid foundation in Math for young children" by parents and teachers alike. Call or e-mail for your free preview session and "Discover the Genius in your Child."

ANDREA'S DANCE STUDIO II
209 Brook St., Scarsdale
914-723-2927
Andrea's Dance Studio
904 Morris Park Ave, Bronx
(718) 597-9869
With more than 48 years of experience, Andrea Verdeschi introduces dancers of all ages to the world of fitness through dance. Patient, highly qualified instructors guide dancers in ballroom, ballet, hip-hop, jazz, tap, Pilates, yoga, and gymnastics. She also offers elite competition teams for the more experienced dancer. Call today to inquire about our monthly adult socials. At Andrea's Dance Studio, classes are taught in a friendly, family atmosphere. Every student is special!

ANN & ANDY CHILD CARE CENTER
2170 Saw Mill River Rd, Elmsford (914) 592-3027
Ann & Andy, family owned and operated for over 30 years, offers a wide variety of fun activities for children 2 months–14 years. We are state licensed, with an extensive campus, and offer flexible schedules, reasonable rates, nutritious lunches, caring staff, individualized attention, and age-appropriate field trips. Join us for a wonderful school experience. Come see how much we care, and become part of our family.

AQUATIC PROGRAM FOR CHILDREN AND ADULTS, BEGINNERS THROUGH COMPETITIVE SWIMMERS
861 Bedford Rd, Pleasantville
(914) 773-3280
Swimming is an excellent form of exercise! The Pace University Aquatics program runs year 'round and serves all your aquatic needs, including children's group lessons, parent and child classes, and specialty programs. All lessons are taught by certified American Red Cross instructors. Specialty programs include stroke clinic, refinement for the competitive swimmer, adapted aquatics, aquacise, springboard diving, private and semi-private lessons, lifeguard training and WSI. Register now!

ARDSLEY COMMUNITY NURSERY SCHOOL
21 American Legion Dr, Ardsley
(914) 693-4932
Ardsley Community Nursery School has been servicing the local area for over 50 years with a fun, nurturing environment run by a caring staff, and a strong enrichment program consisting of music, dance, nature, and Spanish. Programs are offered for 2-, 3- and 4-year-olds, both mornings and afternoons. We take field trips to the nearby police and fire stations, library, and the Greenburgh Nature Center, and we have a beautiful shady playground. Call to obtain an application or arrange a visit.

BETTER @ MATH
Scarsdale, Midtown, Tribeca, Fort Lee, NJ and Greenwich, CT
(914) 729-1071 Amaze your friends and classmates by learning to perform mental computations at super-high speeds. Develop superior number sense, increased confidence, and enhanced thinking power that leads to better grades in school. Attend a free seminar to experience why our students perform at the top of all of their classes, including math.

BITS, BYTES & BOTS
(914) 218-8175
Our unique after-school enrichment program is a wonderful opportunity to bring our one-of-a-kind leading edge technology to your school. It provides kids with a mental playground where they can explore and create. Build and program robots, make animated movies, design photo comics, and create computer games. Our curriculum teaches engineering, logic, problem-solving, programming, story-telling and computer skills. Our teachers are friendly, effective, and have been background-checked for children's safety.

BOULDER BROOK EQUESTRIAN CENTER
291 Mamaroneck Rd, Scarsdale
(914) 725-3912
Boulder Brook Equestrian Center offers year-round private and group lessons to students of all ages and riding abilities, including the seasoned show competitor. Conveniently located just off exit 22 of the Hutchinson Parkway, Boulder Brook boasts the largest indoor ring in the area. In addition to summer camp, weekly vacation camps and adult camp are offered during the school year. Students are encouraged to participate in our bi-annual in-house horse show, and the facility is also available for birthday parties.

BOYS & GIRLS CLUB OF NORTHERN WESTCHESTER
351 Main St, Mt. Kisco
(914) 666-8069
Learn to swim at the Boys & Girls Club! We offer affordable swim classes for children ages 6 months-18-years, taught by professional staff with more than 50 years of combined experience. Our Marlins swim team has been national champions for 12 consecutive years. Prices start at just $150 for 10-week sessions. More than 40,000 local children have learned to swim in our pool. Keep your child safe–call today.

BRAIN BUILDERS TUTORING
280 Dobbs Ferry Rd, White Plains
(914) 328-1258
Whether your child faces challenges in school subjects such as reading or math, or has difficulty with organization, memory, executive functioning, or study skills, Brain Builders Tutoring can fine tune your child's learning process. In the initial evaluation, highly trained specialists get a clear sense of strengths, weaknesses, and learning needs. Call to find out how our individualized end-of-summer and school-year programs can help your student start school on the right foot.

BROADWAY TRAINING CENTER
10 Washington Ave, Hastings-on-Hudson
(914) 478-7065 Broadway Training Center of Westchester was recently awarded Best Theatre Classes in Southern Westchester by Westchester magazine. This premiere performing arts school provides year-long training programs in acting, voice, dance, and performance ensembles for grades K-12 and adults! Our faculty is comprised of established industry professionals who focus on the joy of accomplishment and the enrichment of personal expression through classroom and performance work. Broadway Training Center of Westchester is a not-for-profit 501(c) (3) organization.

BRUCE CHUNG TAE KWON DO
250 Halstead Ave, Harrison
(914) 835-0665
Grandmaster Bruce Chung, Master Susan Chung, and their professional adult staff have been teaching children's Tae Kwon Do for more than 20 years in their beautiful 5,000-sq.-ft. studio. Your child will have loads of fun in their supercharged Children's Program, developed to increase cardiovascular endurance, build strength, increase stamina, coordination, and flexibility. Parents are thrilled to see their children gain confidence, self-esteem, and focus as they advance through the program. Call for a free trial class.

C-NOTE MUSIC SCHOOL
2085 E. Main St/Route 6, Cortlandt Manor
(914) 736-6673
C-Note Music School offers private instruction for all age levels, on all instruments, in all styles of music. Vocal training is also available. Our staff consists of highly trained teachers, musicians, and audio engineers, selected on the basis of education, experience, personality, and performance ability. We also offer a fully equipped digital recording studio, as well as a separate suite with an 18x20-ft. stage and a 100 seat capacity, which is available for performance rentals.

CALECO BALLET STUDIO
at Union Hall
2 Keeler Lane, North Salem
P.O. Box 386, Brewster
(845) 519-8858
Maria Calegari and Bart Cook, former ballet stars with New York City Ballet, share their vast experience and love of dance with students, ages 3 to young adult, at Caleco Ballet Studio in North Salem. They are dedicated to providing the highest quality dance instruction and performance opportunities in a creative yet supportive environment. Children will experience first-hand the beauty and artistry that these two acclaimed dancers bring to Caleco Ballet Studio. Young children explore ballet classics, older students learn the choreography of Balanchine.

THE CENTER FOR LITERACY AT PACE UNIVERSITY
78 N. Broadway, White Plains
(914) 422-4135
The Center for Literacy Enrichment offers tutoring in reading and writing to children from age 4 through the 12th grade. The Center runs two programs: an after-school program from September through June, and a summer program during the month of July. Students are tested, and an appropriate program is designed to meet their individual needs. All services are provided on-site in a creative and nurturing environment by a qualified and professional staff.

CENTRAL PARK DANCE
450 Central Park Ave, Scarsdale
(914) 723-2940
For 31 years, Central Park Dance has been providing all types of dance instruction in a caring and nurturing environment. We believe that superior teaching and a supportive atmosphere go hand in hand. With over 150 weekly classes to choose from such as ballet, pointe, jazz, tap, and hip-hop, as well as fitness classes like Pilates ball, boot camp workout, aerobics, and Zumba, you are sure to find a class that's right for you!

CHAPPAQUA LEARNING CENTER/LEAP AHEAD PROGRAM
400 King St, Chappaqua
(914) 238-0800
What makes Chappaqua Learning Center unique? Its director! Judy Suchman offers Westchester's finest tutoring in one central location. Chappaqua Learning Center offers children 1st to 12th grade a wonderful place to learn. CLC puts its main focus not only on the core skills necessary for academic success, but also on the social skills children need to do well in school and beyond.

THE CHILDREN'S JEWISH EDUCATION GROUP
(914) 864-1267
Do you want a Jewish education for your child, without joining a synagogue? CJEG is a community-based school that emphasizes Jewish cultural studies, including Jewish tradition, history, and holidays, for children in grades K–7. We offer a professional teaching staff supported by a parent co-op administration. Private or group Bar/Bat Mitzvah lessons are also available. Classes are held Sunday mornings at the SUNY Purchase campus. For more information, please visit our website, CJEG.org.

CHILDREN'S PLACE PRESCHOOL
317 North St, White Plains
(914) 597-4071
Children's Place provides a challenging preschool curriculum that stimulates a child's sense of discovery in a closely supervised and nurturing environment. Children are encouraged to learn about social skills, handwriting, math, science, and reading through hands-on and play-based opportunities. Our inclusive educational environment promotes confidence, as children discover their unique strengths, form new friendships, and respect individual abilities. The staff is knowledgeable about child development, and appreciates the uniqueness of the early childhood learning years, as they prepare children for their entrance into kindergarten.

CHILDREN'S VILLAGE
The Little Village Day Care Center
Dobbs Ferry
(914) 693-0600 x1732
The Little Village Day Care Center provides children with a safe and nurturing environment to help develop their full potential, including a strong self-concept and natural curiosity about how the world works. In the classroom, as well as the playground, your child's day includes opportunities for cognitive, physical, social, and emotional growth. We serve children from six weeks to five years, Monday-Friday from 7:30am-6pm. Fully licensed by New York State and accredited by the Council on Accreditation, our experienced, well-trained teachers offer individualized, culturally-responsive care for each child.

CITY CENTER DANCE
236 E. Post Rd, White Plains
(914) 328-1881
City Center Dance celebrates its 10th anniversary this season! Specializing in professional dance instruction for children of all ages and levels, City Center Dance emphasizes discipline, dedication, balance, form, confidence, and success in a fun and creative environment. We offer ballet, pointe, tap, jazz, hip-hop, boys' break dancing, creative movement and more. Private lessons, master classes, birthday parties, and performance opportunities are also available. Call for more information and to register for classes today.

CRESTWOOD MUSIC EDUCATION CENTER
453 White Plains Rd, Eastchester
914-961-3497
Crestwood Music Education Center offers private music lessons for students of all ages and levels. Our world-class faculty gives instructions in piano, guitar, voice, string, woodwind, and brass instruments, as well as drums and percussions. We have outstanding programs in both Suzuki violin and piano, as well as jazz lessons with top artists in piano, guitar, bass, drum, and woodwind instruments. In addition, chamber music and jazz ensembles are available. We rent and repair instruments, and offer a good selection of method books and musical accessories.

DANCE CAVISE
273 Halstead Ave, Mamaroneck
(914) 381-5222
Described in the New York Times as "setting higher standards in dance education," Dance Cavise offers all dance disciplines, at all levels, for all ages. Celebrating 22 years in motion, Broadway veteran Joe Cavise heads a staff of over 20 professionals from New York City and Westchester. The studio is known for its family-oriented and nurturing environment, while promoting strong technique in a non-recital oriented, education-driven program.

DICKER READING METHOD
75 Brook St, Scarsdale
(914) 472-0600
Our revolutionary reading program will teach any child to read, even children diagnosed as learning disabled, dyslexic, or with ADD or ADHD. Whether your child is reading above, below, or at grade level, he or she will accomplish 3–6 years of reading achievement in just one year. Parents will see immediate improvement in reading achievement, comprehension, and vocabulary development. Over 10,000 children, from pre-school to 12th grade, have accomplished these remarkable results. Your child's grades, confidence, and self-esteem will soar as they learn to love reading and school.

THE EARLY CHILDHOOD CENTER
250 Bryant Ave, White Plains
(914) 949-4187
The Early Childhood Center is a NAEYC-accredited program in which children make the transition from home to school, learn to function effectively in group situations, and grow in confidence, independence, and responsibility. Academic goals and activities are designed to nourish the child's understanding of his/her world through investigation and exploration of a variety of experiences. The experienced, well-educated, and caring staff creates an environment in which learning happens and discoveries are made. Creative Kids is our extended-day program running until 3pm each day.

THE EARLY LEARNING CENTER AT FIELDHOME
2300 Catherine St, Cortlandt Manor
(914) 739-2244
Open Monday–Friday, 6:30am–6:30pm, even on snow days! Ages 6 weeks–5 years. Small class sizes, large play yard, safe environment with parent ID system; all meals and snacks included. Nurturing, educational environment with a unique "Grandfriends" program.

EXCEL MARTIAL ARTS
2097 Palmer Ave, Larchmont
(914) 834-1540
From birthdays to belly dancing, Excel provides a variety of classes for all ages. Our martial arts school is the source of the character development, leadership, and personal-safety skills your child needs to be successful for life, all in fun-filled classes that kids love—inspiration, motivation, and instruction in martial arts, self defense, health, and fitness, and so much more! Visit our website for a complete list of offerings.

EXTENSION PROGRAM OF THE FRENCH-AMERICAN SCHOOL OF NEW YORK (THE)
111 Larchmont Ave, Larchmont
145 New St, Mamaroneck
85 Palmer Ave, Scarsdale
(914) 250-0415
The Extension Program of the French-American School of New York offers courses in French or English, for FASNY students, children, and adults in Westchester and Fairfield counties. Courses include sports, language, cooking, science activities, chess, French theater, instruments, dance and more. If you are looking for stimulating after-school activities offered in an international environment where you and your children will be exposed to different languages and cultures, join FASNY's Extension Program.

FAMILY COURTSPORTS
150 Clearbrook Rd, Elmsford
(914) 592-3005
Our facility is an air-conditioned health club with a full-size gym for soccer, basketball, dodge ball, baseball, and kickball. Three racquetball courts are also available, as is a separate room with soft play area, obstacle course, trampolines, and a bouncy castle. At Family CourtSports, we have sports- and kids-oriented birthday parties for ages 3 to 13, as well as coming of age celebrations–bar/bat mitzvahs, quinceañeras, and sweet 16's. Referrals to caterers and DJs available. Fully-staffed with coaches. Come for your camp day trip or on rainy/hot days!

FIRST HEBREW CONGREGATION OF PEEKSKILL
1821 Main St, Peekskill
(914) 739-0500Pride in our Jewish heritage is what we seek to pass on to future generations. Families, including interfaith and adoptive, come to First Hebrew from surrounding communities for our relaxed atmosphere, family services, and two pre-school locations. Our Hebrew School enjoys an excellent reputation for teaching Jewish values, history, culture, and Hebrew. Experienced, caring teachers use music and art to help make Jewish traditions relevant to youngsters. Free Hebrew School offer: Children Kindergarten-2nd grade get free tuition for first year (temple membership not required; 1 child/family; new applicants only.)

FOR KIDS ONLY
577 N. State Rd, Briarcliff Manor
(914) 923-1889
For Kids Only, operating since 1996, offers flexible programs for children ages 2.9-12 years. Our full-time program operates daily from 7am-6pm. Our extended-hours program runs from 9am-12noon with additional hours available. Terrific Twos is a morning-only program for 2-year-olds. Our before- and/or after-school programs give children an environment where they interact, receive homework help, use our outdoor playground, and enjoy free-choice activities. We now offer Kung-Fu twice a week with Lao Shr Matt Lapidus.

FUNFUZION AT NEW ROC CITY
19 Le Count Place (Exit 16 off I-95) , New Rochelle
Party Central (914) 637-7575, option 1
Westchester's largest indoor entertainment megaplex for children (and adults) of all ages, corporate events, bar/bat mitzvahs, private celebrations and more. Featuring video games, prize center, rides, laser tag, glow-bowling, mini-golf, billiards, and go-karting. The world's greatest birthday is an interactive experience not to be missed. Bowling parties and leagues are fun for all!

GRANDMASTER B. M. KIM'S TAE KWON DO
60 S. Broadway, White Plains(914) 428-0085
187 N. Main St, Port Chester( 914) 934-1861
969 N. Central Ave, Scarsdale(914) 472-2060
75 West Route 59, Nanuet (845) 623-2002
At Grandmaster B.M. Kim's Tae Kwon Do school, we offer a variety of classes suitable for all ages over 3 years old. We have specialized PeeWee classes, children, adult, and family classes. We specialize in birthday parties and children's summer camp programs. Call today to book your next birthday party with us!

GREEN MEADOW WALDORF SCHOOL
Main Campus
307 Hungry Hollow Rd, Chestnut Ridge
Early Childhood Center at Tappan Hill School
50 Ichabod Lane, Tarrytown
(845) 356-9715
Green Meadow Waldorf School (with a Westchester Early Childhood Center in Tarrytown, and our main campus in Chestnut Ridge in Rockland) offers Parent & Child classes for babies and toddlers up to age 3, serves children from Nursery-12th grade, and also runs a popular Farm Days summer program. Founded in 1950, we are one of the oldest, largest Waldorf schools in the US, with about 330 students. Green Meadow students go on to top colleges, fulfilling careers, and are known for their resilience and creativity. Visit www.gmws.org to see how we are transforming education.

GREENBURGH NATURE CENTER
99 Dromore Rd, Scarsdale
(914) 723-3470
The Greenburgh Nature Center (GNC) offers a wide array of educational programming and seasonal special events for all ages, from pre-school children to senior citizens. Morning drop-in classes offer young children a chance to interact with nature and live animals. The 33-acre property includes woodlands, open lawns, gardens, a pond and a barnyard, and is used as a laboratory for learning. Indoor exhibits include a live animal museum with over 100 specimens, hands-on nature exhibits, and a greenhouse with botanical exhibits.

GROOVE PERFORMING ARTS®
108 Chatsworth Ave, Larchmont
(914) 834-3383
Groove is a family music and arts studio in Westchester County. In addition to presenting 20+ Music for Aardvarks classes in its spacious storefront in Larchmont each week, Groove brings its award-winning classes to satellite locations in Rye, Tarrytown, and Greenwich (beginning 2012). Those Art Kids, Groove Glee, Funky Hip Hop and Painting with Jo provide older toddlers and elementary school aged kids with a chance to explore, imagine and create. Fall classes begin September 9. Register today at www.findgroove.com.

GYMCATS GYMNASTICS AND BIRTHDAY PARTY CENTER
1 Odell Plaza, Yonkers
(914) 965-7676
At GymCats Gymnastics, children learn the skills and confidence they need to become better athletes. Exciting gymnastics classes are offered for boys and girls ages 20 months–adult, recreational-advanced classes, also private lessons, cheerleading groups, and summer camp. We are famous for our unique private birthday parties; our enthusiastic interactive staff makes your child's party memorable. Call for more information on how your child can meet new friends and new challenges, and build the confidence necessary to succeed.

HITCHCOCK NURSERY SCHOOL
6 Greenacres Ave, Scarsdale
914-723-0922
Our philosophy at the Hitchcock School is a simple one, namely that learning occurs best in a loving atmosphere where a child's complete growth and development are emphasized: social, emotional, spiritual, cognitive, and physical. Each child should attain a joyful sense of self-worth as well as a healthy relationship with teachers, friends, and family. Hitchcock School is non-denominational and welcomes families regardless of race, creed, or nationality. We offer an extended day, until 2:30pm for 4-year-olds, and a lunch club until 1pm for 3-year-olds.

HOFF-BARTHELSON MUSIC SCHOOL
25 School Ln, Scarsdale
(914) 723-1169
Hoff-Barthelson Music School has achieved national recognition for leadership in music education, performance, and outreach in a warm, familial environment. Its educational approach to classical music and jazz centers on quality, individualized instruction which includes a broad musicianship program and a performance program that affords numerous opportunities for students as soloists and in ensembles. Westchester's only Music Tech Lab and orchestral training pyramid in a community music school. Recorder classes and music classes for preschool-age children introduce beginning music skills in English, Spanish, Mandarin, and Japanese.

HOFF-BARTHELSON PRE-SCHOOL
25 School Ln, Scarsdale
914-723-1169
Jocelyn Kenner, Preschool Coordinator
A daily program for three- and four-year-olds offered in a safe and nurturing environment. Twice-weekly music and movement classes (Dalcroze Eurhythmics) complement the daily curriculum, which emphasizes music, art, pre-math, language arts, science and nature, cooking, dramatic and outdoor play. Experienced, certified teachers (MA degrees in EC Ed.) meet each child's personal needs and build toward readiness for kindergarten. Special attention is given to the physical, social, emotional, and cognitive development of our preschoolers.

IMMACULATE CONCEPTION SCHOOL
53 Winter Hill Rd, Tuckahoe
(914) 961-3785
Immaculate Conception School is a pre-kindergarten through 8th grade Catholic elementary school. Our students enjoy an innovative technology lab with Apple MacBooks, cameras, and video equipment, interactive Smartboards/Smart Slates in every classroom, departmental middle school, hands-on learning at every level, extended-day programs, and Catholic faith formation. The school is accredited by the Archdiocese of New York, NYS Department of Education and the Middle States Association of Colleges and Schools.

JCC OF MID-WESTCHESTER
999 Wilmot Rd, Scarsdale
(914) 472-3300
Looking for great after-school and weekend activities for your children and teens? The JCC of Mid-Westchester offers a wide array of educational, fitness, and recreational programs all under one roof. Visit us online for a full listing of all we offer in art, dance, music, theatre, sports training, gymnastics, swim instruction, fitness, SAT/ACT/Regents prep, infant/toddler classes, preschool, special needs education, and after-school enrichment programs.

JODI'S GYM
25 Hubbels Dr, Mt. Kisco
(914) 244-8811
244 E. 84th St, NYC
(212) 772-7633
Jodi's Gym has been providing New York kids the highest level of fun, friends and fitness for 30 years! Their step-by-step, no-fail approach ensures that every child feels a sense of accomplishment. From the tiniest tumblers to advanced gymnasts (ages 9 months-12 years), there is something for everyone. They offer mommy-and-me gym, gym and music classes, preschool gymnastics, school-aged gymnastics, Songs for Seeds music classes, Creation Station dance classes, Mad Science, Motion Evolution, summer and holiday-break camps, free monthly perks, free open playtime, play groups, private lessons, and the best birthday parties ever.

JUNGLE GYM MARTIAL ARTS NEW ROC
10 Cottage Pl, New Rochelle
(914) 355-5955
A firm believer in the limitless power of the human mind and its connection to the body, Jungle Gym Martial Arts has an award-winning curriculum and progression design made just for you! Through teaching the fastest growing self-defense art in an easy-to-learn and positive environment, we've helped hundreds of people just like you achieve all of their martial arts goals. Focus, self discipline, fitness...no matter how you choose to enhance your life through martial arts, the Jungle Gym will lead you there.

KATONAH ART CENTER
131 Bedford Rd, Katonah
(914) 232-4843
The Katonah Art Center offers classes for adults, teens and children from ages 2 and up, in a supportive, nurturing environment. Our classes include music and art for toddlers, mommy and me art and clay, drawing, painting, sculpture, pottery, darkroom photography, fashion illustration, cartooning, jewelry making, sewing, computer art, and more. We also offer portfolio development for teens. New to the center this fall are classes in comedy, juggling, drumming, film-making, quilting, and fiber arts.

KIDABILITIES
1 Skyline Dr, Ste 298, Hawthorne
(914) 347-5990
KidAbilities is a group of occupational, physical, and speech therapists dedicated to helping children develop their physical, sensory, verbal, and social skills. Our unique approach includes cutting-edge treatment, (NDT, Sensory Integration, listening therapies, PROMPT, eating therapy, and sensory diets) conducted in state-of-the-art sensory gyms and treatment areas. Skills develop and positive self-images emerge while children have fun. KidAbilities also offers group experiences: Play Partners and Tweens are social-skills groups, and 'Write, on' develops writing skills. Call today for a tour of our beautiful facility.

LA BOXING
30 Waverly Ave, Mamaroneck
(914) 835-IBOX (4269)
At LA Boxing, boys and girls learn self-defense, self-confidence, and discipline while having fun in a safe, entertaining, and non-competitive group class format. We have classes for ages 6-8 and 9-12. Our youth program challenges the entire body, developing coordination, balance, agility, and poise. Boxing training will help your child discover that through self-discipline and perseverance, he or she can accomplish almost anything. LA Boxing teaches children to think instead of panic in potentially serious situations, and how to react to threats from other kids.

LA LECON: CHRISTIAN CLAESSENS SCHOOL OF BALLET
27 S. Washington St, Tarrytown
(914) 806-7624
After 20 years of teaching in Westchester County, Christian Claessens, former soloist with The Dutch National Ballet and former director of the Scarsdale Ballet Studio and The Purchase Youth Ballet, will open a new ballet school on September 12. All classes will be taught by Christian Claessens and follow a philosophy of teaching that reflects his European training, which began at the Conservatoire de la Monnaie. Standards of discipline and cultivating a uniform style will be emphasized, as well as teaching students the art of presenting ballet as a fine art.

LIFE THE PLACE TO BE
2 Lawrence St, Ardsley
(914) 591-4400
Westchester's coolest place for after-school activities, birthday parties, special events, and everyday fun! LIFE is 29,000-sq.-ft. of fun and excitement. We offer laser tag, a rock-climbing wall, bowling, 3,000-sq.-ft. of high-end arcade games, a great café, and fabulous banquet facilities. Call to inquire about our after-school activities and drop-off program. Make LIFE simple, let us do it all!

LIGHTHOUSE YOUTH ARTS CENTER
17 Gramercy Place, Thornwood
(914) 741-4205
Lighthouse Youth Arts Center, located in Thornwood offers after-school training in acting, singing, and dance for those interested in theatre. We offer several packages, to fit the needs of every student. We also put on several musical productions throughout the year, so if you're looking for an educational theatre group for ages 4-19, this is the place to be – and all under one roof! Check our website for upcoming auditions and performances, or call for more information. The Lighthouse Youth Arts Center, changing lives one show at a time.

THE LITTLE GYM
777 White Plains Rd, Scarsdale
(914) 722-0072
Upper West Side (between 74th & 75th St.)
2121 Broadway (2nd fl), NYC
(212) 799-1225
The Little Gym is an exercise and motor development center for children, offering gymnastic classes, sports skills development, dance, cheerleading, and karate classes for children ages 4 mos. to 12 years, in a loving, non-competitive environment. Qualified instructors implement programs designed to build self-esteem and confidence. An emphasis on music and fun encourages both physical and emotional growth. The Little Gym also offers summer camp, holiday camp, Parent Survival Night, and Awesome Birthday Bashes.

LITTLE VILLAGE PLAYHOUSE
42 Memorial Plaza, Ste 1, Pleasantville
(914) 747-6206
High-energy martial arts group classes and personal training in Tae Kwon Do, kickboxing, total fitness, and self defense for Tiny Tigers age 4-6, children ages 7-12, teens and adults. Curriculum for each level is specially designed, with activities that will benefit children and adults, from the development of discipline, confidence, and physical well-being. Master Lee consistently teaches "Attention = concentration + focus" and "Respect" for parents, authorities, peers, and yourself.

LORNA LONDON SCHOOL OF BALLET
1810 Palmer Ave, Larchmont
(914) 374-5072/(914) 833-1267
One of Westchester's oldest and most renowned, The Lorna London School of Ballet is celebrating its 66th year. Specializing in classical ballet, ages 3-93, beginner-adult, we offer creative movement, pointe, choreography, and an annual June recital. Our extensive professional training (Balanchine), nurturing spirit, and creative genius in interpreting music, offers students an unprecedented experience in the studio and on the stage. Proper technique prepares students for professional careers or simply to enjoy dance movement.

MARTIAL ARTS WHITE PLAINS
77 Tarrytown Rd, 1W, White Plains
(914) 648-0492
A unique, integrated program that combines Kung Fu, Yoga, and Aikido classes with academic coaching. The objective is to show children up to grade 6, hands-on, how to implement the principle ideas of these disciplines in their school work. Curriculum includes seven topics – self confidence, learn through teaching, joyful effort, patience, ethics to improve academics, and insight/creativity. Regular adult and children's classes are also available in these disciplines, as well as meditation and Tai Chi.

MASTER HO LEE TAE KWON DO ACADEMY
1032 Yonkers Ave, Yonkers
(914) 776-2020
High energy martial arts group classes and personal training in TaeKwonDo, kickboxing, total fitness, and self defense. New: classes for 3-year-olds! Tiny Tigers ages 4-5, children, teens, and adults. Curriculum for each level is specially designed with activities that children and adults enjoy. They gain benefits through the development of discipline, confidence, and physical well-being. Master Lee consistently teaches "Attention = concentration + focus," and "Respect" for parents, authorities, peers, and yourself.

MOUNT KISCO CHILD CARE CENTER
95 Radio Circle, Mt. Kisco
(914) 241-2135
Since 1971, Mount Kisco Child Care Center has offered exceptional early care and education to children ages 3 months-5 years, with an award-winning school-age program serving children through the 5th grade. Open year-round, Monday through Friday 7am–6pm. Before- and after-school care, including full-day programming during vacations and school closings, homework helpers, outdoor activities, healthy meals and snacks are included. Limited enrollment. Contact Dawn Meyerski, Program Director.
CONTINUE TO SECTION 2