Philipsburg Manor in Sleepy Hollow, NY, will once again host its annual Green Corn Festival this September. The festival is a celebration of Hudson Valley Native American culture that the whole family can enjoy.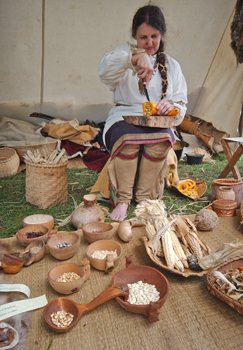 Philipsburg Manor, best known for its pre-colonial life events, is once again hosting the annual Green Corn Festival during Labor Day weekend. Families can stroll the grounds and take in all of the aspects of Native American culture there, from the art of arrow-making and open-hearth cooking demonstrations, to presentations of traditional dances, live music and children's activities.
Green corn festivals, or ceremonies as they were once known, have been practiced by eastern Native American tribes for hundreds of years. Marked by dancing, feasting, and singing, this annual event held near the end of each summer coincides with the ripening of the corn crops. Before the arrival of the Europeans, it is believed that the Lenape Indians held the first green corn ceremonies as both a baby-naming event and a thankful tribute to the gods for a bountiful harvest. According to the Hudson Valley Historical Society, the Lenape Indians, a tribe of 12,000 from the Delaware Nation, were indigenous to the lower Hudson Valley region, where Philipsburg Manor is now located.
The weekend's headliner, Kenneth Little Hawk, is a Native American descendant of the Mohawk and Micmac tribes. Kenneth, using his unique mix of storytelling, music, and acting, is returning to educate and entertain families with his wealth of knowledge of Native American culture.
Other highlights include festival veteran Arthur Kirmss, an artist, poet, and musician who will be back with his perennially popular wampum- and treenware- (wooden bowls and utensils) making demonstrations. Another favorite is Susan McLellan Plaisted, owner and operator of Heart to Hearth Cooking, a food history business based in Bucks County, PA. Susan will offer hands-on demonstrations in the art of Native American cooking and medicine.
In addition to the larger acts, kids will enjoy games, arts and crafts, farm animals, and live music happening all day throughout the festival grounds. Geordanes of Irvington will be on hand with refreshments.
Festival Info
Where: Philipsburg Manor, 381 North Broadway, Sleepy Hollow
When: September 4-6, 10am-5pm
How much: $12; $6 children, FREE under age 4.
For more information: 914-631-3992; www.hudsonvalley.org