More than 700 people in Westchester County participated in the JCC of Mid-Westchester's Day of Chesed (Kindness), Service and Remembrance in commemoration of 9/11.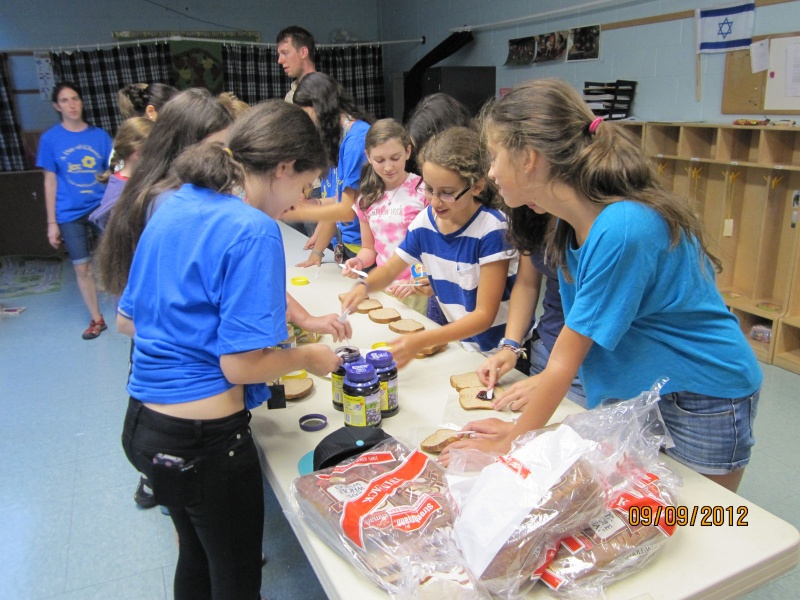 Middle school students make lunches
for HOPE Community Services
More than 700 people gathered at the JCC of Mid-Westchester in Scarsdale on Sept. 9 to remember the tragedy of the 9/11 terrorist attacks through volunteer work and by helping those in need. This event, in honor of the federally recognized September 11 National Day of Service and Remembrance, commemorated the day by bringing the community together for a day of good deeds and charitable activities.
The event, a Day of Chesed (Kindness), Service and Remembrance, was hosted by the JCC of Mid-Westchester in Scarsdale in cooperation with UJA-Federation of New York and brought together participants of all ages from throughout the county to support myriad activities and programs benefitting 14 local agencies. These included:

- A formal program that honored the memory of all who lost their lives on 9/11. As part of the program, County Executive Rob Astorino addressed the audience, and the Solomon Schechter Westchester eighth-grade girls a capella group sang "Hatikvah," the Israeli national anthem, and "The Star Spangled Banner"
- A blood drive for White Plains Hospital, resulting in more than 40 pints of donated blood
- An opportunity to register with the Gift of Life Bone Marrow Foundation, resulting in 18 new registrants
- Packaging of Rosh Hashanah foods to be delivered through Bronx Jewish Community Council in cooperation with UJA-Federation of Westchester
- Card-making and a collection of DVDs for overseas troops through Operation Support Our Troops
- A clothes drive for Kid's Kloset of Westchester Jewish Community Services that provides new and gently-used children's clothes and items to local families in need
- A toy collection by the Pinwheel Project, which supports hospitalized children and their families
- A cereal drive for HOPE Community Services in New Rochelle
- A pet adoption through PetRescue
- A school supplies collection for Food Bank for Westchester
- Hair donations for Locks of Love, supporting children with medical hair loss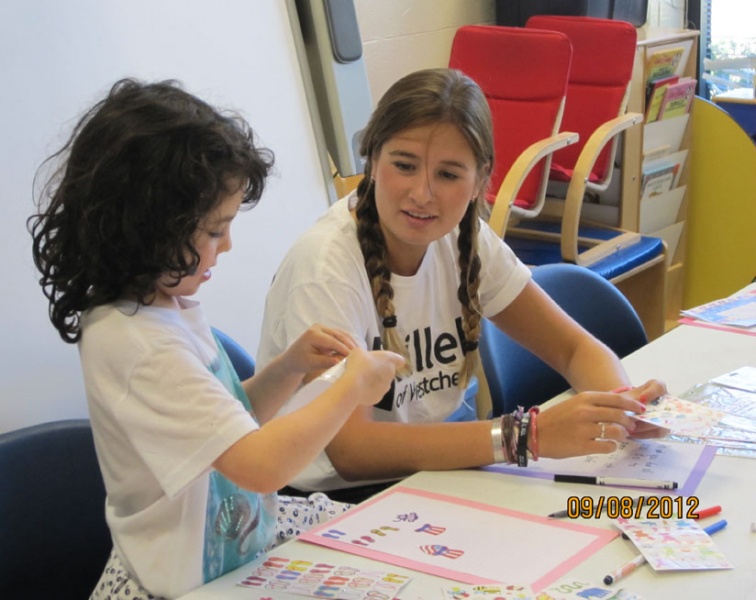 Card-making for overseas troops through
Operation Support Our Troops
was enjoyed by children and teens alike
More than 140 teens participated in the Teen Tribute, a teen-specific approach to remembering and service that included making blankets for hospitalized children through the Pinwheel project, a car wash that raised $590 for Gift of Life, decorating more than 200 cupcakes that were delivered to local fire and police stations, and making 50 lunches for HOPE Community Services. Other activities included creating a paper Caring Quilt that will be presented to a local hospital; a concert that brought children, teens, and adults together for a performance by Rockmitzvah, a professional rock band; and a lemonade stand run by children that raised more than $250 for Sunrise Day Camp, a UJA-funded camp for pediatric cancer patients.
"In addition to all the wonderful good deeds that took place, the Day of Chesed also served as a meaningful way for all members of the community -- children, teens, adults, and seniors -- to work together," says Ophira Cukierman, co-president of the JCC. "It was heart-warming to see children with developmental disabilities working side by side with teens and seniors to create cards for overseas troops, enjoy the concert, or just enjoy a sip of lemonade."
The JCC of Mid-Westchester, a proud beneficiary of UJA-Federation of New York, is a nonprofit organization dedicated to enriching the community by providing cultural, social, educational and recreational/fitness programs, human services and Jewish identity-building opportunities to people of all ages and backgrounds. For more information about the JCC of Mid-Westchester, visit jccmw.org.