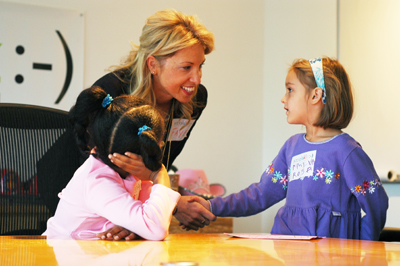 The Manhattan-based modern manners school socialsklz:-) debuted a Westchester program in April.
Classes, which are currently offered at the White Plains Women's Club and Little Rembrant in Rye Brook, teach children, tweens, and teens the basics of modern etiquette-though founder Faye Rogaski much prefers the term "social skills."
"Our world has become so complicated that social skills have gone by the wayside," explains Rogaski, who also teaches public relations at NYU and heads Faye Elizabeth Communications. She cites modern technology and social networking sites as factors in this phenomenon.
Rogaski teaches her students the importance of basic social skills, including a firm handshake, eye contact, and addressing adults as Mr. and Ms. "These social skills teach kids to respect themselves, which ultimately leads to respecting other people," she says.
Rogaski's classes also address dining skills, communication skills, and the impact of social media. For older children, she devotes a class to the importance of how they present themselves on social networking sites like Facebook and Twitter.
For more information on socialsklz:-), call 212-579-5300 or visit www.socialsklz.com/westchester.
Also see: More classes for kids in Westchester and the New York City area