Take a guided tour of Wildflower Island this summer to experience exotic plants and more of Westchester County's native wonders.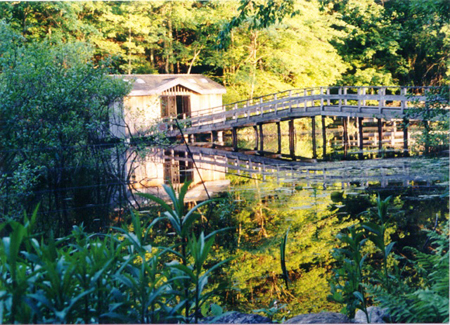 Take a guided tour through Wildflower Island, an isolated, two-acre area of land boasting more than 230 species of wildflowers. Engulfed by the water of Teatown Lake and secluded from animals, construction, and other disturbances, Wildflower Island's unique ecosystem allows for diverse vegetation and an eye-opening tour experience.
Exotic plants like Bicknell's Cranesbill, a pale purple flower, and Swamp Rose Mallow, a large pink flower with downy hairs, blossom through late summer along with more popular species like Black-Eyed Susans and Tiger Lilies. Knowledgeable guides lead small groups along a scenic path, educating guests about their surroundings and answering questions about the island's flowers, most of which are native to the Westchester area.
Developed as an island garden in 1982 by Warren Balgooyen and Marjorie Swope, Wildflower Island was officially established in 1983, when it was dedicated to Louise Malsin, a longtime supporter of Teatown Lake Reservation. For nearly 30 years, Wildflower Island has gone unmanaged; though invasive alien species are removed, plant life is otherwise untouched by human hands. For the protection of the natural environment, the island is enclosed by wrought-iron gates, and unsupervised visits and children under 12 are not permitted.
Guided tours of Wildflower Island usually last about an hour. Visitors looking for more can explore Teatown's hiking trails, nature store, and various special events.
Tour Info
Where: Teatown Lake Reservation, 1600 Spring Valley Road, Ossining
When: Saturdays through August at 10am
How much: $6
For more information: 914-762-2912; www.teatown.org
For even more family activities in Westchester County, NY, visit our Online Calendar of Events.