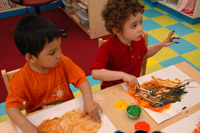 Find after-school programs for kids in Westchester County, New York. Whether you're looking for academic programs in math, reading, and literacy, or classes in theatre, music, and dance, even sports ranging from tae kwon do to equestrian centers, NYMetroParents gives you the most complete guide. After-school programs in Westchester County are here!
CONTINUED FROM SECTION 1

THE MILESTONE SCHOOL
70 W. Broad St., Mt. Vernon
914-667-3478
70 W. Broad St., Fleetwood

Founded in 1979 on the premise that "the first years of a child's education are the most important," The Milestone School is an independent, Nursery-4th Grade school. Our after-school program offers a relaxed atmosphere where children can unwind and make choices from a wide variety of activities: arts and crafts, free play, yoga, outdoor activities, cooking, and story time. A study/homework period is part of our older students' day. We provide a "quality time" after-school experience where your child can feel comfortable, nurtured, and have fun!

MUSIC CONSERVATORY OF WESTCHESTER
216 Central Park Ave., White Plains
914-761-3900

The Music Conservatory of Westchester, accredited by the National Association of Schools of Music, provides high quality instruction in all instruments and voice for students of all ages and abilities. In addition, we offer chamber music and ensembles, classes in music theory (including AP theory), musical theatre, jazz, rock, and pop. The Music Therapy Institute serves children and adults on campus and in partnerships throughout Westchester. Our programs and collaborations cultivate lifelong learning and a sense of community through the joy of music making. View our 2013-14 catalog online.

MUSICAL MUNCHKINS
167 Scarsdale Road, Tuckahoe
914-771-7000

Musical Munchkins, Westchester's original early childhood music program is celebrating 30+ years of makin' music and memories. We continue delighting our youngest musicians and their families with the wonderful world of mommy-n-me music. Our curriculum, filled with joyful activities, is geared for children ages 6 mos.-4 years. The use of instruments, creative movement, inventive props, puppets, books, and games, help captivate and enrich children with a love of music. Our nurturing teachers capture everyone's hearts, while stimulating those developing brains. Visit our website. Schedule a FREE trial class.

NEW ROCHELLE RACQUET CLUB
2550 Palmer Ave., New Rochelle
914-636-1003

The New Rochelle Racquet Club offers the best year-round tennis instruction for the 10 & Under (ages 3-10) and Junior Development (ages 10-17) programs. Our Summer Camp for ages 3-14 starts the week of July 1 and runs through the week of August 19. We also offer Adult Instruction Groups, Cardio Tennis, Power Drills, Men's and Women's Leagues, and Seasonal Tennis, plus five racquetball courts. Our Fall Session begins Sept. 9. Come by for a tour, call for more information, or check out our website at newrochelleracquetclub.com.

ON HUDSON FITNESS & DANCE STUDIO, INC. AND NEW YORK GOJU KARATE BLACK BELT ACADEMY
558 Warburton Ave., Hastings-on-Hudson
914-478-0508

Experience the best in dance, fitness, and karate! We offer dance classes in all styles and levels, including hip-hop and lyrical jazz. Fitness classes are comprehensive, and taught by the best instructors in Westchester. Our NY Goju Karate program, one of the region's finest, offers age- and rank-specific classes, from pre-school Tiny Tigers to Black Belt and beyond. Whether you are looking for a program for your children or yourself, On Hudson Fitness and Dance Studio and NY Goju Karate have great programs for the entire family.

ONTRACK SPORT CENTER
29 S. Depot Plaza, Tarrytown
914-909-2974

OnTrack Sport Center is a 26,000-square foot indoor sport facility, offering athletes of all ages access to various training and competitive programs in soccer, lacrosse, and baseball. Fall after-school programs are now being planned. Visit our website or like us on Facebook for a list of scheduled programs. Also, celebrate your child's next birthday at OnTrack with one of our spectacular sports party packages. Voted 2009 Best of Westchester—Indoor Sports for Kids.

THE PLAY GROUP THEATRE
One N. Broadway, White Plains
914-946-4433

The Play Group Theatre (PGT) offers a wide range of theatre classes and performance opportunities, from fully produced Main Stage shows to the Conservatory Black Box experience for ages 4-17. PGT's new Design/Tech Track allows students to study the theatre from a behind-the-scenes perspective, and the Theatre Lab provides one-time workshops and unique theatre experiences such as the Cabaret and Project 24. Innovative theatre programming throughout the year includes quality after-school and weekend options, as well as a variety of summer camp programs. Call 914-946-4433 or visit playgroup.org for more information.

PRE-SCHOOL READING PROGRAM BY THE DICKER READING METHOD
75 Brook St., Scarsdale
914-472-0600

Your 3-, 4-, or 5-year-old child will learn 15 to 30 words in their first session. Then they will learn to read their first book fluently. Every two months, your preschooler or kindergartner will achieve one year of reading enrichment. Their self-esteem will soar as they develop a love for reading and school. It's easy, fun, and life's most exciting game.

PRIVATE TUTOR HQ™
914-4A-Tutor

Private Tutor HQ™ is the Headquarters for Lifelong Learners & Teachers™ through its Directory, Lab, and Foundation. Guests can freely search the Directory for Members who offer Pre-K through Adult services in various disciplines, throughout Westchester and beyond. Guests may also book time in small classes hosted by Members at various Lab locations. Volunteers, activists & fundraisers are always welcome and needed at the Foundation. "Like" Private Tutor HQ™ at facebook.com/privatetutorhq and "Follow" @PrivateTutorHQ. Private Tutor HQ™ was founded by Dave and Amy Jones. daveandamyjones.com.

PRIVATETUTORDIRECTORY.COM (SM)

Looking for a tutor? PrivateTutorDirectory.com (SM) is an online community designed to help you, our valued Guest, Member or Friend, Maximize Your Potential™. Guests are welcome to freely search our database of Private Tutors (Members) who offer their services throughout the diverse communities of Westchester County. Members specialize in pre-k-adult remediation, support, and enrichment in academics, the arts, athletics, languages, special services, technology, testing, and more. Friends of PTDLLC™ are welcome to promote their products and services on PrivateTutorDirectory.com (SM). Also visit PrivateTutorLab.com…Connecting Lifelong Learners and Teachers™

ROBIN'S NEST
3 Phelps Lane, Sleepy Hollow
914-366-3232

Robins Nest is located on the grounds of Phelps Memorial Hospital Center. Established in 1988, we offer full-time and part-time programs, year round, for children ages 2 mos.-5 years, from 7am-6pm, serving breakfast, lunch, dinner, and two nutritional snacks. Age-specific curriculums, half-day nursery program, before- and after-school care, vacation club during school breaks, and summer camp. Enrichment activities: music, nature programs, gymnastic, yoga, language classes, field trips, Smart Board activities, and swimming lessons. Teachers have four-year degrees and CPR certifications. NAEYC accredited.

ROOFTOP RHYTHMS DANCE STUDIO
10 S. Division St., #7, New Rochelle
914-576-6027

Directors Susan Ayson and Dana Ruggiero are "raising the roof" on their 13th season! Classes offered for students ages 2-adult in tap, ballet, jazz, hip-hop, boys hip-hop/break dance, modern, pointe, Broadway jazz, and "2 Too Cute!" Join our Zumba Party year-round! We are now accepting registration for the fall. No registration fee required. Affordable pricing starting at $540 for one year of tuition; 15% off second class; 20% off third or more; sibling discounts; and affordable payment plans. Call for a brochure or visit the website.

SCARSDALE BALLET STUDIO
696 R White Plains Road, Scarsdale
914-725-8754

Under the direction of Diana White, former NYC Ballet soloist, the Scarsdale Ballet Studio is recognized for the quality of its curriculum and the professionalism and supportiveness of its faculty. Beginning with classes for three-year-olds, the balanced, creative, yet traditional approach focuses on shaping each child into a healthy, technically accomplished, well-rounded dancer, regardless of his or her aspirations. The studio offers classes in classical ballet, pointe, character, and contemporary, as well as performance opportunities.

SOCIABLE KIDZ®
1600 Harrison Ave., Suite 105, Mamaroneck
914-502-3295

Voted "Best Social Skills Group 2013" by Westchester magazine, Sociable Kidz® provides social skills groups for children ages 4-12. The small groups ensure that your child receives individualized attention including problem-solving, sharing, taking turns, coping mechanisms, anti-bullying techniques, etc., using hands-on activities, games, role playing, and social stories. We are now offering after-school programs from 3:30-4:15pm: SK Fun with Legos, SK Science Club, and SK Arts and Crafts. Check out our website for more information.

SPORTIME USA
380 Saw Mill River Road, Elmsford
914-592-2111

Sportime USA is the ideal place to visit after a long day at school! With a restaurant on the premises, we have activities for all ages including a brand new, 4-Dimensional Motion Theater, Laser Tag, a rock-climbing wall, a new Ballocity Arena, an 18-ft. Spider Climb, batting cages, bumper cars, a Himalaya coaster, kiddie rides, over 150 video/prize ticket games, billiards, and soft-adventure play area. Birthday parties are our specialty, and we also welcome all groups.

STEFFI NOSSEN SCHOOL OF DANCE
216 Central Park Ave., White Plains
914-328-1900
Email info@steffinossen.org

Westchester's premiere dance destination since 1937! Named 2011 "Best Kids Classes" and 2013 "Best Unique Dance Class for Moving Wheels & Heels" by Westchester magazine, our faculty conveys the joy and discipline of dance with warmth and enthusiasm. Explore your creativity while learning proper technique and alignment. Classes offered in White Plains and Chappaqua in modern, ballet, jazz, hip-hop, tap, classical story ballet, choreography, and adaptive dance for those with special needs. Guest artist workshops in a variety of dance techniques. Live music in classes/performances. Call about September 23-30 free week of dance.

STUDIO B DANCE CENTER
281 White Plains Road, Eastchester
914-793-2799

Since 1996, thousands of students have taken dance lessons with Studio B's highly talented and nurturing teachers. Their well-established pre-ballet programs are perfect for boys and girls as young as age two. Students develop important social skills such as listening carefully, following directions, and interacting with others, while dancing to age-appropriate music. Studio B Dance Center continues to respond to families' needs with convenient scheduling options and a wide range of styles including ballet, jazz, tap, hip-hop, modern, contemporary, and pointe. Call or visit their informative website.

TEMPLE ISRAEL CENTER NURSERY SCHOOL
280 Old Mamaroneck Road, White Plains
914-948-2800 x126

Temple Israel Nursery School is dedicated to providing a warm and nurturing environment where children can achieve their full potential—socially, emotionally, creatively, cognitively, physically, and Jewishly. We offer classes for 2-, 3-, and 4-year-olds, mommy-and-me programs, after-school enrichment, Stay & Play Extended Hours until 4:30pm Monday-Thursday and until 2:30pm Friday, early drop-off, lunch programs, and summer camp. Our morning programs are enriched with music, creative movement, nature, and animal specialists. Please contact our Director, Patty Goldstick, at 914-948-2800 x126, or e-mail p.goldstick@templeisraelcenter.org for additional information.

TUTORPRO
914-576-2053

TutorPro tutors are highly trained and professional tutors who build a personalized learning program for your child based on the results of each student's evaluation. The sessions are focused on each student's individual needs. TutorPro tutors have considerable tutoring experience and 100% of our tutors have degrees from great universities. TutorPro tutors are trained extensively on the most effective teaching methods and give students the personalized attention in the areas where they need help. Our exceptional tutors guide your child's progress while encouraging your child to learn and solve problems independently.

UNITED MARTIAL ARTS CENTERS
15 Center St., Ardsley
914-391-4841

UMAC After-School Martial Arts, with transportation. Students have TaeKwonDo training, related activities, and quiet times where they have the option to get some school work done, all in a fun, safe environment. Both part-time and full-time options include half-day pick-ups and more. With UMAC Briarcliff being voted "Best in Westchester" 2012, by Westchester magazine, UMAC Ardsley (the newest location) is looking forward to having a positive impact in the community.

WESTCHESTER SKATING ACADEMY (WSA)
91 Fairview Park Drive (Route 9A), Elmsford
914-347-8232

Westchester Skating Academy is a year-round, twin-rink ice skating facility offering recreational, hockey, and figure skating for all ages and abilities. WSA programs include public skating, learn-to-skate classes, group events, birthday parties, summer/holiday camps and clinics, adult and youth hockey leagues and instruction, and much more. Visit us online for more information.

WHITE PLAINS YMCA
250 Mamaroneck Ave., White Plains
914-949-8030
Community YMCA of Northern Westchester
336 Route 202, #2, Somers
914-276-2398
Camp Combe YMCA
684 Peekskill Hollow Road, Putnam Valley
845-526-0808

Our school-age programs have been developed based on the YMCA values of caring, honesty, respect, and responsibility. Activities have been carefully created to provide opportunities for children to learn new skills, develop relationships, and build self-esteem in a positive environment of safety and support. Activities include homework assistance, arts and crafts, theme days, team building, music, sports, field trips, cooking, and swimming. For more information, please contact Kim Waldon at 914-949-8030, x207 or email kwaldon@ymca-cnw.org.

WORLD SEIDO KARATE - JOHSHIN HONZAN
1 Parkway Plaza (Exit 21 off the Saw Mill River Parkway), Elmsford
914-909-5000

Seido is a Japanese karate style founded in 1976 by world-renowned, 9th degree black belt, Kaicho T. Nakamura. Together with his son, Nidaime A. Nakamura, they teach and oversee successful karate programs for adults, children, and families in Westchester and Manhattan. If you are looking for a fun and enriching program for your child outside of school, or...if you want to learn how karate can help balance the mind/body/spirit with everyday challenges, Seido is the right place for you! Fun family classes, family discounts, and trial classes available.

YWCA OF WHITE PLAINS
515 North St., White Plains
914-949-6227

The YWCA's licensed and NAEYC-accredited children's programs meet the needs of young families with an array of active programs, including childcare, pre-school programs, and our before- and after-school programs. Our caring staff creates an environment where every child is valued ,and develops activities that support the educational process, social interaction, emotional growth, physical development, and creative expression. The YWCA also offers aquatics, gymnastics, and fitness activities for all ages.
For more activities and events after school as well as family weekend events, check out our online calendar.