Check out some great activities and events for kids and families scheduled during the month of April in Westchester County, NY. Whether you're looking to celebrate Earth Day, catch a kid-friendly show, or enjoy the great outdoors, we've got the information your family needs!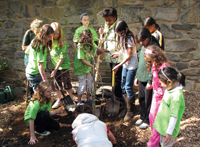 Celebrate Earth Day
There are fun activities for all ages that recognize the importance of caring for Mother Earth. Here are some near you.
Work in Nature
Spruce up the grounds, prepare the garden beds, clear the trails, and more at an Earth Day Celebration at Greenburgh Nature Center. Learn about sustainability practices from the naturalist staff and visit the Animal Museum. April 18 at 1pm. FREE. 99 Dromore Road, Scarsdale. 914-723-3470. www.greenburghnaturecenter.org.

Learn Environmental Consciousness
The Earth Day Green Fair was put together by a local Girl Scout as her Gold Award Project. Activities and presentations will demonstrate how to become more environmentally conscious in everyday life. Plus, music, games, and organic snacks. April 24, 12-5pm (rain date April 25). FREE. Weinberg Nature Center, 455 Mamaroneck Road, Scarsdale. 914-722-1289. www.weinbergnaturecenter.org.

Give Back to Earth
Join staff and friends in giving back to the earth by caring for the marsh, beach, and lawn at Earth Day at Beczak. Snacks and gloves provided. April 24, 10am-2pm. FREE. Beczak Environmental Education Center, 35 Alexander Street, Yonkers. 914-377-1900. www.beczak.org.
On the Fairgrounds
Hudson Valley's 40th Anniversary Earth Day Celebration is a family-friendly, two-day event that celebrates the holiday with hands-on, fun activities for young and old alike, and provides educational presentations and workshops on the environment. April 24-25. Starts at 10am. FREE. Dutchess County Fairgrounds, 6550 Spring Brook Avenue, Rhinebeck. 845-876-4000. www.dutchessfair.com.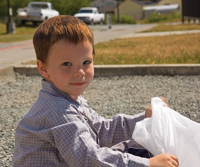 Community Conservation
Grab some work gloves and participate in the annual Pitch in for Parks. Get some fresh air and help the community by clearing trails, picking up litter, gardening, and getting involved in other projects that prepare the parks for the spring and summer seasons. April 10-11. FREE. Various parks around the county. www.westchestergov.com.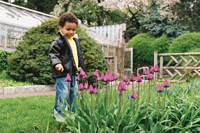 Spring Blooms and Other Creatures

Search through gardens and woodlands during a Discovery Walk at Wave Hill. Follow the guide on a romp through nature and explore the world of insects, flowers, birds, and trees that call the forest home. Pre-registration is recommended; space is limited. April 11 at 9:30am. $5. Wave Hill, West 249th Street and Independence Avenue, Bronx. 718-549-3200. www.wavehill.org.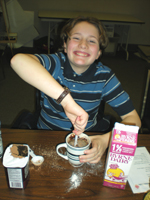 A Special Night for Autistic Girls

Young women on the autism spectrum can make new friends at the Girls Night Out Group. With an evening full of activities, crafts, and snacks, young women can socialize, engage, and have fun in a safe and controlled environment. Appropriate for ages 12-16. April 12, 6-7pm. FREE. The Westchester Jewish Community Services Autism Family Center, 845 North Broadway, White Plains. 914-761-0600. www.wjcs.com.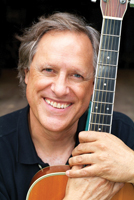 Tom Chapin Live
Grammy Award-winning entertainer, storyteller, and folk singer Tom Chapin will perform original songs at a special family concert benefitting the Child Care Council of Westchester. Support early literacy opportunities for children in need while taking in the whimsical tunes of a children's music legend. April 17 at 1pm. $15-$25. Archbishop Stepinac High School, 950 Mamaroneck Avenue, White Plains. 914-761-3456. www.childcarewestchester.org.
Theater: See Some Shows
Add some drama to the month with these family-friendly shows.
See the loveable story of Blue and Steve and all their friends live on stage at Nickelodeon's Blues Clues Live. April 10-17. 11am; 1pm; 3pm. $23. Westchester Broadway Theatre, 1 Broadway Plaza, Elmsford. 914-592-2222. www.broadwaytheatre.com.
Zany characters come together for a musical adaptation of the classic tale, Alice In Wonderland, Jr. The show features such Disney songs as "I'm Late," "The Un-birthday Song," and "Zip-A-Dee-Doo-Dah," and is presented by Clocktower Players Kids Troupe. April 16 at 7pm; April 17 at 2 and 7pm; April 18 at 2pm. $15; $10 children. Irvington Town Hall Theater, 85 Main Street, Irvington. 914-591-6602. www.irvingtontheater.com.
Catch the excitement of dance as the energetic performers of Soul Street Dance Company blend varied styles from Brazil's Capoeira to New York's break dance and multi-component form of hip-hop. Find out what happens when today's diverse dance styles meet classical music by 17th century composer Antonio Vivaldi. April 9 at 8pm. $40. Emelin Theatre, 153 Library Lane, Mamaroneck. 914-698-0098. www.emelin.org.

See the stage adaptation of Charlie and the Chocolate Factory. Five golden tickets are hidden beneath the wrappers of Mr. Willy Wonka's delicious chocolate bars that will change the lives of those who find them. Presented by Sign Stage On Tour in American Sign Language and spoken in English by deaf and hearing performers. April 24 at 3pm. $20; $16 children under 16. White Plains Performing Arts Center, 11 City Place, White Plains. 914-328-1600. www.wppac.com.
A musical adaptation of the hit film Bugsy Malone features a cast of children who play Prohibition-era mobsters and flappers. Presented by Broadway Training Center. April 23-24 at 7pm. $20; $14 children. Irvington Town Hall Theater, 85 Main Street, Irvington. 914-591-6602. www.irvingtontheater.com.
Odes For the Bard will be presented as part of the New Rochelle Council on the Arts' Sound Shore Shakespeare Festival. Enjoy the literary musings of the Bard, light music, and a reception designed to whet the senses of the Shakespearean age. April 18 at 3pm. FREE. St. John's Wilmot Episcopal Church, North Avenue at Wilmot Road, New Rochelle. www.newrochellearts.org.
Roald Dahl's Willy Wonka, a timeless story of the world-famous candy-maker and his quest to find an heir, comes to life in this stage adaptation of Charlie and The Chocolate Factory. Presented by Clocktower Players Jr. Teen Troupe. April 30 and May 1 at 7:30pm. All ages. $18; $12 children. Irvington Town Hall Theater, 85 Main Street, Irvington. 914-591-6602. www.irvingtontheater.com.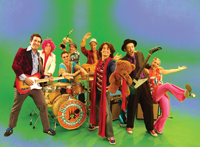 Good Clean Fun
The Dirty Sock Funtime Band performs at the Emelin Theatre on April 17 at 11am. Nominated Best Kid's Band for 2006, a Dirty Sock concert is full of music, dance, clowning, and all-around excitement that breaks down all the boundaries of what kids music "should be."
$18; $13 children. All ages. 153 Library Lane, Mamaroneck. 914-698-0098. www.emelin.org.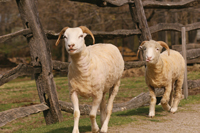 Sheepish History
Get a unique peak at farm life in the historic Hudson Valley at Sheep to Shawl. Sheep-herding Scottish border collies and newborn lambs bring history to life through live demonstrations. Plus, see how wool becomes cloth using 18th-century techniques. April 17-18, 10am-6pm. $12; $6 children 5-17, FREE children under 5. Philipsburg Manor, 381 North Broadway (Route 9), Sleepy Hollow. 914-631-3992. www.hudsonvalley.org.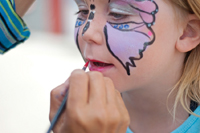 Craft Fair Fun
Face painting is just one of many activities for kids at the annual Spring Crafts at Lyndhurst, April 30-May 2. This 26th festival of contemporary craft, art, music, and food offers shoppers a chance to find unique gifts. The show includes one-of-a-kind and limited-edition jewelry, fashion and accessories, furniture, and home decor pieces, as well as functional and sculptural work in ceramics, glass, metal, painting, photography, wood, and mixed media. Plus, purchase specialty foods, participate in children's activities, and enjoy live music. All ages. $10; $4 children 6-16.
635 South Broadway, Tarrytown. 914-631-4481. www.artrider.com.
NYC FEATURED EVENTS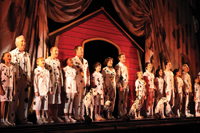 A New Family Musical
See the classic children's story, The 101 Dalmatians Musical. Styx co-founder Dennis DeYoung provides the music as a cast of talent and canines work together to create a fanciful world. Sara Gettelfinger becomes the malevolently decadent and all too enjoyable arch villainess Cruella De Vil, as the characters scramble to escape her clutches through song and dance. April 7-18. $35-$99. The Theater at Madison Square Garden, 4 Pennsylvania Plaza (Seventh Avenue and 32nd Street). 866-858-0007. www.theateratmsg.com.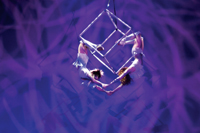 Classical Music Meets Gymnastic Feats
The worlds of classical music and acrobatics meld into one at Aerialists, Athletes, and Arpeggios. Part of the Peabody Award-winning Happy Concerts series, this concert includes narration designed to enhance an appreciation for music. With trained athletes from AntiGravity flying through the air and tumbling on stage as world renowned conductor Dino Anagnost leads his orchestra, this production promises to show children how exciting classical music can be. Appropriate for ages 6-12. April 17 at 11am and 1pm. $10-$50. Avery Fisher Hall at Lincoln Center Plaza, West 63rd Street and Columbus Avenue. 212-971-9500. www.littleorchestra.org.
For even more family events in Westchester and the NYC area, visit our Online Calendar
Get the best Westchester area events delivered to your inbox each week when you sign up for our newsletter