Related: after school classes and programs for kids in westchester county, sports teams and programs for kids in westchester county ny, music and dance classes for kids in westchester, academic help for kids in westchester county, fitness classes for kids,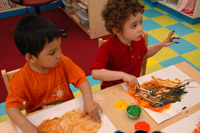 UPDATED AUGUST 2014: Find after-school programs for kids in Westchester County, New York. Whether you're looking for academic programs in math, reading, and literacy, or classes in theatre, music, and dance, even sports ranging from tae kwon do to equestrian centers, NYMetroParents gives you the most complete guide. After-school programs in Westchester County are here!
CONTINUE TO SECTION 2
ALCOTT MONTESSORI SCHOOL
27 Crane Road, Scarsdale
914-472-4404
46 Fox Meadow Road, Scarsdale
914-595-7551
535 Broadway, Dobbs Ferry
914-693-4443

Alcott School provides 2- to 6-year-olds a supportive, multicultural learning environment where they develop independence, self-confidence, and pride in their abilities. All sites offer a developmentally appropriate curriculum with Montessori materials, music, creative movement, and nature enrichment programs. After-school enrichment classes are provided for 3- to 5-year-olds. Offerings include yoga, dance, mad science, super soccer stars, golf, karate, and Spanish. Kidz Club, a social skills group for 3- to 5-year-olds meets from 4-5pm twice a week at the Crane Road location. Call to arrange a tour.

ANN AND ANDY CHILD CARE
2170 Saw Mill River Road, Elmsford
914-592-3027

Ann and Andy, family-owned and -operated for more than 30 years, offers a wide variety of fun activities for children 2 months to 14 years. We are state licensed, with an extensive campus, and offer flexible schedules, reasonable rates, nutritious lunches, a caring staff, individualized attention, and age-appropriate field trips. Join us for a wonderful school experience. Come see how much we care and become part of our family.

BALLET DES ENFANTS, L?ACADEMIE AT BDE, AND YOGADVENTURES AT BDE
1290 Boston Post Road, Larchmont
914-834-5443

Ballet des Enfants and L'Academie at BDE, are Westchester's premier children's dance programs for youth ages 2-9. Ballet des Enfants, for ages 2-4, brings together dance and music with children's literature, exquisite costumes, and enchanting props, for a unique ballet experience each week. L'Academie at BDE, for students ages 5 and older, offers ballet instruction based on the Royal Academy of Dance syllabus. Fall classes begin Sept. 15, and are available Monday-Saturday mornings and afternoons. Please call for information on Tutu Sweet! birthday celebrations and Tutu Enchanted! holiday events.

BELLE SCHOOL OF MUSIC
1088 Central Park Ave., Scarsdale
283 Tarrytown Road, White Plains
1537 Central Park Ave., Yonkers
914-961-5511

Established in 1983, the Belle School of Music, "Where Learning Is Fun!," takes pride in the high standards it sets while providing a comprehensive musical education. The school has developed a unique, effective, enjoyable way of teaching children ages 2 and older, and adults. Under the supervision of highly qualified, dedicated performers and teachers, the child you love will learn to play musical instruments, developing an appreciation and love for music that will last a lifetime. Call for a free first lesson and consultation and learn more about our programs!

BITS, BYTES & BOTS
605 Millwood Road (Route 133), Mount Kisco
914-218-8175
[email protected]

Our unique after-school enrichment program is a wonderful opportunity to bring our one-of-a-kind, leading-edge technology to your school. It provides kids with a mental playground where they can explore and create. Build and program robots, make animated movies, design photo comics, and create computer games. Our curriculum teaches engineering, logic, problem-solving, programming, story-telling, and computer skills. Our teachers are friendly, effective, and have been background-checked for children's safety.

BOUNCE! TRAMPOLINE SPORTS
612 Corporate Way (off Route 303), Valley Cottage
845-268-4000
[email protected]

Bounce! offers the opportunity to play sports, have fun, and get fit on enormous courts of interconnected trampolines. Guests can enjoy open jump time, trampoline dodgeball, slam dunk basketball on our new dual lanes, foam-pit jumping, and a fun arcade. We also have private party rooms, a Wi-Fi lounge, healthy food vending machines and snack bar, and a separate Bounce! Jr. Zone for kids ages 6 and younger. And ask us about Toddler Time! School, camp, and group trips welcome. Fundraising opportunities available.


BRAIN BALANCE ACHIEVEMENT CENTER OF NORWALK
15 Cross St., Norwalk, CT
203-847-3000

At Brain Balance Achievement Centers, we don't just work with a child's strengths or provide strategies to compensate for a weakness, we tackle your child's learning, behavioral, or developmental challenges head on by addressing the core issues at the most fundamental level. We integrate cognitive, sensorimotor, and nutritional training into a unique, drug-free, whole-child approach that goes beyond the symptoms to address root causes. Every child deserves the opportunity to reach his or her fullest social and academic potential. Stop in or call to learn more about the Brain Balance Program® and how we can help your child succeed.

BRYN MAWR CHILDREN'S LEARNING CENTER
20 Buckingham Road, Yonkers
914-423-5566

Our Learning Center is licensed by the New York State Office of Children and Family Services. Our center is open Monday-Friday, from 7:30am-5pm. Our center's full-day and part-time programs cater to children ages 18 months through 5 years. Our curriculum is structured to give children an opportunity to independently explore, create, and problem solve. It is our goal to offer a program that meets the intellectual, social, emotional, and physical needs of each child.

THE CENTER FOR LITERACY ENRICHMENT AT PACE UNIVERSITY
78 N. Broadway, White Plains
914-422-4135
[email protected]

The Center for Literacy Enrichment offers tutoring in math, reading, and writing to children ages 5 through eighth grade. Three programs are offered during the year: a Monday-Friday morning program for 5-year-olds; an after-school program for elementary and middle school students every day after school and on Saturday morning; and a summer program during the month of July from 9am-3pm for elementary and middle school students.

CENTRAL PARK DANCE
450 Central Ave., Scarsdale
914-723-2940

Voted "Best of Westchester 2013" for our pre-school program, Central Park Dance has been providing all types of dance instruction in a caring, nurturing environment for more than 30 years. "We believe that superior teaching and a supportive atmosphere go hand in hand," says co-owner Mario LaStrada. With more than 175 weekly classes to choose from for ages 2 and older—including preschool, fairytale, ballet, pointe, jazz, tap, and hip-hop, as well as fitness classes such as Pilates ball, aerobics, ZUMBA, Muze, and our latest, Break/Pop/Lock—you're sure to find a class that's right for you.

CHILD.COR
52 Garrigan Ave., Thornwood
914-495-8980
[email protected]

Child•cor is a children's wellness program that combines yoga, dramatic arts, and creative meditative practices to build confidence and promote well-being for children. The program aims to provide child participants with the tools and strategies needed to manage stress and foster an improved sense of self at a young age. Child•cor "journeys" run every four weeks on Saturdays, from 10am-12pm, and after school on Tuesdays and Thursdays from 4-5pm. Join our journey!

THE CHILDREN'S JEWISH EDUCATION GROUP
SUNY Purchase
914-864-1267

Do you want a Jewish education for your child without joining a synagogue? CJEG is a community-based school that emphasizes Jewish cultural studies, including Jewish tradition, history, and holidays for children in kindergarten through seventh grade. We offer a professional teaching staff supported by a parent co-op administration. Private or group bar and bat mitzvah lessons are also available. Classes are held Sunday mornings at the SUNY Purchase campus. For more information, please visit cjeg.org.

CITY CENTER DANCE
98 Lake St., White Plains
914-328-1881

Specializing in professional dance instruction for children of all ages and levels, City Center Dance emphasizes discipline, dedication, balance, form, confidence, and success, all in a fun and creative environment. We offer ballet, pointe, pre-pointe, tap, jazz, hip-hop, pre-K, and kindergarten classes, and special workshops throughout the year including acro. Private lessons, birthday parties, and performance opportunities also available. New this year, City Center Dance is proud to be the official home of the Westchester Knicks Dance Team! Call 914-328-1881 for more information and to register for classes.

DANCE CAVISE STUDIOS
273 Halstead Ave., Mamaroneck
914-381-5222

Described in the New York Times as "setting higher standards in dance education," Dance Cavise offers all dance disciplines, at all levels, for all ages. Embarking on 25 years in motion, Broadway veteran Joe Cavise heads a staff of more than 20 professionals from New York City and Westchester. The studio is known for promoting strong technique in a non-recital-oriented, education-driven program. Dance Cavise is also the home of Off Center Dance Theatre, a not-for-profit organization with duel missions of dance performance and community outreach.

DICKER READING METHOD
75 Brook St., Scarsdale
914-472-0600

Our revolutionary reading program will teach any child to read, even children diagnosed as learning disabled, dyslexic, or with ADD or ADHD. Whether your child is reading above, below, or at grade level, he or she will accomplish three to six years of reading achievement in just one year. Parents will see immediate improvement in reading achievement, comprehension, and vocabulary development. More than 10,000 children, from preschool to 12th grade, have accomplished these remarkable results. Your child's grades, confidence, and self-esteem will soar as they learn to love reading and school.

EASTER SEALS NEW YORK
Project Explore, Project Imagine, and Project Inspire
70 Columbus Ave., Valhalla
914-328-1578

We serve children with and without disabilities in inclusive, integrated, small classrooms. We offer high-quality full- and part-time programs, school year and year-round, for children ages 18 months to 5 years, from 8:30am-2:30pm. Before- and after-school care, vacation clubs during school breaks, and summer camp are available options. We follow the Creative Curriculum™ that is aligned with the NYS Common Core Learning Standards. We have special classes in art, music, and science, including interactive Smart Board activities. Our master teachers are New York state-certified in early childhood and special education. NAEYC accredited.

The Extension Program of the French-American School of New York
111 Larchmont Ave., Larchmont
145 New St., Mamaroneck
85 Palmer Ave., Scarsdale
914-250-0415

The Extension Program of the French-American School of New York offers courses in French or English, for FASNY students, children, and adults in Westchester and Fairfield counties. Courses include sports, language, cooking and science activities, chess, French theater, instruments, and dance. If you are looking for stimulating after-school activities offered in an international environment where you and your children will be exposed to different languages and cultures, join FASNY's Extension Program.


FRENCH-AMERICAN SCHOOL OF NEW YORK (FASNY)
Campuses in Scarsdale, Larchmont,
and Mamaroneck
914-250-0401
[email protected]

The French-American School of New York a coeducational day school for children, nursery through 12th grade, offers a dual curriculum in French and English, combining the strengths of both the French educational system and the best U.S. independent schools. Bilingualism is at the core of the FASNY experience with students graduating with the French Baccalaureate and a high school diploma. Give your child the ability to play, write, read, sing, act, raise questions, and make friends in two languages!

FOR KIDS ONLY
577 N. State Road, Briarcliff Manor
914-923-1889

Operating since 1996, For Kids Only offers flexible programs for children ages 2.9-12. Our full-time program operates daily from 7am-6pm. Our extended-hours program runs from 9am-12pm with additional hours available. We offer before- or after-school care. Before school, we serve breakfast and put children on their respective buses. Our after-school program (kindergarten through seventh grade) provides an environment where children interact, receive homework help, use our outdoor playground, and enjoy free-choice activities. We also offer kung fu twice a week with Lao Shr Matt Lapidus.

GERMAN INTERNATIONAL SCHOOL NEW YORK (GIS)
50 Partridge Road, White Plains
914-948-6513
[email protected]

German International School New York welcomes families of every background with an interest in German language and culture into a dynamic, bilingual, multicultural pre-K through 12th grade, college preparatory day school in the heart of Westchester. The depth of our international community and the strength of our bilingual curriculum nurture children's innate capacity for languages, and enable them to grow into adaptable, open-minded, and socially responsible global citizens. Graduates earn a New York high school diploma and the German International Abitur. We open a world of possibilities!

THE GODDARD SCHOOL
1 Jackson Ave., Hastings-on-Hudson
914-478-1390

The Goddard School® teachers nurture the healthy development of children from ages 6 weeks to 6 years, and encourage each child's lifelong love of learning. The Goddard School® offers families the benefit of on-site owners and education directors who provide dependable management and open communication. Corporate Quality Assurance, accredited professional development, and an individualized program for each child are just a few of the ways that Goddard is defining child care.

GYMCATS GYMNASTICS AND BIRTHDAY PARTY CENTER
1 Odell Plaza at Equalize Fitness, Yonkers
914-965-7676

At GymCats Gymnastics, children learn the skills and confidence they need to become better athletes. Exciting gymnastics classes are offered for boys and girls, ages 20 months to adult, as well as recreational to advanced classes, private lessons, cheerleading groups, and summer camp. We are famous for our unique private birthday parties. Our enthusiastic interactive staff makes your child's party memorable. Call for more information on how your child can meet new friends and new challenges and build the confidence necessary to succeed. Ask about our toddler open gym!

HELEN HAYES YOUTH THEATER
142 Main St., Nyack
845-826-2049

Celebrating our 17th year of excellence in theater education, the Helen Hayes Youth Theater offers year-round theater programs for kids ages 5-17, including weekend and weekday classes and productions. We welcome performers with all levels of experience. Please join us for professional training in a friendly, supportive environment. For more information, call us or visit our website.

HUDSON COUNTRY MONTESSORI SCHOOL
340 Quaker Ridge Road, New Rochelle
914-636-6202
[email protected]

Children learn to observe, think, judge, and pursue interests at their own pace. Exposed to physical and mental order, working with materials with a purposeful design in a calm atmosphere fosters concentration, creativity, self-respect, and a solid academic foundation. Hudson's unique approach allows children to develop their skills while pursuing their interests. Programs are available for children from 15 months through eighth grade, with extended hours available from 7:30am-6pm.

JODI'S GYM
25 Hubbels Drive, Mount Kisco
914-244-8811
244 E. 84th St., Manhattan
212-772-7633

Jodi's Gym has been providing New York kids the highest level of fun, friends, and fitness for 33 years! Its step-by-step, no-fail approach ensures that every child feels a sense of accomplishment. From the tiniest tumblers to advanced gymnasts (9 months to 12 years), there is something for everyone. They offer adult and child gym and music classes, pre-school gymnastics, preschool alternative, school-age gymnastics (kindergarten-sixth grade), Mad Science, special-needs gymnastics, summer and holiday-break camps, free playtime and extra perks for members, play groups, private lessons, and the best birthday parties ever.

KIDS' B.A.S.E. & THE LITTLE SCHOOL
307 Mamaroneck Road, Scarsdale
914-472-5409

Kids' B.A.S.E. & The Little School encompasses a before- and after-school program for school-age children, and a preschool program for 2-, 3- and 4-year-olds. Kids' B.A.S.E. provides quality before- and after-school programming for youngsters in kindergarten-sixth grades, and enrichment programs in the afternoon. The Little School provides a high-quality, full-day or half-day preschool program. It is licensed by NYS OCFS and accredited by NAEYC. For more information or to request an application, please call 914-472-5409 or visit kbls.org.

KIDVILLE MOUNT KISCO
145 Kisco Ave., Mount Kisco
914-458-1909

At Kidville, we are dedicated to offering fun, developmentally appropriate classes where children, ages newborn to 6 years, learn joyfully through play and exploration. We offer classes in gym, music, art, dance, science, cooking, Spanish, and enrichment, as well as a preschool alternative program and seasonal camps. Our programs instill confidence and help children grow physically, socially, and cognitively in a safe, stimulating environment. A low child-to-teacher ratio and a child-centered curriculum allow creativity, risk-taking, language development, and early discovery to flourish in all classes.

THE LITTLE GYM
777 White Plains Road, Scarsdale
914-722-0072
2121 Broadway, 2nd Floor (between 74th and 75th streets), Manhattan
212-799-1225
207 E. 94th St. (between Second and Third avenues), Manhattan
212-787-1124
28 Franklin Turnpike, Waldwick, NJ
201-445-4444

The Little Gym is an exercise and motor development center for children, offering gymnastics classes, sports skills development, dance, cheerleading, and karate classes for children ages 4 months to 12 years, in a loving, non-competitive environment. Qualified instructors implement programs designed to build self-esteem and confidence. An emphasis on music and fun encourages both physical and emotional growth. The Little Gym also offers summer camp, holiday camp, Parent Survival Night, and Awesome Birthday Bashes.

LITTLE VETS
193 Tarrytown Road, White Plains
832-377-5378
littlevets.com
[email protected]

Explore veterinary medicine with real veterinarians. Learn how veterinarians think and work. Use real tools and medical equipment to diagnose and treat your very own "patient." Ten classes, beginning September 2014, are held Tuesdays 3:30-5pm at Veterinary Emergency Group, Westchester's premier emergency veterinary hospital. Each class focuses on a different topic including bones, blood, even surgery! Through media-rich lectures, supplemental hands-on, medical workshops, live animals, unique medical demonstrations, and exciting games, kids will learn all about being a vet from someone who does it (and loves it) every day.

LOGREA DANCE ACADEMY
2 Dale Ave., Ossining
914-941-2939

Logrea Dance Academy (school of the Westchester Ballet Company) inspires students of all ages and abilities to achieve their highest potentials, through training in classical ballet, as well as jazz, tap, and modern. Founded in 1986 by professional dancers, Beth Fritz-Logrea and Jean Logrea, LDA offers classes for students age 3 through advanced, by an all-professional staff. Annual Nutcracker and scholarship auditions are held each fall, and all students have the opportunity to participate in performances of the highest artistic standard.



CONTINUE TO SECTION 2
More DIRECTORY ARTICLES Articles
What's New in 2015 for NYMetroParents Clients
School Vacation Camps in New York City, Long Island, and Connecticut
Local Craft Stores That Sell Scrapbooking Supplies
Long Island Family Health and Wellness Guide
Manhattan's Family Health & Wellness Guide

Be a good fellow parent and share this with a friend who would be interested
Local DIRECTORY ARTICLES Sponsors
See Our DIRECTORY ARTICLES Directory