Applause Westchester in Mamaroneck, New York, will introduce four new classes for kids - including acting, dance, music, and theater - this fall.

Applause Westchester, a music and drama center for kids, has expanded a second time since opening in 2008 and will add several new classes to its fall programming.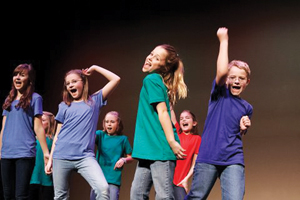 Beginning in September, Applause will debut a Music and Sports class for toddlers ages 18-36 months, in conjunction with OnDeck NY; a Broadway Ballet and Tap class for preschool-aged children; On Camera and Acting for the Industry classes for students currently auditioning or just starting to break into the acting field; and a new Saturday morning theater workshops for kids in fifth and sixth grades.
Applause Westchester's new state-of-the-art dance and rehearsal studio is located on the second floor of its current location in Mamaroneck, adding a third floor of classroom and studio space -- it first expanded, to the location's ground floor, in September 2010.
"Everyone here shares a love for music and theater and considers it a privilege to expose children to these great art forms," says Heather Capelle, director of operations. "We enjoy seeing our students grow and develop the skills necessary for the performing arts, whether it be professionally or just for fun."
See our comprehensive list of children's theater, drama, and acting classes in the NYC area