Cheers to Convenience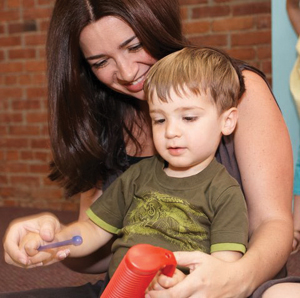 Applause Westchester, a music and drama center for kids, now offers Westchester and Fairfield County residents the option to bring its Babies programs into their home. These educational music programs, for children ages newborn to 3, include Broadway Babies and Rock 'n' Roll Babies.
If you live within a 45-minute radius of Applause's Mamaroneck location and have at least eight moms who will join the program, you can bring a semester of these mommy and me music classes to your home, says Heather Capelle, director of operations. Both programs feature professional actors from New York City and incorporate toys, instruments, and other props in order to introduce children to music, whether through a Broadway show or rock 'n' roll concert. "We bring them the exact same show, so they still get the same great experience, but they can turn it into more of a weekly playdate with a group of friends," Capelle says.
A musician and a mom, Capelle says she knows from first-hand experience what an important role music plays in children's growth and development. "It's never too early," she says.
Applause Westchester is located at 114 W. Boston Post Road, Mamaroneck. For more information: 914-835-2200 or www.applauseny.com.