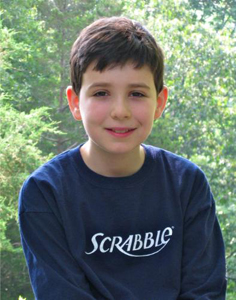 Eleven-year-old Mack Meller of Bedford, New York, became the youngest expert in official tournament SCRABBLE® history when he finished second in a June 25 tournament (almost all of Meller's competitors were adults). As a result, his official SCRABBLE® rating shot up by 53 points to 1638. In tournament SCRABBLE®, an expert rating is 1600 and above. There are currently 308 SCRABBLE® experts in the U.S. and Canada.
A typical SCRABBLE® expert has memorized handy, obscure words such as "za" (a pizza), "cwm" (a deep walled basin), the 32 q-without-u words like "qi" (in Chinese culture, the vital force that is inherent in all things), "qat" (an evergreen shrub), and more than 1,000 three-letter words. Experts also routinely compete in the 200 annual sanctioned tournaments in North America. The SCRABBLE® rating system is based on that of organized chess, where a player goes up and down in the rankings based on number of victories and the ratings of their opponents. A typical SCRABBLE® expert averages 365 to 400 points a game against other experts.
Meller played his first rated SCRABBLE® tournament just seven months ago. He also competed in the 2011 National School SCRABBLE® Championship in Orlando, FL this past April. Meller donates a portion of his winnings to St. Jude's Hospital.
Visit www.scrabbleassociation.com for more information on the National SCRABBLE® Association and School SCRABBLE® Program and other SCRABBLE® activities. For more information regarding tournament SCRABBLE®, contact the North American SCRABBLE® Players Association www.scrabbleplayers.org. SCRABBLE® is a trademark of Hasbro in the United States and Canada.
Article courtesy of PRNewswire and the National SCRABBLE(R) Association