BEST HALLOWEEN EVENTS & ACTIVITIES IN WESTCHESTER
Related:
Halloween events in Westchester
,
kids Halloween activities in westchester county
,
haunted house westchester
,
Get all the details on the best Halloween events in Westchester County. We've rated the top celebrations in the area from tamest to scariest, so you'll know which events are best for your kids and family.
Slightly Scary Halloween Events
Very Scary Halloween Events

There's nothing worse than bringing your child to an event you're both excited about only to have him become overwhelmed or fearful, begin crying, or get so worked up that your family has to leave early. It's always best to know in advance what you'll be facing, so check out our ratings below. (Note: Because each child is different, we recommend using this list only as a guideline.)
Halloween Events for All Ages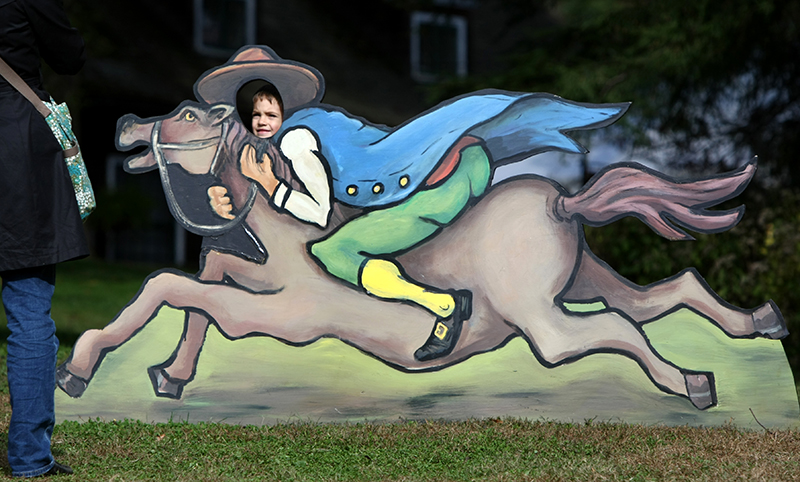 The Legend Behind the 'Legend'
Washington Irving's Sunnyside, Tarrytown
Weekends in October and Nov. 1-2, plus Columbus Day and Halloween
Sunnyside celebrates its connection to Washington Irving's classic tale, The Legend of Sleepy Hollow. Irving's fascinating home--a colorful blend of architectural styles--will showcase numerous objects related to Irving's famous story. Visitors can enjoy a shadow puppet performance of The Legend of Sleepy Hollow and experience one of Irving's spooky tales on a walk through the woods.
Annual Halloween Model Train Show
Lasdon Park Arboretum & Veterans Memorial, Katonah
Oct. 1-31
Get ready to beam down to the Lasdon Park "Area 51" Train Show and Halloween Party! Aliens, flying saucers, mutants, and other extraterrestrial surprises will "invade" northern Westchester during the October "Area 51" Halloween festivities, including a themed train show and costume party. Throughout the season, the Lasdon main house will be decorated with an eerie alien/space theme of "Area 51," the area famous as the home to secret extraterrestrials, UFOs, strange otherworldly experiments, and conspiracy theories that surround them. The annual Lasdon Halloween Model Train Show, also decked out in the alien theme, will be on view Oct. 11-13, 18-19, and 25-26, and 31. The display consists of Lionel trains chugging along on more than 300 feet of track, past tiny buildings and miniature deserts. To add to the fun, the Lasdon Hay Maze will return this year, bigger and better than ever. There will be a scavenger hunt for children, and costumed ET will be available for photo opportunities in or out of his space craft.
Brick-or-Treat at LEGOLAND
LEGOLAND Discovery Center Westchester, Yonkers
Oct. 4-26
A ghoulishly good time is brewing at LEGOLAND Discovery Center Westchester. Little ghosts and mummies are invited for a Halloween spin on their favorite activities, and parents are invited to participate in their Halloween costumes as well. Join a MINILAND Scavenger Hunt, receive a Limited Edition LEGO Halloween Brick, and more.

Jay Ghoul's House of Curiosities
Lyndhurst, Tarrytown
Oct. 17-19, 24-26, 31; Nov. 1-2
Lyndhurst was the home of three families over a period of 120 years, including that of Robber Baron Jay Gould. Visitors to this Halloween attraction will meet long-dead family members and be led on a spooky tour of the Lyndhurst mansion. Guests will be able to experience the spectacular gothic castle at night and in a way rarely seen. While the event will appeal to adults and teens, younger children can also participate as the performance is appropriate for all ages. Costumes are encouraged. Children younger than 18 must be accompanied by an adult.
Enchanted Forest Festival
Westmoreland Sanctuary, Mount Kisco
Oct. 18
The Festival includes guided "trail" tours with theatrical entertainment and musical accompaniment. During the day, there will be food, games, a hay ride, and live animal show. During the evening, older, braver visitors can take a flashlight tour along the spooky trail where they will encounter various spooky and enchanted creatures, both natural and imagined, and warm themselves by the fire with a marshmallow roast.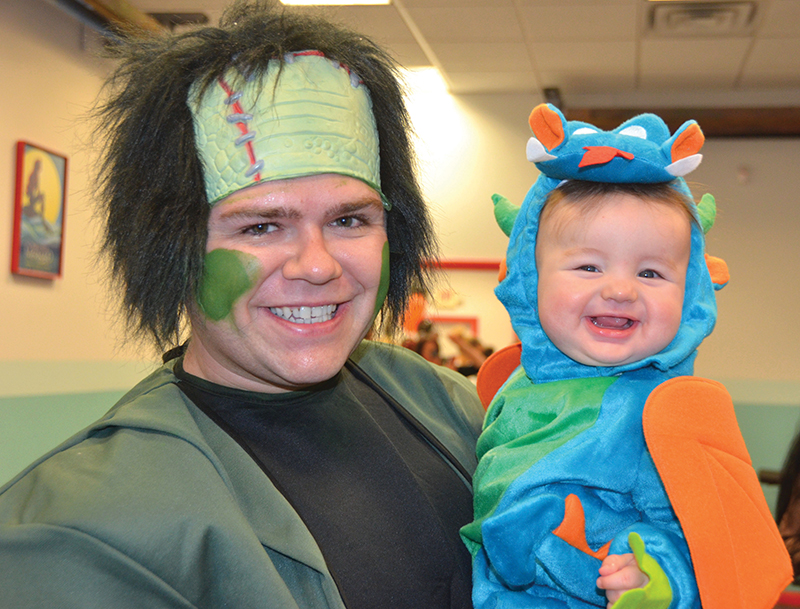 Halloween Spooktacular
Applause Westchester, Mamaroneck
Oct. 24
Enjoy a fun, yet slightly spooky good time. Celebrate with games, Halloween crafts and pumpkin decorating, hip-hop dancing, a costume contest, a haunted house, and a spooky "monster" of a show. Reservations are required.
Boo Bash! Halloween Party
WeeZee World, Chappaqua
Oct. 24
WeeZee – The Science of Play, is opening its 18,000-square-foot sensory wonderland to trick-or-treaters of all ages! The Boo Bash main event will take place from 6-8pm, with a haunted house, spooky games, a live DJ, a laser light show, a costume contest, and a dance party. Party guests will have full access to WeeZee's one-of-a-kind facility complete with rides, games, and activities. New this year: Peek-A-Boo Bash, a special Halloween party just for children ages 5 and younger, from 4-6pm. Trunk-or-Treat, a pre-Boo Bash party in the parking lot, from 4-6 pm. Families can set-up their own spooky tailgates and children can participate in safe Halloween trick-or-treating from trunk to trunk.
Halloween Howl
Wolf Conservation Center, South Salem
Oct. 25
Join ambassador wolves Atka, Alawa, and Zephyr for a sunset howl. Holiday-appropriate goodies will be offered to guests and wolves. Costumes are strongly encouraged. Registration is required.
Ninth Annual Groove Halloween Jam
Groove Performing Arts, Larchmont
Oct. 25
A live, interactive musical experience for the whole family. Get some use out of those new Halloween costumes! Sing, dance, jam, and laugh out loud at this festive, colorful, musical Halloween celebration. Dance the Monster Mash with your favorite Purple People Eater while the Werewolves of London howl! There will be non-candy treats for kids and a fun time for the whole family. Led by talented musician/educators who really know how to play. Most appropriate for kids ages 1-5 years. Registration required.
Children's Halloween Spooktacular
New York School for the Deaf, White Plains
Oct. 25
A fun, lighthearted, Halloween event for children of all ages! Crafts, games, bounce castle, pumpkin-painting contest, face painting, costumes, and more. This fundraising event is a fun and festive way to celebrate the Halloween spirit.
Halloween at the Hudson River Museum
Hudson River Museum, Yonkers

Oct. 25-26: Pre-Halloween Weekend
Halloween science, tricks, and treats. On Saturday, join hands-on spooky science demonstrations led by museum staff. Both days, make a creepy black paper cutout and fearsome paper flowers to decorate the museum and your home. Tour Haunted Glenview, and take a spooky walk through the decorated historic home.
Oct. 31: Haunted House Halloween: Trick-or-Treat at HRM!
Trick-or-treat at the Hudson River Museum! Join in a costume parade around the museum's entrance with Nepperhan Community Center's drum line and take a spooky walk through "Haunted Glenview" (the Hudson River Museum's historic home), dressed up with ghouls and webs. Make creepy art, look for the moon with telescopes outside, and see a special Halloween Live planetarium show at 6pm (expect night creatures, spooky stories, and the horrors which lurk among the stars), followed by treats. Every half hour, hear a scary (but not too scary) story told by storyteller April Armstrong, appropriate for ages 4-10.
Community YMCA18th Annual Halloween Parade
The Community YMCA of Northern Westchester, Somers
Oct. 26
Line-up for the parade starts at 12:30pm. The parade will start at 1pm. Children and adults from all Northern Westchester communities are welcome to participate in this free, fun, family event, which is one of the largest Halloween events in Northern Westchester. After the parade, there will be free activities and a costume contest at Bailey Park in Somers.
Scarecrows and Pumpkins Parade
Greenburgh Nature Center, Scarsdale
Oct. 26
Young children come in costume and follow friendly scarecrows along the pumpkin trail, meet storybook characters, then enjoy cider and treats, tattoos, and more.
Annual Halloween Horror at the Chappaqua Public Library
Chappaqua Public Library, Chappaqua
Oct. 28
A favorite annual event at the library for children in grades K and up and their parents. The evening begins with traditional scary storytelling by Carol Birch and Miriam Lang Budin in a darkened theater, followed by a riotous "mummy-wrapping" extravaganza, during which kids encase their parents in toilet paper. Registration is required to ensure there is enough toilet paper for all!
Spooktacular Animal Adventure
WeeZee World, Chappaqua
Oct. 28
Meet some of the animals that haunt our dreams, make our "skin crawl," and the hair stand up on the back of our necks! Discuss animals that are perfectly at home in the shadows and in swamps, and are on the prowl under the moonlit sky. Animal Embassy will demystify these amazing creatures and help children cross the line from fear to respect and appreciation. Meet animal ambassadors such as a pink-toed tarantula, an emperor scorpion, a Sinaloan milk snake, a Boa constrictor, and more "spooktacular" animals in the spirit of Halloween.
Halloween Dance for the Disabled
Westchester County Center, White Plains
Oct. 28
Halloween dancing and fun for disabled residents of Westchester County. Registration required.
Animal Embassy's Spooktacular Animal Adventure
Rye Free Reading Room, Rye
Oct. 30
Kids ages 4 and older and their grown-ups are invited to wear their Halloween costumes and join in the fun with Animal Embassy as they demystify some of the amazing creatures that haunt our dreams and make our "skin crawl." See a beautiful new tarantula species, a giant centipede or millipede, a Sinaloan Milk snake, an Emperor Scorpion, perhaps a Spectacled Owl, and other "spooktacular" animals in the spirit of Halloween! After the show, kids will parade through the library and collect a goodie bag to take home.
Halloween at The Field
Field Library, Peekskill
Oct. 31
At 11am, there will be a Halloween Party for Tiny Ghouls & Ghosts, in which toddlers and preschoolers can come in costumes for cookie decorating, crafts, refreshments, and more. Later on, at 3pm, older children are invited to the Halloween Spooktacular, where they'll find a haunted house, a free book for each child, refreshments, and lots of spooky surprises.
Slightly Scary Halloween Events
The Great Jack O' Lantern Blaze
Van Cortlandt Manor, Croton-on-Hudson
Oct. 4-5, 10-13, 16-19, 23-31; Nov. 1-2, 6-9, 14-16
The tri-state area's biggest Halloween event is an elaborate walk-through on the grounds of Van Cortlandt Manor that features more than 5,000 hand-carved, illuminated jack o' lanterns in unbelievable configurations, like the three 10-foot-tall, 4-foot-wide Jack O'Lanterns-in-the-Box that spring up and bounce around. Visit the giant sea serprent in the Undersea Aquarium, and don't miss a walk among the dinos in Jurassic Park! With original atmospheric music, sound effects, and synchronized lighting, it's an event not to be missed (but get your tickets quick, because it tends to sell out!). In honor of The Blaze's 10th year, tumbling acrobats and circus characters will put a smile on your face, and a special 10th anniversary pumpkin cake will whet your appetite for...more pumpkins! The Blaze is ideal for all ages, but kids who are particularly sensitive to the dark may feel a bit overwhelmed.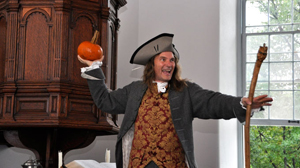 Irving's Legend
Philipsburg Manor/Old Dutch Church, Sleepy Hollow
Oct. 4-5, 10-12, 17-19, 24-26, 31; and Nov. 1
Master storyteller Jonathan Kruk offers a dramatic reading of Washington Irving's classic tale, "The Legend of Sleepy Hollow," featuring the Headless Horseman, Ichabod Crane, Brom Bones, and Katrina Van Tassel. The performance is flavored with live spooky organ music by Jim Keyes.
Investigative Ghost Tours
Boscobel House & Gardens, Garrison
Oct. 22-24
Spellbinding ghost stories told by paranormal investigator Linda Zimmermann, accompanied by her ghost-hunting partner, Michael Worden, a police detective and author of "Ghost Detective," as well as psychic and self-proclaimed psychometrist Barbara Bleitzhofer. Bleitzhofer will be using her sixth sense to determine what spirits are present and why they are there. Visitors will be led through the halls of Boscobel house, using specialized equipment to detect the possible presence of supernatural entities. Cookies and cider will be served. Recommended for children ages 12 and older due to potentially frightening material.
'The Turn of the Screw' Presented by the Hudson Valley Shakespeare Festival
Boscobel House & Gardens, Garrison
Oct. 29 - Nov. 1
In The Turn of the Screw, by Henry James, a young governess journeys to a lonely English manor house to care for two recently orphaned children and begins to see ghosts...or does she? Sure to be an unforgettable evening of spine-tingling mystery and intrigue, the production is adapted by Jeffrey Hatcher and directed by Gaye Taylor Upchurch. A reception will follow each performance.

Very Scary Halloween Events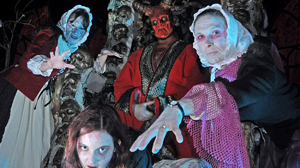 Horseman's Hollow
Philipsburg Manor, Sleepy Hollow
Oct. 4-5, 10-12, 17-19, 24-26, 31; and Nov. 1
Taking the tale of The Legend of Sleepy Hollow to its darkest extremes, Philipsburg Manor transforms into a terrifying landscape ruled by the undead, the evil, and the insane. Visitors start out walking a haunted trail, stumbling upon scary scenes of a town driven mad by the Headless Horseman. Elaborate costumes, and the work of award-winning feature film make-up artists make it seem all too real. Recommended for ages 12 and older. Some younger kids can handle it, but there are plenty of older kids (and adults) who will find it too intense.
Fanwood's Nightmare Manor
New York School for the Deaf, White Plains
Oct. 17-18 and 24-25
New York School for the Deaf presents the fourth annual Haunted House: Fanwood's Nightmare Manor. Known in Westchester as one of its scariest-kept secrets, this event promises to be even more terrifying than ever. With more than 45 live actors, terrifying special effects, and a twisted maze, Fanwood's Nightmare Manor will be sure to drive you mad! Parental guidance is strongly suggested for children younger than 12.
---
Get Your FREE Indoor Activity eGuide!
---
More Halloween Articles Articles
7 Tips for Trick-or-Treating with Your Toddler
New Book Encourages Kids to Give Up Halloween Candy
Halloween Activities in Bucks County, PA
DIY Alien Monster Egg Halloween Decoration
Toddler-Friendly Halloween Events in Fairfield County, CT