BEST HALLOWEEN EVENTS & ACTIVITIES IN WESTCHESTER
Related:
Halloween events in Westchester
,
kids Halloween activities in westchester county
,
haunted house westchester
,
Get all the details on the best Halloween events in Westchester. This year, we've rated the top celebrations in the area from tamest to scariest, so you'll know which events are best for your kids and family.
We're big believers in Halloween starting early and lasting all month. If you're with us, check out these cool and creepy events, which we've rated from tamest to scariest.
Slightly Scary Halloween Events
Very Scary Halloween Events

There's nothing worse than bringing your child to an event you're both excited about only to have him become overwhelmed or fearful, begin crying, or get so worked up that your family has to leave early. It's always best to know in advance what you'll be facing, so check out our ratings below. (Note: Because each child is different, we recommend using this list only as a guideline.)
Halloween Events for All Ages
The Legend Behind the 'Legend'
Washington Irving's Sunnyside, Tarrytown
Wednesday-Sunday in October, plus Columbus Day
Irving's fascinating home will showcase numerous objects related to his famous story, "The Legend of Sleepy Hollow." Visitors on Saturday and Sunday can enjoy a shadow puppet performance of the tale and experience one of Irving's spooky tales on a walk through the woods.
Halloween Hayride Spooktacular
Stew Leonard's, Yonkers
Oct. 4-31
Take a 15-minute family-friendly hayride through a course of vignettes, including scenes of popular movie and television characters, traditional holiday settings, and a musical light show.
Halloween-Themed Movies for Kids (and Their Families)
Jacob Burns Film Center, Pleasantville
Oct. 5-6: Paranorman (2012; 92 mins; Rated PG)
Oct. 12-14: Hocus Pocus (1993; 96 mins; Rated PG)
Oct. 19-20 and 26-27: Frankenweenie (2012; 87 mins; Rated PG)

Brick-or-Treat at LEGOLAND
LEGOLAND Discovery Center Westchester, Yonkers
Oct. 12-31
In addition to all their favorite LEGOLAND Discovery Center activities, guests can create their own LEGO monsters to populate Monster Town, as well as learn how to build a LEGO scarecrow at the Master Builder Academy. Guests are reminded to keep their eyes peeled for hidden monsters throughout the MINILAND scavenger hunt, and can enter to win a family four-pack of annual passes. Children are invited to brick-or-treat for LEGO bricks around the Center and collect enough bricks to create a special jack-o-lantern figure to take home.

Annual Halloween Model Train Show
Lasdon Park Arboretum & Veterans Memorial, Katonah
Oct. 12-13, 19-20, 26-27
The main house and grounds will be decorated for Halloween, complete with a "haunted" model train layout. Admission fees benefit the Conservatory project.
Halloween Bat and Owl Prowl
Weinberg Nature Center, Scarsdale
Oct. 26
Children are invited to dress in costume for this event at the Weinberg Nature Center, where they'll journey through the shadows and meet live "creatures of the night" that have come to symbolize the holiday. Enjoy other fun activities like stirring up some witches' brew, stargazing, a night hike, and making crafts. All children in costume will win a prize.


Hardly Haunted Matinee
Playland Amusement Park, Rye
Oct. 27-28
Non-scary fun for children ages 8 and younger. This is a G-rated version of the Scared by the Sound walk-through style, interactive haunted house.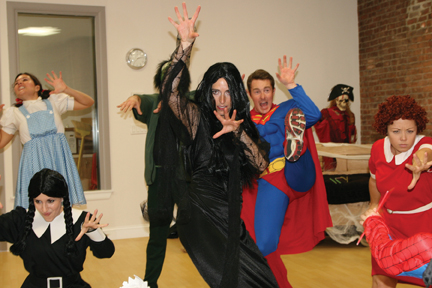 Halloween Spooktacular
Applause Westchester, Mamaroneck
Oct. 25
Enjoy a fun, yet slightly spooky good time. Celebrate with games, Halloween crafts and pumpkin decorating, hip-hop dancing, a costume contest, a haunted house, and a spooky "monster" of a show.
Halloween Bash at WeeZee World
WeeZee World of "Yes I Can!"
Oct. 25
Spooky and cool in every "sense!" There will be pumpkin painting, scavenger hunts, a haunted house, a "spooktacular" sensory challenge, "treat-or-tricking," face painting, and lots of prizes. In addition, guests will have access to WeeZee's one-of-a-kind facility, complete with rides, games, and activities galore.
Halloween Spooktacular
Cross County Shopping Center, Yonkers
Oct. 25
This annual event includes a costume contest, trick-or-treating parade, and pumpkin arts and crafts.
Halloween Howl
Wolf Conservation Center, South Salem
Oct. 26
Join ambassador wolves Atka, Alawa, and Zephyr for a sunset howl. Holiday-appropriate goodies will be offered to guests and wolves. Costumes are strongly encouraged.
Get Ready for Halloween Weekend
Hudson River Museum, Yonkers
Oct. 26-27
Enjoy Halloween science featuring glowing ooze, ghostly shadows, and creepy mists. Learn science tricks and turn your Halloween into a spectacle to remember with hands-on spooky science demonstrations led by museum staff. Make a scarecrow to decorate Glenview's courtyard, tour Haunted Glenview, and take a spooky walk through the decorated historic home.
Boo Walk: Hallloween-Themed Scavenger Hunt
Muscoot Farm, Katonah
Oct. 27
Children should dress in their Halloween costumes for this observation scavenger hunt where they can walk a raked path in the woods trying to find all 31 Halloween objects hidden in the forest. Once completed, all participants are rewarded with a sweet Halloween treat.
Scarecrows and Pumpkins Parade
Greenburgh Nature Center, Scarsdale
Oct. 27
Young children come in costume and follow friendly scarecrows along the pumpkin trail, meet storybook characters, then enjoy cider and treats, tattoos, and more. Rain or shine.
Spooky Tales
Caramoor Center for the Arts, Katonah
Oct. 30
Spooky and ghostly Halloween tales (but not too scary) for kids ages 2-8, told by mater storyteller Lorraine Hartin-Gelardi. At the end of the performance, treats will be served in the Summer Dining Room. Costumes are encouraged, and prizes will be given to the winners (all!).
Haunted House Halloween: Trick-or-Treat at the HRM
Hudson River Museum, Yonkers
Oct. 31
Join in a costume parade around the museum's entrance with Nepperhan Community Center's drum line at 4:30pm. Then take a spooky walk through "Haunted Glenview" (the Hudson River Museum's historic home), followed by a treat.
Halloween Day Trick-or-Treat
Stew Leonard's, Yonkers
Oct. 31
From 4-6pm, kids can pick up a map from Customer Service and use it to find treats throughout the store. Those in costume receive a free ice cream.
Halloween Tricks and Treats
Gillie Park, White Plains
Oct. 31
Celebrate this bewitching holiday in a safe, fun, festive atmosphere. There will be music, games, magic, refreshments, and plenty of treats for all.
Slightly Scary Halloween Events
The Great Jack O' Lantern Blaze
Oct. 5-6, 11-14, 17-20, 24-31; Nov. 1-3, 8-11
The tri-state area's biggest Halloween event is an elaborate walk-through on the grounds of Van Cortlandt Manor that features more than 5,000 hand-carved, illuminated jack o' lanterns in unbelievable configurations, like the three 10-foot-tall, 4-foot-wide Jack O'Lanterns-in-the-Box that spring up and bounce around. With original atmospheric music, sound effects, and synchronized lighting, it's an event not to be missed (but get your tickets quick, because it tends to sell out!). The Blaze is ideal for all ages, but kids who are particularly sensitive to the dark may feel a bit overwhelmed.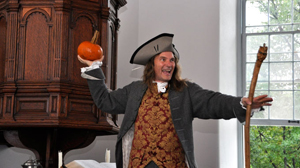 Irving's Legend
Philipsburg Manor/Old Dutch Church, Sleepy Hollow
Oct. 5-6, 11-13, 18-20, 25-27; Nov. 1-2
Master storyteller Jonathan Kruk offers a dramatic reading of Washington Irving's classic tale, "The Legend of Sleepy Hollow," featuring the Headless Horseman, Ichabod Crane, Brom Bones, and Katrina Van Tassel. The performance is flavored with live spooky organ music by Jim Keyes.
Investigative Ghost Tours
Boscobel House & Gardens, Garrison
Oct. 23-25
Spellbinding ghost stories told by paranormal investigator Linda Zimmermann, accompanied by her ghost-hunting partner, Michael Worden, a police detective and author of "Ghost Detective," as well as psychic and self-proclaimed psychometrist Barbara Bleitzhofer. Visitors will be led through the halls of Boscobel house, using specialized equipment to detect the possible presence of supernatural entities. After the tour, enjoy cookies and cider.
Atlantic City Ballet Presents 'Dracula'
Westchester Community College, Valhalla
Oct. 26
Celebrating Halloween, this three-act ballet tells the hypnotic tale of the notorious Transylvanian Count. Set in the 15th century, this not-to-be-missed classic takes audiences on a supernatural journey from London to Romania. Come in costume...or just simply come, "at your own risk," to be transfixed by this Transylvanian tale.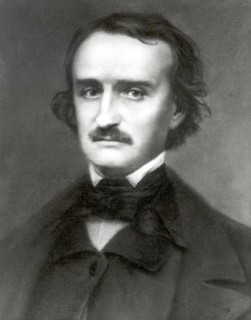 Halloween with Edgar Allan Poe
Boscobel House & Gardens, Garrison
Oct. 31 - Nov. 2
A Hudson Valley Shakespeare Festival Production. Edgar Allan Poe visits the Boscobel mansion to read excerpts from his spine-chilling tales and answer questions about his life. Ticket includes performance plus wine and cheese reception with Mr. Poe.
Very Scary Halloween Events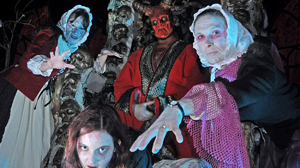 Horseman's Hollow
Philipsburg Manor, Sleepy Hollow
Oct. 5-6, 11-12, 18-20, 25-27; Nov. 1-2
Taking the tale of The Legend of Sleepy Hollow to its darkest extremes, Philipsburg Manor transforms into a terrifying landscape ruled by the undead, the evil, and the insane. Visitors start out walking a haunted trail, stumbling upon scary scenes of a town driven mad by the Headless Horseman. Elaborate costumes, and the work of award-winning feature film make-up artists make it seem all too real. Recommended for ages 12 and older. Some younger kids can handle it, but there are plenty of older kids (and adults) who will find it too intense.
Scared by the Sound
2305 Crompond Road, Cortlandt Manor
Friday-Sunday in October; Nov. 1-2
For 2013, this haunt has moved from its prior location at Playland Amusement Park in Rye. The new 13,000-square-foot haunted house is now completely indoors. Experience the Crypt Walk, Haunted Wine Cellar, Creepy Morgue, Tunnels of Doom, plus the all-new Zombie Zone, and much more. Note: although children younger than 12 are allowed entry when accompanied by an adult, the event is not recommended for children younger than 8.
More Halloween Fun
Take a peak at our collection of Halloween articles for creative costume tips and ideas, spooky recipes, and ghoulish giveaways!
---
Get Your FREE Indoor Activity eGuide!
---
More Halloween Articles Articles
Win 4 Tickets to Sesame Place Spooktacular and Hotel Stay
Halloween Tricky Bites
Get Crafty with Halloween Ghosts
Master Carver Thomas Olton on Carving Pumpkins with Kids
DIY Halloween Duct Tape Doormat