The Rivertown Play Group's playground crawl has taken the group to great play spots all over the county. We've consulted Arin Gornstein, mom and Rivertown Play Group co-founder, to pinpoint the most fun, kid-friendly spots around. Here are her suggestions around Westchester County, NY.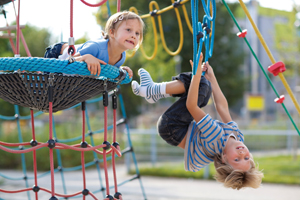 Kensico Dam Playground
Bronx River Parkway in Valhalla, NY
A great play space for kids who enjoy biking, skating, and riding scooters, the park offers an in-line skating area. The playground also has two play structures, two sets of swings, and open field space for running and playing tag. No need to worry about parking or finding shade either; the park provides plenty of spots for both.
Tip: Check out some of the park's summer activities, like concerts, movie night, or a cultural fair.
Sagamore Road Playground
Sagamore Road in Bronxville, NY
In addition to the usual climbing structures, slides, and swings, this playground boasts a climbing rope "spider," a play bus, and a sandbox filled with toys donated from the community. There are shovels, buckets, trucks, and even a play kitchen. This playground is also fenced in so parents can stress less about kids running into the street.
Tip: The sand toys tend to get pretty beat up and dirty, so make sure kids wear play clothes. Bringing hand wipes for cleaning toys might be a good idea, as well.
Ashford Park
On the corner of Ashford Avenue and McCormick Drive (at the entrance to Ardsley Middle School) in Ardsley, NY
Complete with four well-lit tennis courts, a basketball court, soccer and baseball/softball fields, a gazebo, and picnic tables, Ashford Park offers plenty of fun in addition to the play structures. The playground has the usual faves including swings, and the snack bar provides refreshments in season. Nearby restrooms make potty breaks a breeze.
Tip: For kids who love sports, the courts and fields are plentiful and active enough for frequent pick-up games with the other park-goers.
Also see: Best Playgrounds in NYC
Our guide to the most family-friendly beaches in the NYC area