The Clay Art Center, traditionally known for its dedication to the advancement of ceramic arts, is now offering birthday party packages. The Clay Art Center is a nonprofit organization that aims to enrich lives through ceramic art by offering a stimulating space, studio practice, exhibitions, and educational opportunities to the community.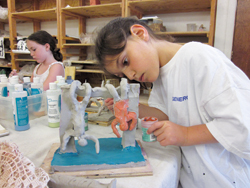 As of January, the Clay Art Center has three new tiers of birthday package for families to choose from. Tier one, the Clay Party, provides all the materials needed for a party of 12 to enjoy an hour and a half teacher-led clay class. Tier two, the Birthday Clay Party, offers all of the same amenities but also allots an additional half hour for a party where parents can bring in food and cake to celebrate. Tier three, the Deluxe Birthday Clay Party, includes the clay class project, the half hour allotment, and food and cake for the party provided by The Clay Art Center.
Other programs offered by the center are Helping Hands, Clay Afterschool, Saturday Clay, Teens on Wheels, and its summer camp, which is currently accepting enrollments.
"Clay art is a direct expression of what you're feeling," says program director Leigh Taylor Mickelson. "Everyone can benefit," she says. "Everyone needs to experience clay.