Community Service Standout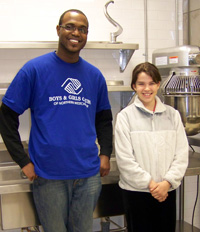 Chappaqua teen Lily Wolfensohn donated the $4,000 she received from her Bat Mitzvah to the Boys & Girls Clubs of Northern Westchester. The donation will go toward the organization's new Kisco Kids Café, scheduled to open this spring. The Café will provide hot meals, healthy snacks, and nutrition classes for its members, since many of them come from low income families.
When Lily found out the Boys & Girls Club was developing this program, she knew she wanted to help. "I feel really good knowing that I have made a change in a child's life, even if they don't know it yet," said Lily.
This kind of community service is nothing new for Lily. She has donated her hair to Locks of Love twice, sung and made pillows, stars, teddy bears, and magnets for the sick children at the Maria Fareri Children's Hospital, sent letters to soldiers in Iraq, and donated Gift of Caring cookies to Chappaqua bus drivers and veterans. For more information on the Boys & Girls Clubs of Northern Westchester, call 914-666-8069 or visit www.bgcnw.com.


No More Plastic!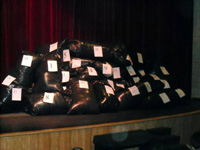 The 20 members of Irvington Middle School's Pay It Forward Club encouraged students, teachers, parents and administrators throughout the Irvington district to collect every kind of recyclable plastic bag they could find, including grocery, produce, dry cleaning film, bread and newspaper bags. This resulted in over 32,000 plastic bags collected, more than any other Westchester school, and included the one millionth bag collected countrywide. The efforts of students were acknowledged at a special school-wide assembly at Irvington Middle School on January 8, where County Executive Andy Spano accepted the millionth bag. Earlier last year Spano launched a countywide effort to raise awareness about plastic bag accumulation, declaring it had reached "mammoth proportions." He proposed a county law that now requires large retailers to establish in-store collection and recycling centers. (A similar law was enacted by New York State, taking effect January 1, superseding the county's.) The event coincided with a visit by Westchester County's Veggie Van, a mobile education classroom that promotes good environmental practices and runs on vegetable oil.